Festivals are incomplete if you don't happen to gorge on some traditional delicacies. If the coronavirus scare has made you hesitant to make a purchase, you can make some of these authentic delights at home with easy recipes penned down by professional chefs.
Giving a twist to the most mundane recipes, Chefs Suresh Thampy, Executive Chef, Holiday Inn Mumbai and Chef Nilesh Pawar, Head Chef of The Byke hospitality, have curated a list of mouth-watering concoctions such as Chilli Cheese Samosa, Gulab Jamun Mousse and more.
Doodh Jalebi
ANIKET NATU
Ingredients:
Maida 3 cups.
Curd 1 cup.
Corn Flour ½ cup.
Sugar 3 cups.
Saffron 5 strands
Cardamom Powder 1-2 tsp.
Ghee 4- 5 tbsp.
Baking Soda 2 tbsp.
Sunflower Oil 4 cups.
Water 4 glass.
Rose Essence 4 tsp
Edible Food Colour 2- 3 drops.
Milk ½ cup.
Method:
For making this dessert recipe, mix maida, corn flour and baking soda in a bowl. Add ghee and orange food colour in the above mixture. To make a thick batter, add curd and water. Mix well until it is thick but has a pouring consistency. Keep it aside for 8 hours or overnight. 8-10 hours. To make the sugar syrup, heat water in a pan over medium flame. Add sugar and mix until fully dissolved. Simmer the syrup until it attains one string consistency. Add saffron, cardamom powder and rose essence. Stir well.
Heat oil in a pan over medium flame for deep frying. Now fill the jalebi batter in a muslin cloth and pierce a small hole in the cloth. Squeeze the muslin cloth to make concentric circles. Fry till jalebis are crisp and golden.
Soak the jalebis in sugar syrup for 2-3 minutes. Ensure that the sugar syrup is warm and not very hot. Now remove from the syrup and place it on a tray lined with butter paper or foil. Decorate with silver foil and serve the jalebis hot, warm or at room temperature with creamy Rabri.
Serve Hot Jalebi along with milk.
Chilli Cheese Samosa
ANIKET NATU
Ingredients
Green Chilli ½ cup
Processed Cheese 1 ½ cups
Coriander ½ cup
Mozzarella 1 cup
Potatoes 1 cup
Butter ¼ cup
Salt As per taste
Oil for frying
Method:
Boil the Potatoes in water and cook until soft
Meanwhile fine chop the green chilies, coriander and grate the cheese
Once the potato is cooked peel them carefully and grate it.
Now melt butter in a pan on a low flame and add chopped green chilies and toss it
Quickly add the grated potato and mix well, cook until the mash is steaming hot
Add Salt and coriander and salt, remove from the flame and cool it down.
Once cooled, mix in the grated cheeses (processed cheese and mozzarella cheese)
For Samosa covering
Ingredients
All-purpose refined flour 2 cups
Ajwain 2 tsp
Oil 2 tbsp
Method:
Mix all Ingredients together until Dough becomes dry and flaky
Prepare small dough balls and roll it into chapattis of about 6 inches.
Cut chapattis into two half's
Take mixture for stuffing at the centre and fold inside
Seal from all edges and prepare triangle samosa fold.
Deep fry at serve hot.
Chicken Makhani Naan Pizza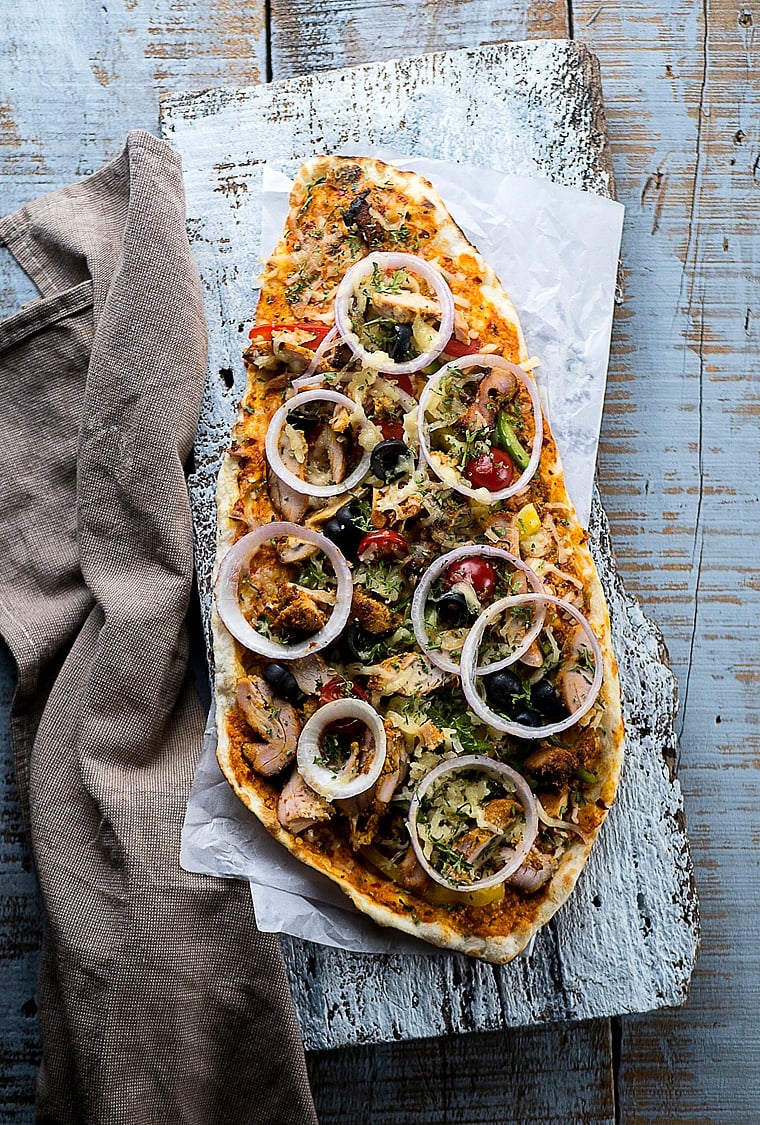 ANIKET NATU
Ingredients
Refined flour 3 cups
Butter ½ cup
Milk 1 cup
Salt As per taste
Water 1 glass
Makhani sauce 2 cups
Mozzarella cheese 2 cups
Onions 1 cup
Olive As required
Grilled Chicken 2 cups
Coriander 1 cup
Method:
Roll in the dough in Naan triangle shape.
Half-done Naan in tandoor.
Spread makhani Gravy and cheese on top.
Add Chicken and Onion rings topping
Lift the pizza base using a shovel and place it in the pizza oven
Cook the pizza in the oven pre heated at 240C for about 8 mins
Once cooked remove from the oven, place on a cutting board
Using a pizza wheel cut it in to 08 uniform wedges
Serve hot on a pizza plate sprinkled with Coriander
Gulab Jamun Mousse
Ingredients:
For Thandai Paste:
Soaked and peeled Almonds – 20no
Cardamom power – 4gms
Poppy seeds – 8 gms
Fennel powder – 2gms
Black pepper – 2gms
Pistachios - 10nos
Cashew - 10nos
Watermelon seeds – 25gms
For making mousse
White Melting Chocolate - 125 gms
Fresh cream – 40gm
Whipped cream – 80gm
Other ingredient
Small or Normal size Gulab Jamun
Chopped pistachios
Saffron
Methods:
Thandai Paste
Soak poppy seeds, cashews, fennel seeds and watermelon seeds for 2 hours.
Take all the ingredient of thandai paste in a blender. Blend them very well using little water. Prepare a thick thandai paste. Keep it aside.
For Mousse
In a pan, heat fresh cream for 2 minutes on medium flame.
Take White melting chocolate in another bowl. Add hot fresh cream into the white chocolate. White chocolate will start to melt. Mix until the chocolate melts.
Fold in the whipped cream and 3/4 of the Thandai paste (you can add more paste if you wish tinto the white chocolate mixture. Let this mixture cool down for 15 minutes in freezer.
Fill the zip lock bags with mousse mixture. Make a big hole.
For Assemble
Take one glass. First place 3 gulab jamuns or Normal gulab jamun cut into 4pcs. Then Pipe in half thandai mousse. Put Gulab jamuns again in between and again pipe in the thaindai Mousse on it.
Top it with Gulab Jamun. Garnish it with saffron and pistachios.
Your Gulab Jamun In Thandai Mousse is ready. Serve it chilled.
Gujiya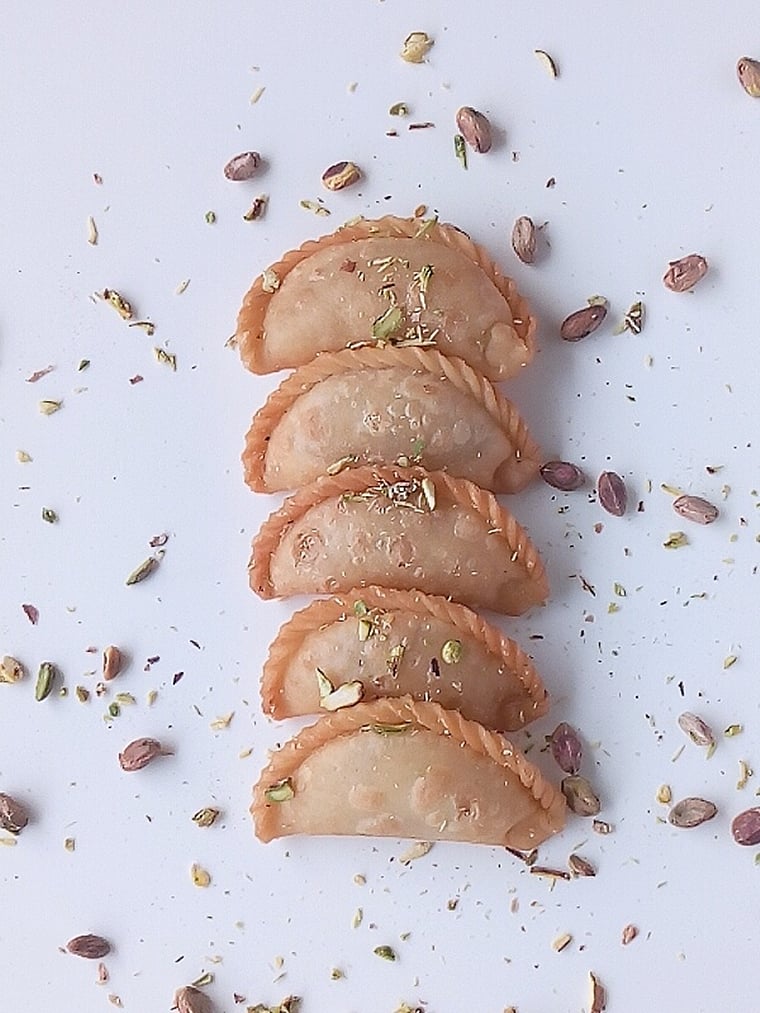 Ingredients:
For the dough:
250gm refined flour
120gm clarified butter
Water (to mix)
For the filling:
120gm khoya
120gm sugar
7gms green cardamom, powdered
15gms almonds, finely chopped
Oil or ghee (for deep-frying)
For the syrup:
120gm sugar
150ml water
Methods
Prepare the dough:
Rub 50gm ghee into the flour and knead into a stiff dough with water.
Leave to rest for at least half an hour.
Prepare the filling:
Saute the khoya over medium heat till it looks slightly fried.
Take off the heat and when it cools, mix in the sugar, cardamom and almonds.
Shape the filling into ovals about 21 cm length and 1 cm thickness.
Make balls of the dough and roll out into 1 cm / 1/8 in thick rounds.
Take a round, wet the edges with water and place a piece of filling over one half.
Fold the other half over and press the edges together to seal.
Either cut off the edge with a fancy cutter or make a design by pinching and twisting all along the sealed edges.
Make all the gujiyas in this way. Heat ghee in a kadahi. To check if the ghee is hot enough put a piece of dough in it. If it comes up at once, add as many gujiyas as fit in comfortably.
Turn them over and lower the heat to medium. Fry till golden brown on all sides. Lift out and leave to drain on absorbent paper.
Make sugar syrup by cooking water and sugar together, till one thread consistency
Dip the gujiyas in it, lift and let dry on a plate.
Fry the rest, increasing the heat for a few seconds before adding the next lot.
Can be eaten hot or at room temperature and can be stored in air-tight containers.
(To receive our E-paper on whatsapp daily, please click here. To receive it on Telegram, please click here. We permit sharing of the paper's PDF on WhatsApp and other social media platforms.)
Published on: Monday, March 09, 2020, 09:11 AM IST