World Environment Day (June 5) is around the corner, and social media feeds are full of celebs speaking about it and urging fans to do their bit for the environment. With this year's theme, 'Reimagine Recreate Restore', in mind several initiatives and activities are being planned around it.
Ahead of the World Environment Day, BMC started a tree plantation drive, which was inaugurated by actress and MP Hema Malini. "We must strive to preserve our environment. Our lives are intertwined with Mother Earth and it is our duty to save her. Adopting a tree is one step in that direction," Hema Malini said, while speaking about the importance of planting trees.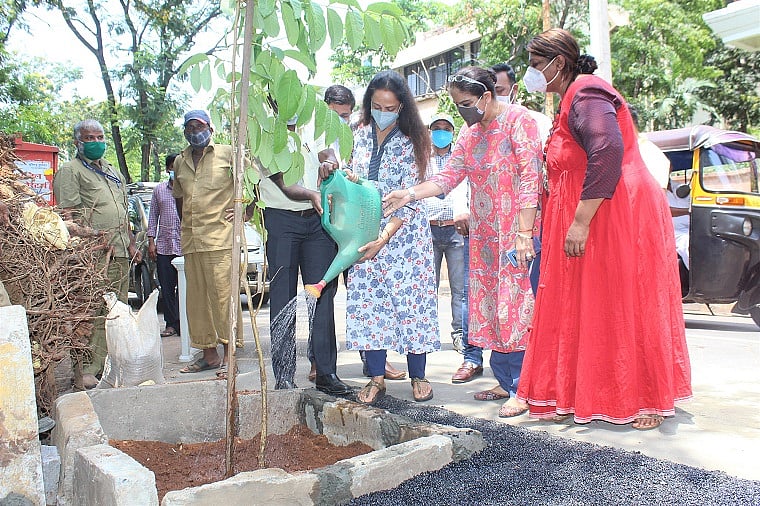 While planting trees is indeed the need of the hour, one needs to exercise caution by not going overboard or doing it the wrong way. "I'm not saying plant trees on a daily basis, rather plant them in the right locations. This should not hamper the municipality's development plan for the city."
Adding further about the common mistakes people make, the veteran actress said, "Often, people plant trees in areas that are marked for development, and then end up fighting with the local authorities over it. This is not right. We need to find and leave those areas where development has to be initiated. Sometimes, out of excitement, people plant trees on the roadside too, and won't allow cutting of the trees. In this scenario, the development of the road doesn't take place and is left half way. I have experienced this in my constituency, Mathura. I often suggest that people find a proper location before planting trees. They need to plant where there is no extension of the road proposal. There are innumerable plantations in Govardhan area in Mathura, where we have come across such hindrances."
The campaign, 'Be A Tree Parent — Adopt A Fallen Tree Pit', is a collaborative effort initiated by BMC's K West Ward Assistance Commissioner, Vishvas Mote along with Make Earth Green Again MEGA Foundation. The main objective is to involve societies and residents to adopt one of the 348 fallen tree locations in K West Ward and re-plant the same with an identified fast growing tree species.
In the past few weeks, several Bollywood celebs have amplified their support for Covid relief. Many have launched fundraisers, donated crucial medical equipments to the hospitals, Covid Care Centres, and even built make-shift Covid Care facilities and hospitals. Speaking about the crisis, Hema Malini said, "I get so many calls for beds, ventilators and oxygen concentrators, cylinders. I am trying to help whoever I can. In Mathura, I have donated oxygen inhalers to hospitals. Five people can use one machine. I have also given it in villages so that they need not go to the city. We pray the next wave does not come, but in case it does, these machines can come handy."
Her duties as an MP keep Hema Malini on her toes, and at times it even takes a toll on her. So, what does she do to de-stress? "I am learning Hindustani Classical Music... it makes me happy! I am refreshing my Sanskrit by speaking slokas. Simultaneously, I'm re-learning Urdu. When I joined the film industry, I had taken Urdu classes, but did not continue with them and ended up losing touch with the language. It's also easy to learn it on YouTube these days. Then I am also trying to stay fit by working out at home. At this juncture of my life I am enjoying and rediscovering myself," she signed off.
(To receive our E-paper on WhatsApp daily, please click here.  To receive it on Telegram, please click here. We permit sharing of the paper's PDF on WhatsApp and other social media platforms.)