In a matter of just 10 days, the giant pair of faux lungs installed at a busy junction of Kharghar on January 15 have turned dark black from chalk white. The lung billboard is a part of the campaign initiated by Waatavaran Foundation to raise awareness about the health impacts of increasing air pollution in the Kharghar- Taloja-Panvel belt.
A similar pair of lungs installed at Bandra, Mumbai in January 2020 took 14 days to go black, while one installed in Delhi (November 2018) just took 6 days to go black. Experts, as well as local residents from Kharghar, have asked the Maharashtra Government to consider this 'experiment' as a warning bell and take strong measures to improve the air quality in this area.
Titled- 'The Billboard that Breathes' these 'artificial' lungs was put up near the Bank of India Chowk at Sector 7. Kharghar. According to Bhagwan Kesbhat, Founder of Waatavaran, the colour has changed due to high levels of particulate matter which is a clear indicator of the high levels of ambient air pollution.
"These faux lungs began rapidly changing its colour from the second day itself and turned dark grey in seven days, however on Monday, January 25 we saw that these had completely turned black," said Kesbhat stating that this is one of the best possible ways to demonstrate to local residents of Kharghar what happens when they inhale the polluted air.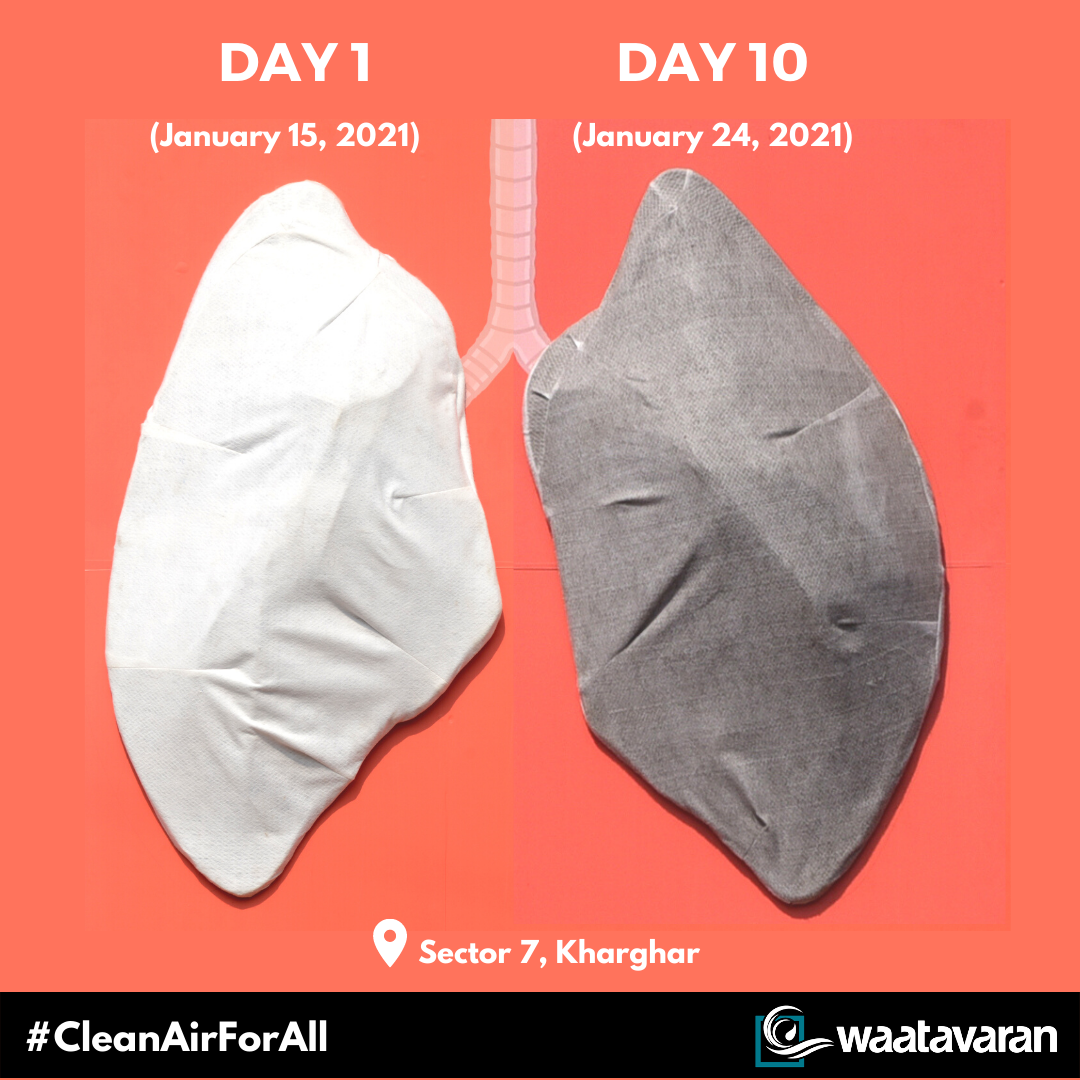 While local residents have been visiting the billboard, last week Panvel MLA Prashant Thakur, Mayor of Panvel City Municipal Corporation (PCMC) Dr Kavita Choutmal and six to seven local corporators visited the lungs billboard and raised their concerns over the rising pollution.
MLA Prashant Thakur stated that people will have to unite to fight against air pollution issue in Kharghar-Taloja-Panvel belt, meanwhile sharing her concern about the impacts of breathing such toxic air on local residents, Mayor Dr Kavita Choutmal demanded setting up of an expert committee to study the deteriorating air quality and the cause of such high levels of air pollution in this belt and then work on solutions.
"Not days and weeks, Kharghar has been plagued by air pollution for a few years now. My patients too, speak to me about this. Burning of eyes, sore throat, difficulty in breathing and cough are experienced from time to time," said Dr. Sudarshan Ranpise, a resident of Kharghar, whose dental clinic is located in Sector 7, Kharghar.
Local resident Srinath Kolare said, "The speed at which the lung billboard has turned dark grey is scary."
Waatavaran Foundation had recently conducted an air quality monitoring study (Nov 13, 2020 to Dec 13, 2020) revealing that residents from Kharghar-Taloja- Panvel belt were breathing polluted air for 17 hours. The study revealed high levels of Particulate Matter pollutant- PM 2.5 in the air of these areas early in the morning between 6 am to 8 am.
(To receive our E-paper on whatsapp daily, please click here. We permit sharing of the paper's PDF on WhatsApp and other social media platforms.)
Published on: Wednesday, January 27, 2021, 06:48 PM IST