Trigger warning: mention of suicide
Latur: A 21-year-old MBBS student of the government medical college in the city was on Tuesday found dead in her hostel room, police said. Prima facie, it is a case of suicide, police said.
Police said the deceased was a first year student of the MBBS course and was staying in a government hostel located on the college premises.
"On Tuesday morning, when her friends knocked on the door of the student's room they didn't get any response. Later, the hostel staff broke open the door to find her hanging," a police official said.
Police have registered a case of accidental death and further investigation is underway. The deceased student was a resident of the neighbourring Aurangabad city.
Similar incidents reported this year
Earlier this month, a student died by suicide in Andhra Pradesh. The student, identified as Chanakya Nanda Reddy (19) was a student of Jawaharlal Nehru Technological University. Hailing from Udayagiri in Nellore district, Nanda Reddy was a second year Electronics and Communications Engineering (ECE) student.
A class 8 student from Madhya Pradesh's Sdhi district also died by suicide after they were humiliated by a teacher in front of fellow classmates and friends. The deceased had left a suicide note which was found during probe.
It read, Is it wrong to make mistakes? Teacher insulted me in front of entire class."
If you or anyone you know is struggling with suicidal thoughts, seek help here: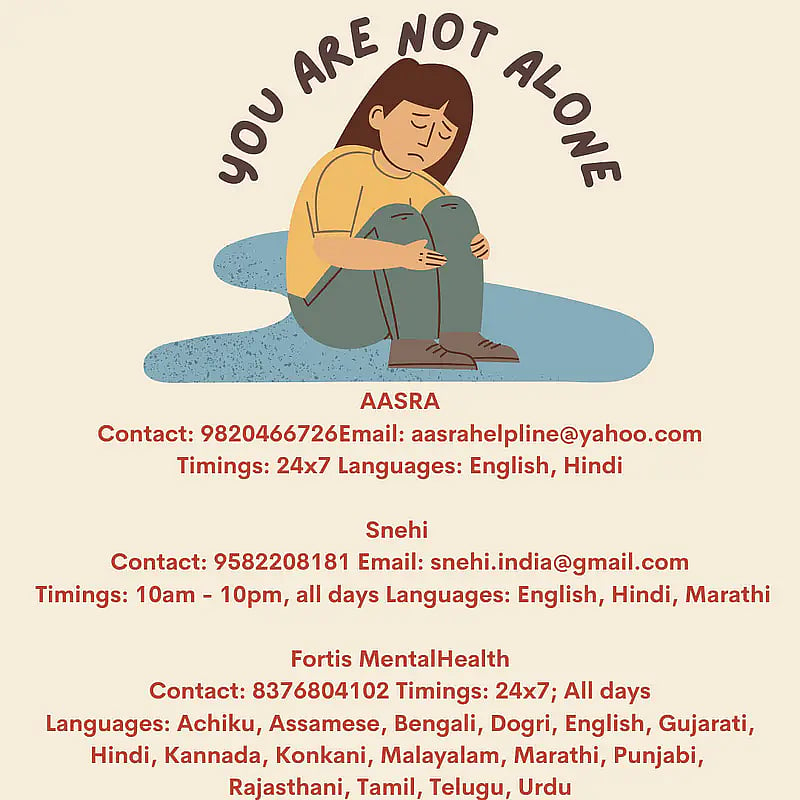 If you or anyone you know is struggling with suicidal thoughts, seek help here: | Mental Health Helplines
(To receive our E-paper on WhatsApp daily, please click here.  To receive it on Telegram, please click here. We permit sharing of the paper's PDF on WhatsApp and other social media platforms.)