It's been just two weeks since Veronica's opened in Mumbai. Complementing the entrance on a narrow by-lane in the quaint village of Ranwar which is a bottleneck and conjures up a busy weekend vibe, the interiors are abuzz with packed tables. As we expect, most of them are overflowing with sandwiches — like those can't stop-at-one usual Bombay Chilli Cheese Melt, this spot is well known for, Mrs. Mabel's Pumpkin Bagel, a New York style chewy bagel, Taming The (Mu)Shroom Melt, and The Muffuletta, a popular sandwich that originated among Italian immigrants in New Orleans, inspired the sloppy Italian Job sandwich at Veronica's - which comprises smoked ham, Italian pork salami, creamy buffalo mozzarella, a hot relish of red and green jalapenos and local Bhavnagri chillies; shredded cabbage in a honey mustard dressing, all packed in a freshly-baked Ciabatta. But sandwiches are barely the tip of the iceberg. We browsed through the expansive menu which packs in over 24 odd dishes including breakfast choices, savoury and sweet bakes, coffees and kombuchas – thankfully, we skipped breakfast.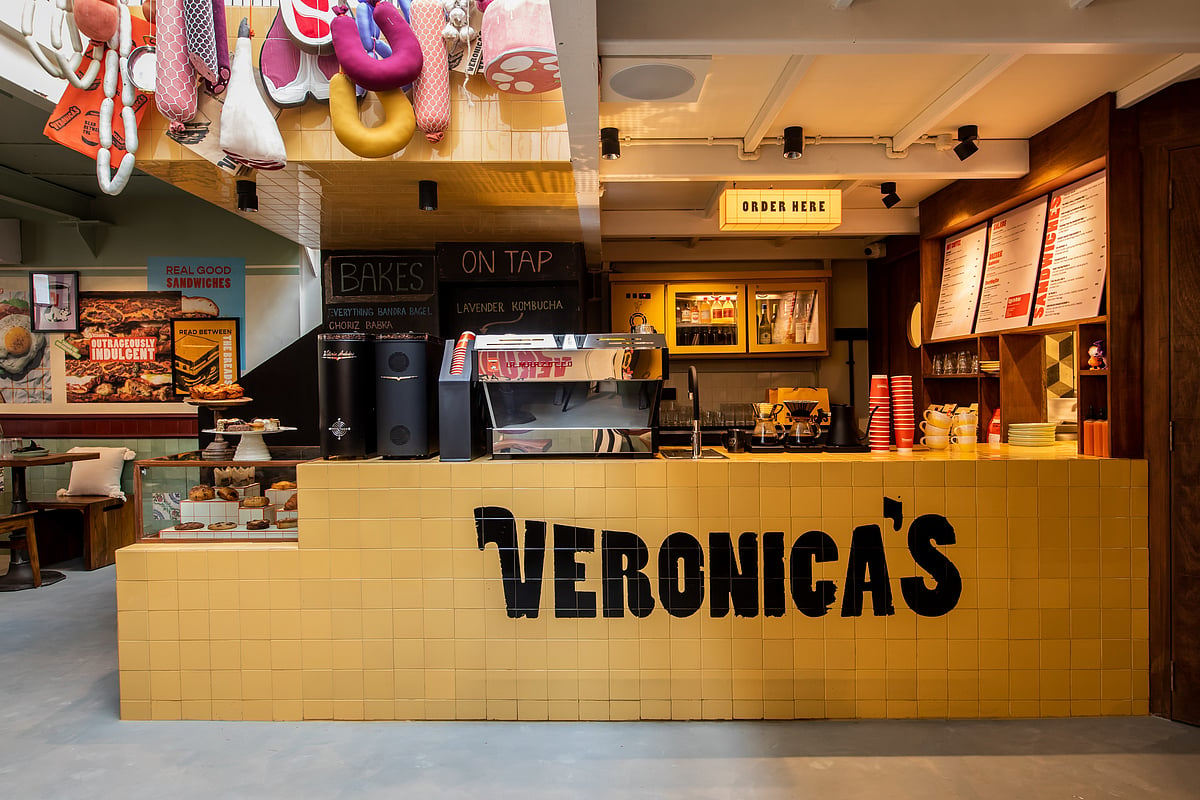 As you walk in, refurbished graffiti (by St+art India) in a riot of colours on the façade (originally painted by Portuguese artist Akacorleone) catches your eye even before entering the lane making it a landmark. The space has been designed to preserve the classic elements of the original bakery. Inspired by old Bandra homes and bakeries, Veronica's is adorned with classic, glazed Dado tiles with floral motifs, that juxtapose the industrial grunge aesthetics brought by the epoxy flooring. With old-world tiles balanced with raw metal finishes, with a mint green colour palette matched with turmeric yellow and sunset orange, the interior adds a modernistic touch to the old building.
Helmed by Hunger Inc. Hospitality (the folks behind The Bombay Canteen, O Pedro, Bombay Sweet Shop and enthucutlet.com), Veronica's is a place where you feel at ease, with everything that's familiar yet new and surprising. As we turned our eyes to this intimate property which can seat about 28 people on the ground floor, the buzzing eatery on a weekday had at least five customers waiting for the table.
The Italian Job |
Taming The (Mu)Shroom Melt |
We started our tasting with The Avo Snob with marinated tomatoes, basil pesto, avocados, and burrata filled in between perfectly toasted ciabatta. We paired our Avo sandwich with Iced Hibiscus Tea. The huge portion of the sandwich was pretty filling and the combination of ingredients tasted delicious, though, the burrata didn't go well with the taste and we decided to take that off. We were told that Mrs. Mabel's Pumpkin Bagel is their specialty for vegetarians and we couldn't agree more. The delicious New York-style chewy bagel with roasted pumpkin, tomatoes, cream cheese and arugula in between was amazing. We couldn't finish the sandwich but the pumpkin which was on the sweeter side.
For non-vegetarians, expect The Big Floyd, a Japanese Hokkaido-style milk bun filled with fried chicken, butter, shredded lettuce, tamarind ranch sauce, and a stack of lemony dill pickle, and Oh Shrimp! Po' Boy with fried shrimp, Korean-style gochujang spicy flaming sauce, avocado, fresh jalapenos and shredded iceberg lettuce, all packed into a Dutch crunch bread.
Veronica's specialty is hand-crafted loaves of bread which are baked in-house daily. The wide selection of bread used for sandwiches include the rustic Italian Ciabatta, the soft, chewy Dutch Crunch bread or Tijgerbrood, Milk Loafs, Bagels, and Buns among others.
Bura Bura Bowl |
Pass The Pastrami |
For salad lovers, Veronica's is going to be your next favourite spot. Their freshly-tossed salads include Veronica's Caesar, a delicate variation of the classic, with crunchy iceberg lettuce, croutons, avocado and tomatoes, in a (vegan) cashew sour-cream dressing, topped with grated parmesan that is optional. There's also Pumpkin Of My Eye which comes with roasted pumpkin and buffalo mozzarella, drizzled with a spicy balsamic vinaigrette, and Burra Burra Bowl with a plump orb of burrata, tomatoes, crispy quinoa, drizzled with a basil emulsion, makes for a perfect working lunch. Non-vegetarians can have chicken and bacon added as per their tastes.
Though we reached Veronica a little after breakfast, there were still a few who were finishing their first-morning meal. The breakfast menu includes Turkish Eggs, Hangover Taco with bacon rashers, scrambled eggs and habanero salsa served atop a flour tortilla, Morning Momos, dumplings stuffed with minced chicken and aged cheese with a generous drizzle of spicy Sichuan hot oil; and Not Your Nana's Waffle, a crispy potato waffle with roasted pumpkin, guacamole, sambaland burrata.
Breakfast at Veronica's |
Paying homage to the iconic and much-loved St. Jude Bakery and taking inspiration from its delicious history, Veronica's puts the spotlight back on bread and bakes. Try their Bandra-inspired Everything Bandra Bagel - a New York-style bagel flavoured with select spices from the traditional East Indian Bottle Masala, and Choriz Babka . Also on offer are the sticky-sweet and salty Custard Kouign Amann, Gluten-Free Buckwheat Loaf, Truffle Mushroom Puff, Ferrero Rocher Pain Au Chocolat, Pork Sausage Roll, and gluten-free Dark Chocolate Sea-Salt Cookies, Peanut Butter and Milk Chocolate Cookies.
The menu also features hot and cold coffees, two types of Kombuchas, and flavoured cold and hot teas. Don't forget to check out their wine menu which gives you the option to choose one according to your mood – Isn't that interesting?
8 am to 11 pm.
INR 1600 + for two without alcohol
INR 2500 +for two with alcohol:
(To receive our E-paper on WhatsApp daily, please click here.  To receive it on Telegram, please click here. We permit sharing of the paper's PDF on WhatsApp and other social media platforms.)