A vibrant seventy-five-seater restaurant, Stud Sports Bar & Grill is the latest addition to the host of bistros and cafes that throng Centrum IT Park in Thane. Helmed by Akhilesh Kulkarni and Anupam Kulkarni, this restaurant stands out because of its Victorian-era interior. The 2,000 square feet area unveils a ground floor along with an added flair of the mezzanine complemented with live edge wooden tables, and leather Chesterfield sofas. But the contemporary high stool bar chairs and tables give the place a modern edge.
The high energy of the interior is extended onto their menu which is co-curated by Chef Dhiraj Dalvi and Chef Talat Fatima. From finger foods, and shareable platters to innovative 'fun food' concepts, there's something for everyone. We are told that the menu draws inspiration from street foods across the world along with comforting home-style dishes, which are universally enjoyed during sporting events.
"We envision filling the dearth of a mega sports bar and casual dining destination in this part of the city,) says Akhilesh Kulkarni. Founded in Mumbai in 2017, the Stud franchise has over 15 outlets across India.
The highlights
As we settle ourselves in corner seats at this swanky outlet on one of these afternoons, the first thing that caught our eye was the beautifully customised 21-feet bricked wall that boasts a sports merchandise shelf with EPL team scarfs, key chains, mugs, and football — all for sale on retail. The wall at the left features an array of iconic moments of classic world sports, beautifully captured and framed as a collage – clearly, a place best for sports enthusiasts. The funky, upbeat music kept our spirits high by breaking the monotony of smooth, swing, and jazzy tunes.
Two mocktails, each with its unique hue and flavour palette arrived on our tables to let us cool down. While Silly Point Peru with guava quencher and a little spicy touch seemed like a perfect summer cooler, the pomegranate juice with an Indian touch of pickle Anar Achari 199 Spardha was the highlight of the meal with its zingy, and pungent base. We kicked off with Tandoori Bhutta which arrived on a hot griddle placed on a small burner which was carefully placed on a flat wooden tray. A thin iron pipe attached to the burner blew smoke giving it a perfect feel of tandoori bhuna bhutta. The best starter, we felt this dish sits comfortably on the taste buds and has a sharp bhuna masala taste – an apt replacement for Paneer Tikka.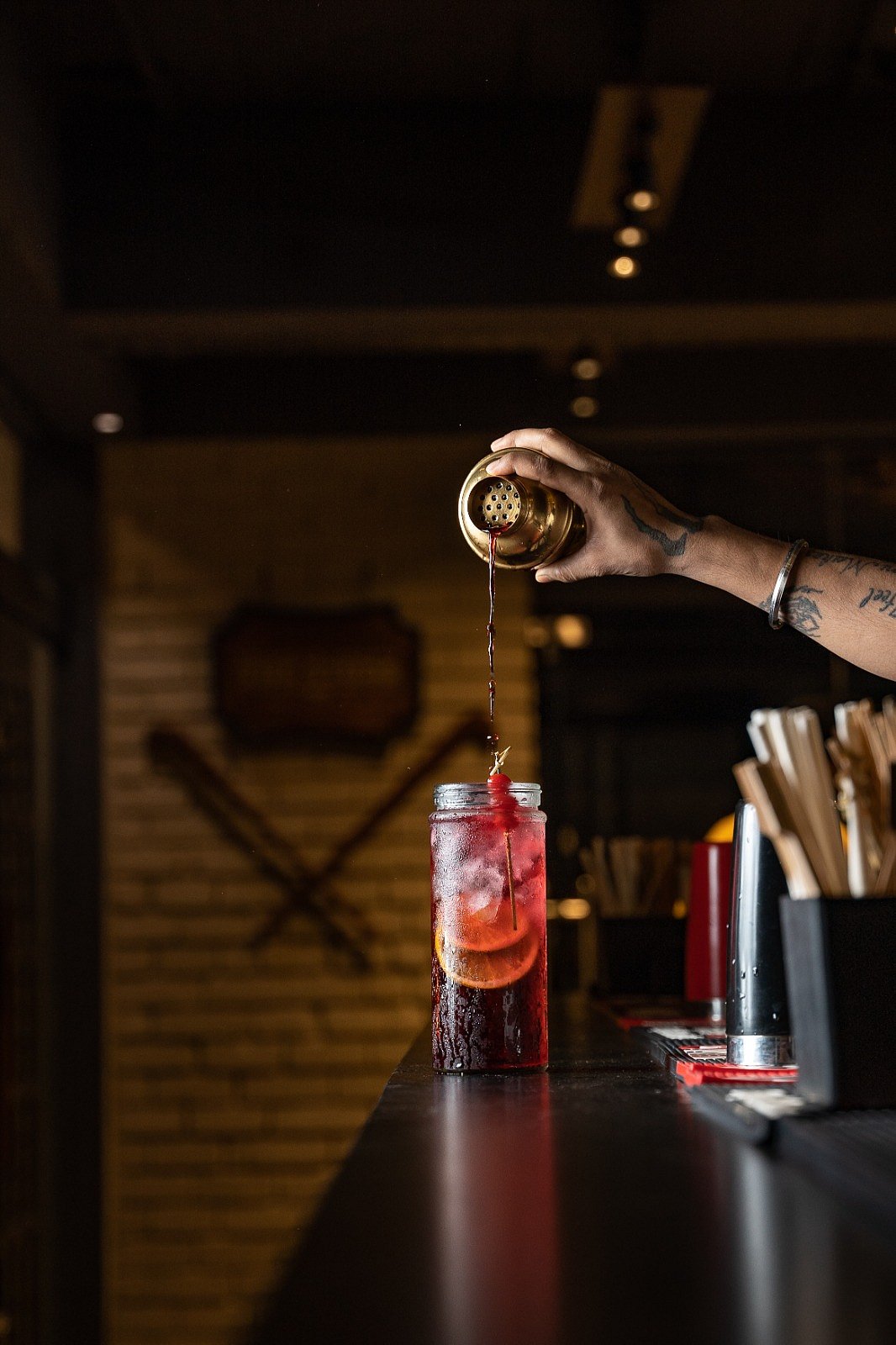 Salad meets cookie
Moving on to the Watermelon Feta Salad combined with cucumber and feta and topped with vinaigrette. This salad can easily be shared between two. The fresh notes of basil mint set delightfully on the taste buds. For the main course, we picked Yellow Thai Curry served with plain steamed rice. The herbed curry cooked with fresh veggies poses a perfect pick for anyone wanting to keep it light. If you wish to go for familiar picks such as Idli or Pav Bhaji Fondue, we can vouch that you won't be disappointed. To complete our meal, we picked Skillet Cookie topped with ice cream. The nuts added crunch to the perfectly-baked cookie. When paired with ice cream it tastes heavenly — we couldn't have asked for a better end to our meal.
Though the illustrious menu features more than 50 dishes, vegetarians may feel disappointed with limited options. In addition, Non-vegetarians have plenty of exotic options to choose from in each section.
Price: Rs 1,500 for two.
(We are on WhatsApp. To get latest news updates, Join our Channel. Click here)