Mhow (Madhya Pradesh): A rally has been taken out to create awareness about the importance of eye and blood donation. During the rally the people were encouraged to pledge their eyes for donation after death. The rally was organised by Kishan Bhai Patel Daji Trust. Since 2007, Daji Trust has been conducting Shatak Abhiyan with public cooperation. Trust President Satyanarayan Patel said if a person donates eyes, he helps two persons to see the world, this is the supreme donation. He urged people to donate blood and save the life of another person.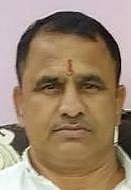 Harod is dist Sarpanch Union chief
President of Madhya Pradesh Sarpanch Sangh Nirbhay Singh Yadav has appointed Harsola sarpanch Vishnu Harod Pahalwan as the president of Indore District Sarpanch Union. Harrod said soon the district executive body will be formed and tehsil president will also be appointed. For the same a district-level meeting will be convened in April.
(To receive our E-paper on WhatsApp daily, please click here.  To receive it on Telegram, please click here. We permit sharing of the paper's PDF on WhatsApp and other social media platforms.)