Indore (Madhya Pradesh): Lack of emotional support, especially from the family, is the main reason for girls committing suicide, according to some of the young girl students of the city.
Aanchal Patil, a student of Gujarati College studying B.com taxation, has suffered the agony of having one of her close friends committing suicide after her family failed to provide her support even though she was being harassed by her boyfriend. Unable to bear the harassment further she ended her life.
Aanchal said that instead of giving support to their daughters facing harassment and motivating them to fight back, often the family members blame the girl for the ordeal and restrict her movement. Not surprisingly, girls are reluctant to share incidents of harassment or eve-teasing with their family.
This lack of open dialogue and support within the household concerning adolescent issues like inappropriate touching contributes to girls falling prey to blackmail by miscreants.
Priya Romde |
Another student of Gujarati College studying B.sc, Priya Romde, expressed the need for parental counselling campaigns rather than focusing solely on self-defence and cybercrime counselling for girls. She emphasised the importance of creating a friendly and safe environment at home, where girls can freely share their problems without being blamed for every unfortunate incident.
Pallavi Mohan |
Pallavi Mohan, another student studying B. Com LLB.Hons from Renaissance Law college, expressed concern over the inability of girls to share their problems with their families due to a generation gap and stereotypical mindsets. Pallavi cited incidents where a friend faced harassment but couldn't confide in her family, fearing societal judgement. Stressing the need for trust-building, Pallavi urged parents to create an environment where children can openly communicate without fear.
Dr Ramghulam Razdaan |
Expert Speak
Dr Ramghulam Razdaan, a renowned psychiatrist, attributed the higher rate of depression among women to their tendency to think more emotionally compared to men. He lamented that women often hide incidents of harassment due to societal pressure, as society tends to blame the women instead of holding the culprits accountable. Dr Razdaan urged women to have confidence in themselves and fight against the societal norms, emphasizing the importance of seeking professional help or confiding in someone if they experience thoughts of suicide.
Maneesha Pathak Soni |
Police Take
Maneesha Pathak Soni, additional DCP of Police (headquarters), stressed the significance of raising awareness among women and their families about the existing initiatives by the police and government to assist them. She emphasised that it is crucial for women to be aware of the support available and to feel comfortable approaching the police for help. Pathak reassured that the police are proactive and take immediate action in cases of harassment. To ensure the safety and anonymity of victims, the police maintain strict confidentiality.
Pathak further stated that creating a friendly environment for daughters at home is essential for encouraging open communication. She highlighted the efforts of the police in running awareness campaigns in schools and colleges, but stressed the importance of integrating self-defence, understanding boundaries (bad touch and good touch), and comprehensive sex education into the formal education system.
Some Recent Suicide Cases
June 24 - BSc student ended life due to harassment by a youth on social media.
June 23 – Girl commits suicide due to harassment by her coaching class teacher.
May 11 - A Class 12 girl hanged herself in MG Road after facing harassment from a coconut vendor.
March 28 - A student from Panna, perparing for SSC exam and living in Bhanwarkuan area ended her life as she was tormented by her maths teacher.
(With Inputs From Sheetal Kumari)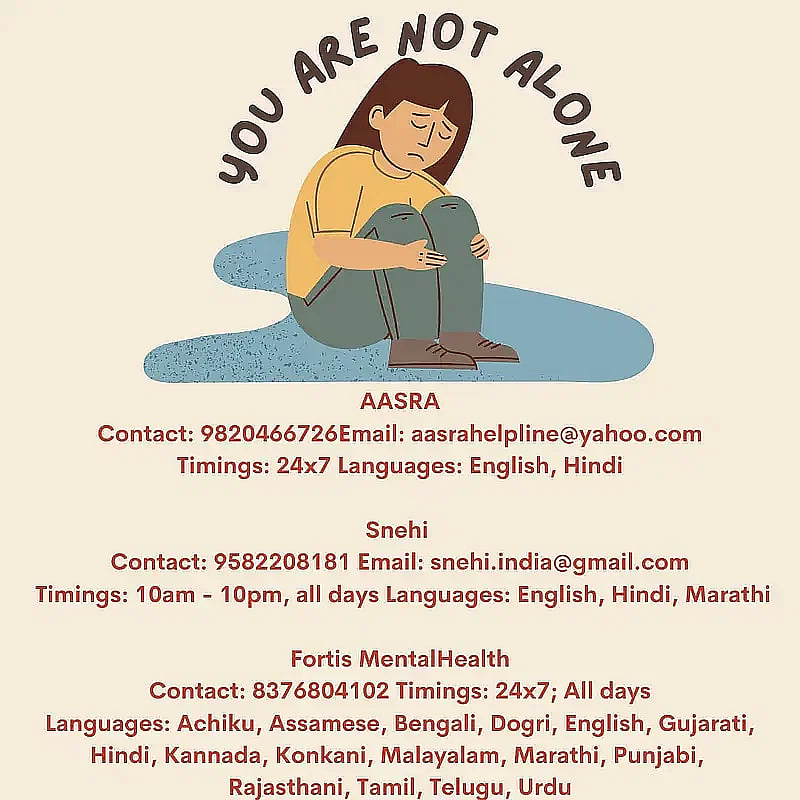 If you or anyone you know is struggling with suicidal thoughts, seek help here: | Mental Health Helplines | |
(To receive our E-paper on WhatsApp daily, please click here.  To receive it on Telegram, please click here. We permit sharing of the paper's PDF on WhatsApp and other social media platforms.)