The Upshaws – Netflix
Not everything is milk and honey in life, is it? More so for a working-class Black family in Indiana who strive for a better life. Of course, hilarious incidents and events keep plaguing their pursuit as they juggle for a happy home in this comedy series. It's simple, easy and funny. Just go with the flow and enjoy!
Dance of the Forty One – Netflix
Based on a true story, this is about a gay congressman who marries the Mexican president's daughter but cavorts with a young man at a secret club. And then scandal hits and there is mayhem all over. Can the congressman bounce back more so as he would now have to face the truth and in doing so, invariably come out of the closet – something that in his world is considered as political suicide? A racy emotional drama replete with shades of shame and scandal – this is indeed an interesting drama.
Ziwe (Watch With The World) – Voot Select
Greg Endries
Ziwe, a riotously funny, new variety series from writer, comedian and internet sensation Ziwe and is a revelation that is sure to grab your attention. This show includes some crazy no-holds-bar interviews, mix of musical numbers, and sketches that challenge America's discomfort with race, politics, and cultural issues. It's funny yet hard-hitting and honest.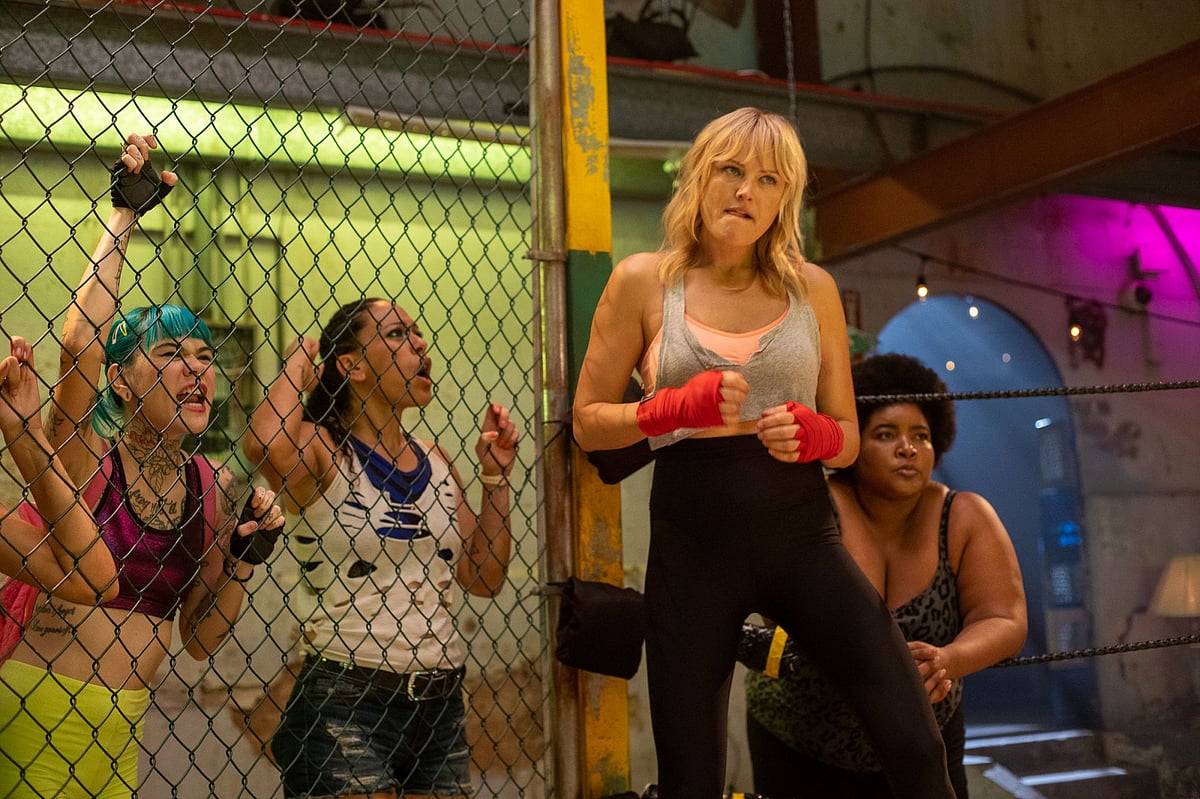 Chick Fight – Amazon Prime
Starring the superb Malin Akerman, this is the story where the protagonist is troubled but rather than drowning in self-pity and sorrow, she turns her life 360 degrees around. 'Chick Fight' centres around the life of Anna Wyncomb, who diverts and turns around the mess in her life with the help of an all-female fight club. It's gritty, poignantly emotional, and a must watch!
Justice League vs. the Fatal Five – Amazon Prime
Featuring Elyes Gabel and Diane Guerrero in lead roles alongside Kevin Conroy, Susan Eisenberg, and George Newbern, the film is directed and produced by Sam Liu. The story revolves around the fate of the Earth which hangs in a balance when the formidable Justice League has a faceoff with the terrorising Fatal Five, a time-traveling band who aggressively attack the Metropolis in search of the budding Green Lantern. Will Justice League be successful in battling it out with the Fatal Five? Watch the film to know more.
The Handmaid's Tale S4 – Amazon Prime
It's Season 4 for The Handmaid's Tale and it returns with an exciting new story that revolves around June and her fellow renegade handmaids exciting travels and travails. They are obviously hidden and done furtively as the rebel handmaids plan to join the underground resistance movement known as Mayday. Exciting and action packed, do watch it.
Amazing Grace – Sony LIV
This is a Mother's Day special offering where you have the protagonist – a midwife whose name is Grace working for mothers to be. She works at a rather unconventional birth centre and is vociferous and hand-on – and is supremely efficient at whatever she does. However, her life gets turbulent and chaotic when a new arrival at the centre changes her everyday plan. Watch it to know more.
(To receive our E-paper on whatsapp daily, please click here. To receive it on Telegram, please click here. We permit sharing of the paper's PDF on WhatsApp and other social media platforms.)