Divyanka Tripathi likes wearing saris, floor-length dresses and non-fussy outfits. 'Comfort is very important' in her fashion quotient...And she is convinced that: "Good hair helps in maintaining good skin."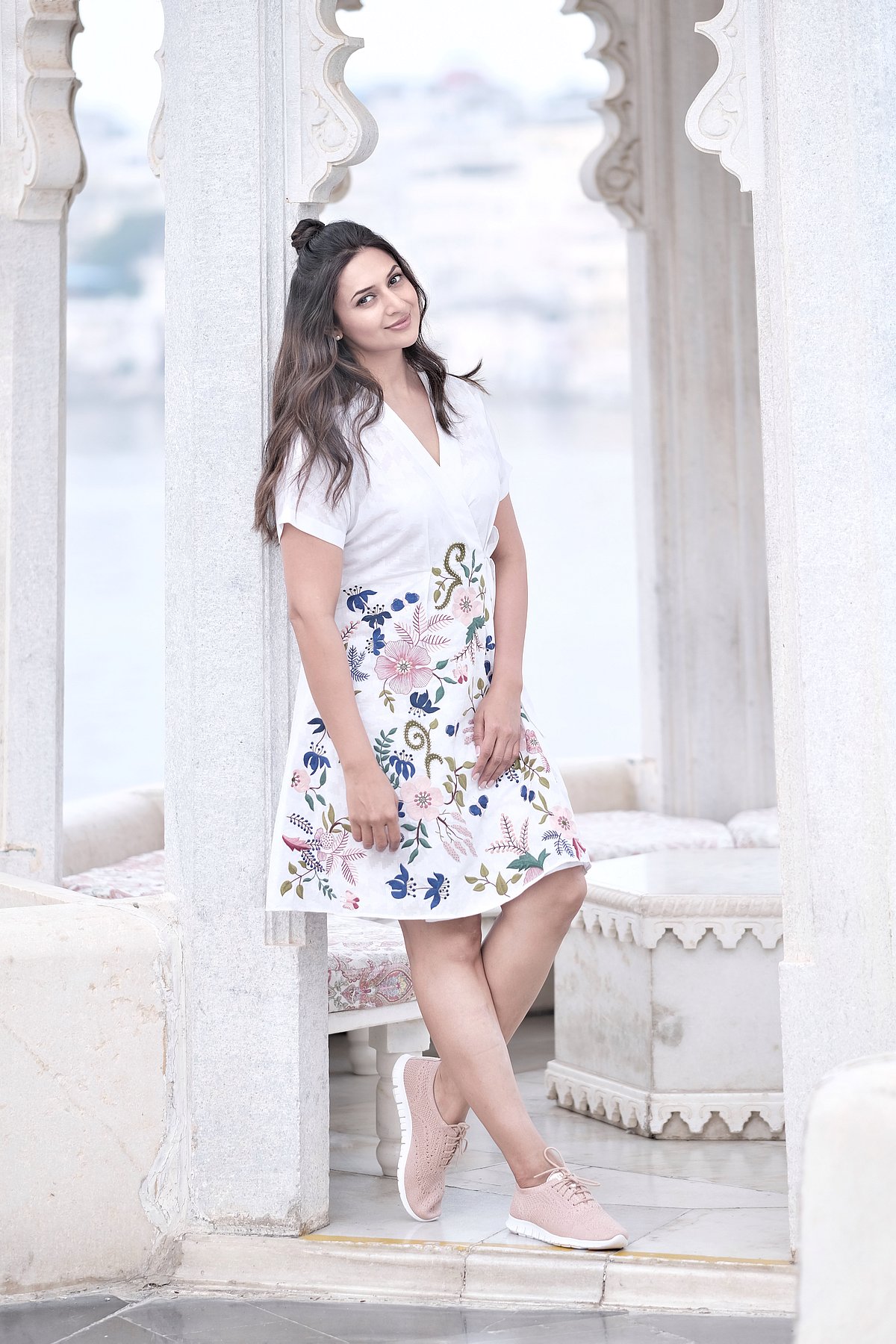 Wardrobe wants
My all-time favourite outfit: Casual floor-length dresses are my latest faves.
For the first day of my shoot, I wore: A top teamed with a long-flared cotton skirt.
My favourite outfit when going to a shoot: It should be casual and easy to change so that I don't spoil my look in the process.
My favourite outfit for an evening wear: A classy kurta or knee-length dress depending on where we are going.
My favourite outfit for a formal occasion: A beautiful flowing gown.
My favourite brands in clothes: River Island, Zara, Forever New and Promod.
My favourite outfit to sleep in: Soft satin or cotton pyjama set.
My favourite outfit in which I feel I look the best: Sarees.
My favourite brand in jeans: No favourites in jeans honestly.
My Favourite shopping spot: Dubai.
Designer dos, hues & fabrics
My favourite designers: Sabyasachi Mukherjee and Manish Malhotra.
My favourite colours and fabrics: White, red and black. My favourite fabrics are cotton, chiffon and georgette.
My wedding outfit: A red lehenga designed by Nakkashi from Surat.
The Chandigarh and Mumbai reception dresses were from: Kalki.
Dressed right
The best dressed actor and actress in the industry: Actresses in our industry are always better dressed especially Kareena Kapoor and Deepika Padukone.
Divyanka with husband, Vivek Dahiya |
I would like my husband Vivek to be dressed in: He looks dapper in crisp suits though I love him in anything he dons. He has a model's face and physique hence he enhances anything he wears.
Accent on accessories
My favourite sunglasses: Sleek aviators.
My favourite perfume: Creed and Salvatore Ferragamo.
My favourite brand in watches: Longines, Gucci and Rado.
My favourite brand in shoes: Jimmy Choo.
My favourite brand in handbags: Gucci.
My handbag nowadays has: A sanitiser and face mask besides a lip colour and a hair tie.
Make up magic
My favourite brands in make up: Armani and Tom Ford.
I like to highlight: My eyes and lips. I suppose they are my best features.
When not shooting, my make up is: Lipstick and a bit of mascara.
'Mane' attraction
The shampoo and conditioner I use: Jean Claude Biguine.
My haircare routine: During my shoot days, my haircare routine includes proper shampooing and conditioning and if I am not shooting, I oil my hair and scalp well.
For my haircuts, I frequent: Hakim's Aalim and BBlunt.
Tips 'n' more
Tips on clothes: One must do an annual re-organisation of one's wardrobe. You have to let go of clothes that you don't wear.
Tips on make up: If your skin is too dry, you must apply a moisturising primer before make-up. Application of primer gives smooth results. If you wake up with a puffy face or open pores, apply ice before make up. A shot of black coffee also helps to reduce water retention.
Tips on hair care: It's very important to keep your hair clean. It helps protect your scalp from dandruff which is a big culprit behind acne too. Good hair helps in maintaining good skin.
(To receive our E-paper on WhatsApp daily, please click here.  To receive it on Telegram, please click here. We permit sharing of the paper's PDF on WhatsApp and other social media platforms.)