Akash Khurana's fun makeover of Arthur Conan Doyle's most popular Sherlock stories, The Hound of the Baskervilles, is all set to make a comeback, albeit in a digital format. The play is based on an adaptation by Stephen Canny and John Nicholson that turns Sir Arthur Conan Doyle's spine-chilling thriller into an irreverent comic caper giving ample opportunity to play out various kinds of humour while staying true to the thriller format.
The play was first staged by Aadyam in 2015 and won hearts and laughs with its cheeky humour and sleek repartees. But for Akash, the journey with the Hound started long back. "It was over 40 years ago and I fell in love with all of Holmes's stories. It was perchance that this existing adaptation fell into my lap and once I read it, I had to stage it," says the veteran actor-director when we catch up with him right before the show for a quick chat.
The digital version of the play will be screened via insider.in's online streaming service making it the second play of Aadyam's Digital Edition. Excerpts from the interview:
It is a murder mystery and almost everyone is aware of the plot. What, according to you, still makes people go back to Sherlock Holmes's stories?
I believe it is the magical art of deduction that makes readers and audiences go back to these stories again and again. Moreover, some tales are timeless.
In your play, Sherlock-Watson is a gay couple. There was much shipping going on about Johnlock during the BBC series also. Do you think Doyle had a homosexual subtext when he wrote the characters? What is your personal take as a reader on the relationship between Holmes and Watson?
I think there is a joy in visiting stories without changing the lens of the time in which it is read. Terms like shipping and Johnlock are very much a product of our current times and while they have their place, and may be used to interpret themes written a century or more ago, I have a hard time doing it. If I was to use modern day language, 'bromance' would be the term that best suits my reading of these characters from a hundred years ago.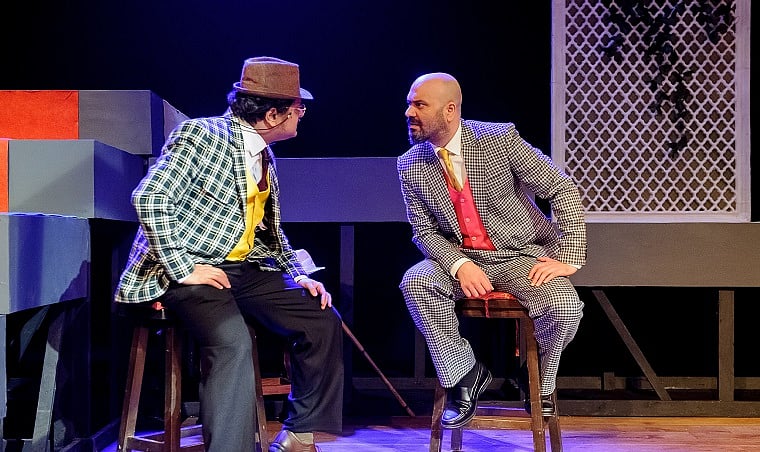 From book to play and from play to a filmed version of it, how do you think the medium impacts the material?
A story is a story is a story. In all medium, we are striving to keep the essence intact. The playwrights did the work of honouring the original story by writing this play. We did our work of playing true to it.
How different is the recorded version from the staged play? Did you tweak anything to make it a better fit with the medium?
This production is a reinvention of the live version we had staged in 2015. So many things might be different from our original stage version. But in the reinvention, we stayed true to a live theatre production. We were certain we wanted it to run as a live show. Any tweaks we made for the camera would have to do with technical or design details, not in the performance or staging.
The essence of a play is in being immediate and ephemeral. When you record it, both are gone. How did you then make sure that it still remains a play?
We tried to create a show as close to a live performance. We knew that was the best way to capture its essence. So while it is a paradox that we are recording a play, we hope that the way we've done it will appeal to the audiences.
How did you shoot the play? Was it a single-take piece?
In keeping with wanting to capture the essence of a live show, we recorded it as non-stop runs. We did get a few takes of these runs, but it wasn't shot as separate scenes.
Do you think recorded plays are a way forward? Do you see a new format emerging which will be a bridge between a play and a movie/short film?
I think 2020 has taught us not to predict anything about the future. And even going into 2021, the future is still quite unpredictable. So I'm not sure. Recorded plays à la NT Live or a bridge format à la Cineplays have been in existence since before the pandemic. It has perhaps been experimented with more in India through the pandemic than before, but no one can say what will stay or go.
How do you see the future of theatre… given the fact that A) social distancing norms are making live performances difficult, and b) OTT is creating interesting content to lure actors and writers who are presently involved in theatre because of the creative freedom it gives?
The theatre is the art form that has been dying for hundreds of years and still continues to exist, despite challenges. Historically, we have endured and will still endure because the show must go on. This too shall pass, and we will be back soon. Other mediums (OTT/film) co-existed with live theatre even before the pandemic hit and artists have found ways to juggle between both, depending on their interest. What the theatre has to offer, no other medium can. So, the people who want to, will always find a way back to it, and many will never leave.
Akvarious just turned 20, how do you see the journey so far? What would be your one advice to Akarsh as he takes it forward?
Twenty years feels like a lot but also feels like yesterday. It has been an illustrious journey, with 70 plays opening in these two decades. I am proud of the strides that have been made and look forward to what the next two decades might have to offer. My advice to Akarsh is always, follow your heart and let your mind back it.
About the play:
Synopsis: Sir Charles Baskerville is found dead on his estate with the paw prints of a gigantic hound beside his body. Is it the fruition of the ancient curse? Is then the urban legend of the Hound of the Baskervilles true? Sherlock Holmes, fresh from his death (in The Final Problem), is summoned to unravel the mystery.
Cast:
Vivek Madan as Sherlock Holmes
Arghya Lahiri as Dr. Watson
Nadir Khan as Sir Charles Baskerville
The trio team up to play a total of 15 characters!
You can catch the Hound here:
Show timings: Jan 9, 2021, 7 PM | Jan 16, 2021, 7 PM | Jan 17, 2021, 7 PM
(Tickets available on insider.in)
(To receive our E-paper on WhatsApp daily, please click here.  To receive it on Telegram, please click here. We permit sharing of the paper's PDF on WhatsApp and other social media platforms.)