Mumbai, the city of 'dreams', the city of 'hope' is also a city filled with visual spectacles. Home to more than 1.84 crore people, Mumbai is famous for the bungalows of mega stars and amazing beaches.
However, there are several other places worthy of paying a visit in Mumbai. The city is home to numerous parks, caves and religious places. Especially, the Haji Ali Dargah and Siddhivinayak temple are visited by people of all faiths.
Here is the list of Top 10 places to visit in Mumbai-
Gateway of India | BL Soni
Gateway of India
The amazing architecture and the Arabian Sea nearby contribute to a serene visual treat. The last British troops left India through this archway after India was declared independent. Enjoy the fresh air near the shore savouring the famous mouthwatering 'Bhelpuri' served by the street food vendors nearby.
Taj Mahal hotel at Colaba | Photo: Wikipedia
The Taj Mahal Palace Hotel
This iconic hotel is situated near the Gateway of India. The extremely beautiful exterior and absolutely breathtaking interiors along with optimum quality colonial style food will leave you in awe.
Chhatrapati Shivaji Maharaj Vastu Sangrahalaya | Pinterest
Chhatrapati Shivaji Maharaj Vastu Sangrahalaya
If you are intrigued by history then this is just the right place to visit. Chhatrapati Shivaji Maharaj Vastu Sangrahalaya was earlier known as the Prince of Wales Museum of Western India. The museum has the best collection of ancient paintings, coins and antiques.
Global Vipassana Pagoda | Pinterest
Global Vipassana Pagoda
Need a break from all the crowd and excessive noise, then this is where you should head to. Global Vipassana Pagoda is located next to Esselworld, in Borivali West. The gold covered stupa is 96 meters tall and shines brightly under the sun.
Mani Bhavan Gandhi Museum | Pinterest
Mani Bhavan Gandhi Museum
Mahatma Gandhi is one of the most iconic figures in India's history. In 1917, he established his local headquarters at this place. Here you can witness some of the rarest photos of the Mahatma. The museum is located at Laburnum Road, Gamdevi, Mumbai.
Mahalaxmi Temple | Pinterest
Mahalaxmi Temple
This auspicious temple is located at Bhulabhai Desai Road, Mumbai. This ancient temple is famous for showering good luck and wealth on to those who pay a visit. You can see people of all faiths paying a visit to this historical temple.
Siddhivinayak Temple
This holy temple is visited by more than 25,000 people every day. The temple is located at S.K. Bole Marg, Prabhadevi. Don't forget to take a walk in the nearby lane which is filled with stalls from where you can buy all items needed for 'poojan'.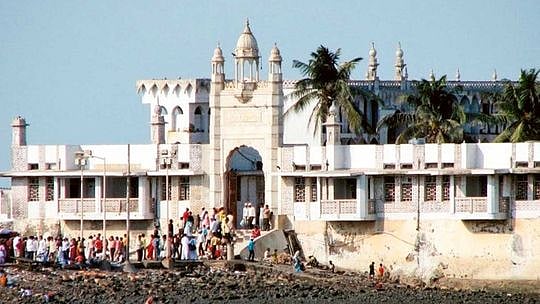 Haji Ali Dargah
This mosque and tomb was built by Pir Haji Ali Shah Bukhari in 1431. Located near the Worli Coast in Central South Mumbai, Haji Ali is one of the most famous tourist attractions of the city. A trip to Mumbai is incomplete if you don't visit this place.
Pinterest
Ancient Caves on Elephanta Island
A UNESCO World Heritage Site, these ancient caves are around 1,600 years old. You can find interesting carved stories and myths on the walls. The cave is also home to a Shiva statue which is around 6 feet tall.
Kanheri caves | Pinterest
Kanheri Caves
Sanjay Gandhi National Park located in Borivali East also contains the Kanheri Caves which has some astonishing carvings. Around 2,000 years old, this cave has 109 entrances. This cave in the fast-paced and modern city of Mumbai is a major tourist attraction.
(To receive our E-paper on whatsapp daily, please click here. To receive it on Telegram, please click here. We permit sharing of the paper's PDF on WhatsApp and other social media platforms.)