Mumbai, the city which never sleeps also has some of the most amazing religious places to visit. Located on the Western Coast of India, the city is the home of Bollywood and has been the financial hub of the nation since a long time.
Mumbai is one of the most densely populated cities in the world. The religious diaspora in the city is just incredible. Whenever you get a chance to visit Mumbai, these are the top 5 religious places you must visit to capture the true essence and spirit of the Mayanagri.
Siddhivinayak temple in Mumbai | Photo Credit: ANI
Siddhivinayak Temple
More than 25,000 people visit this temple daily to bring fortune to them and their families. Amazing architecture and the beautiful stalls nearby from where you can buy coconuts and other items for 'Poojan' adds to the beauty of this place. People say that whatever you wish from Lord Ganesha here is fulfilled for sure.
'Mumba Devi' | Wikipedia
Mumba Devi
This temple is the home to the goddess after whom the city is named. Mumba Devi temple is located in Zaveri Bazaar. This temple has great historical significance as it is believed that it was built by the Koli Fisherman, the original residents of the city. The temple was rebuilt in 1737. If you want to capture the essence of the city, you cannot skip a trip to the Mumba Devi temple.
Holy Name Cathedral |
Holy Name Cathedral
Opened for public in 1905, Holy Name Cathedral in Colaba, South Mumbai is one of the major tourist attractions of the city. The Cathedral is home to numerous ancient artworks and has been blessed by a number of Popes. When Pope Paul VI visited Mumbai back in 1964, he gifted a huge ringing bell to the Cathedral which adds to beauty of this place.
St. Thomas' Cathedral | Pinterest
St. Thomas' Cathedral
Built in 1718, St. Thomas' Cathedral is also the first Anglican Church of Mumbai which later became a Cathedral in 1837. This place is known for the extremely fine glass work. The Churchgate district of Mumbai has received its name from the gate of the church which was built by East India Company.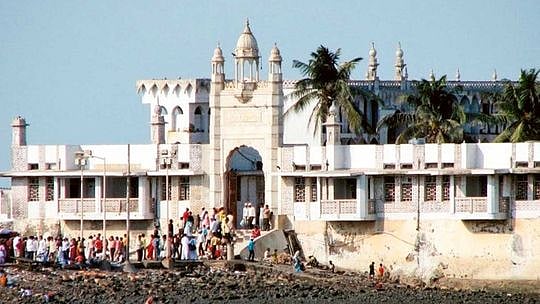 Haji Ali Dargah |
Haji Ali Dargah
Pir Haji Ali Shah Bukhari built this mosque and tomb back in 1431. Located right in the middle of the ocean near the Worli Coast in Central South Mumbai, Haji Ali is one of the most famous tourist attractions of the city. Especially on Thursdays and Fridays, the Dargah is visited by devotees of all faiths.
(To receive our E-paper on whatsapp daily, please click here. To receive it on Telegram, please click here. We permit sharing of the paper's PDF on WhatsApp and other social media platforms.)