Parts of north and central India will witness intense rainfall activity over the next four days, the India Meteorological Department (IMD) said on Saturday.
Citizens in the national capital woke up to heavy rainfall, resulting in waterlogging in a few areas on Sunday morning. Vehicles commuting from the Yamuna Bazar area witnessed heavy waterlogging due to heavy rainfall.
In West Bengal, discharge of water from dams and barrages is set to increase as the storage facilities are almost full with heavy rainfall across the state for the last two days, officials said on Saturday.
Heavy showers in eastern Rajasthan inundated roads and washed out rail tracks in the Jodhpur division. A few places in Nagaur, Baran, Jaipur, Sawaimadhopur, Karauli, Sikar, Alwar, Jhunjhunu and Churu districts have recorded heavy to very heavy rainfall till Saturday morning.
Widespread rainfall with isolated heavy to very heavy falls are very likely to continue over east Rajasthan and west Madhya Pradesh from July 31 to August 4 with peak activity from July 31 to August 3.
Waterlogging witnessed in Yamuna Bazar area of Delhi following rainfall in the national capital on August 1, 2021. | ANI
Crops submerged in rainwater in many villages of Moonak area in Sangrur district of Punjab following incessant rainfall on August 1, 2021. | ANI
Locals in Punjab are using boats to commute between one village to another as roads are submerged due to heavy rainfall. | ANI
Streets flooded, water entered houses after rain in Ajmer, Rajasthan on August 1, 2021. | ANI
Underpass waterlogged in Prahladpur area, Delhi on August 1, 2021 as the city continues to receive rainfall. | ANI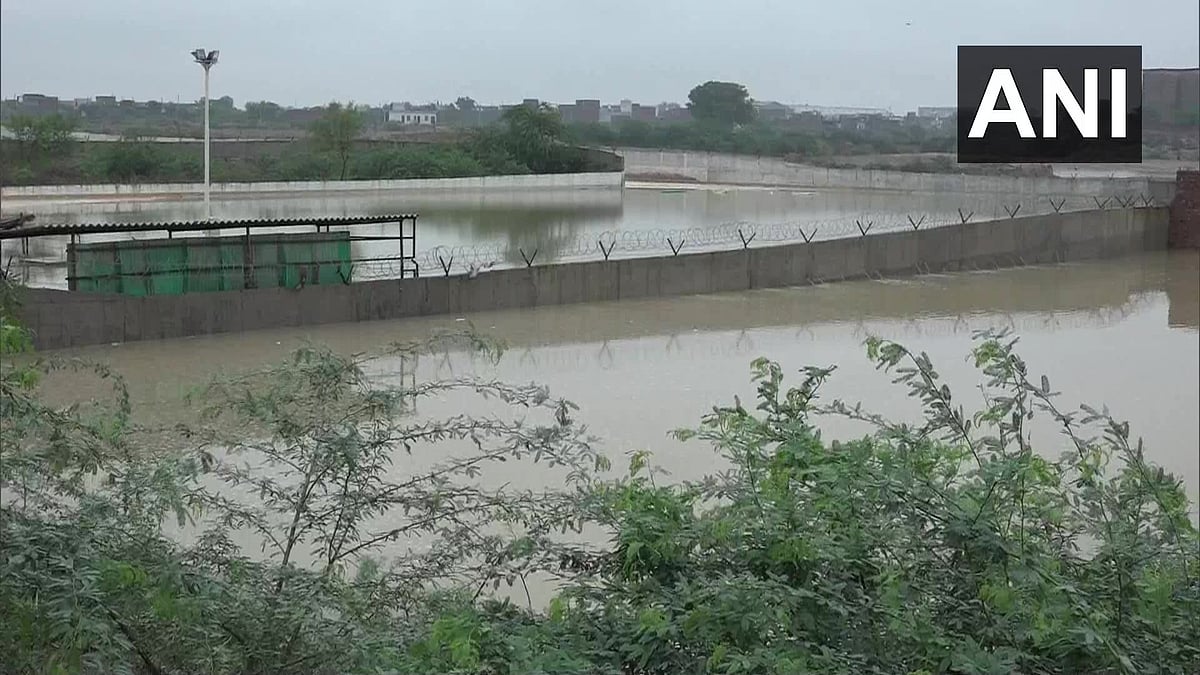 More than 50 dogs were rescued from partially-submerged dog shelter, Casper's Home in Agra, Uttar Pradesh on July 31, 2021. | ANI
A bridge under construction collapsed in Gaya, Bihar due to floods caused by heavy rainfall. | ANI
Commuters make their way through a waterlogged road under a bridge during heavy rainfall, in Jalandhar, Punjab, on July 31, 2021. | ANI
A temple submerges after water level rises of the river Ganga due to heavy rainfall, in Varanasi, Uttar Pradesh, on July 31, 2021. | ANI
A submerged temple after water level rises of the river Ganga due to heavy rainfall, in Varanasi Uttar Pradesh, on July 31, 2021. | ANI
A house gets damaged as its wall collapses due to the heavy rainfall, in Shimla on July 31, 2021. | ANI
A submerged Retneshwar temple after water level rises of the river Ganga due to heavy rainfall, in Varanasi, Uttar Pradesh, on July 31, 2021. | ANI
Barrack wall of 150-year-old Bhind Jail collapses due to continuous rainfall leaving 22 inmates injured, in Bhind, Madhya Pradesh, on July 31, 2021. | ANI
(By agencies)
(If you have a story in and around Mumbai, you have our ears, be a citizen journalist and send us your story here. )
(To receive our E-paper on WhatsApp daily, please click here.  To receive it on Telegram, please click here. We permit sharing of the paper's PDF on WhatsApp and other social media platforms.)