Independence Day 2021: On the night of August 15, 1947, the first Prime Minister of Independent India, Jawaharlal Nehru, said, "At the stroke of the midnight hour, when the world sleeps, India will awake to life and freedom." These words aptly captured the struggle and happiness of newly-independent India as it finally managed to free itself from the clutches of British rule.

On August 15, 2021, India will be celebrating its 75th Independence Day. Every year, Independence Day is celebrated with grandeur, gaiety, fervour and enthusiasm.
On the eve of 75th Independence Day, Indians across the country celebrated Independence day in their own way. Some by painting their faces in tricolour, some performing traditional dances, along with some also wearing unique shirts with national flag prints on it.
Students of Allahabad Central University with their faces and hands painted in tricolours show victory signs on the eve of 75th Independence Day celebrations, at Chandra Shekhar Azad Park, in Prayagraj on Saturday. | (ANI Photo)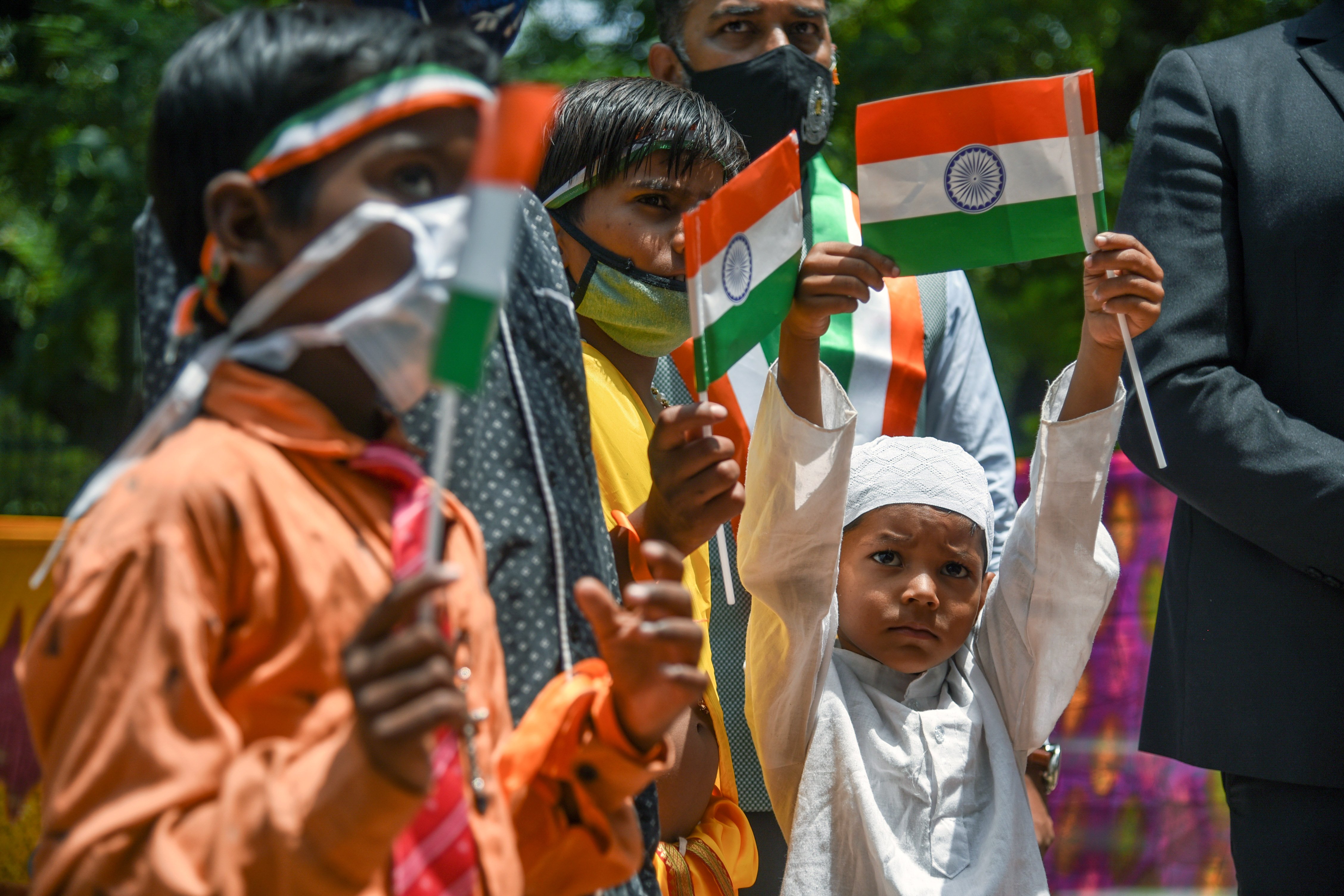 Underprivileged children hold national flags during an event on the eve of Independence Day celebration, in New Delhi on Saturday. | ANI
Assam, Aug 14 (ANI): Artists perform the Bagurumba, a traditional Bodo dance on the eve of 75th Independence Day celebration, in Tezpur on Saturday. | (ANI Photo)
A girl gets her face painted with the tricolour on the eve of 75th Independence Day celebrations, in Shimla on Saturday. | ANI
Residents prepare to release a handmade hot air balloon from their rooftop on the eve of Indias Independence Day celebrations in Kolkata on August 14, 2021. | (Photo by Dibyangshu SARKAR / AFP)
Vandemataram group members hold national flags on the eve of 75th Independence Day Celebration at Mahatma Gandhi marg, in Bhubaneswar on Saturday | ANI
Vandemataram group members hold national flags on the eve of the 75th Independence Day Celebration at Mahatma Gandhi Marg, in Bhubaneswar on Saturday. | ANI
ANI
Kids hold tricolours as Mann Tours organises a trip of Delhi Darshan for 100 underprivileged kids on the eve of the 75th Independence Day, in New Delhi on Saturday. | ANI
Prayagraj: Allahabad Central University students paint their faces with tricolour pose for photographs, on the eve of Independence Day celebrations at Chandra Shekhar Azad Park in Prayagraj, Saturday, Aug 14, 2021. | (PTI Photo) Amar Deep Sharma
West Bengal, Aug 14 (ANI): An elderly man takes a selfie wearing a national flag-painted mask and a T-shirt on the eve of 75th Independence Day, in Kolkata on Saturday. | ANI
(To receive our E-paper on whatsapp daily, please click here. We permit sharing of the paper's PDF on WhatsApp and other social media platforms.)
Published on: Saturday, August 14, 2021, 08:02 PM IST