01 June 2021 08:10 AM IST
Mumbai reports 676 COVID-19 cases, lowest daily count in 89 days; 5,570 discharged
With the addition of 676 new COVID-19 cases on May 31, Mumbai's infection tally rose to 7,06,251. It is the single lowest day spike in last 89 days. Now, there are 22,390 active cases in the city.
Mumbai reported 29 deaths due to coronavirus on Monday which pushed its fatality count to 14,884 data released by the city's civic body Brihanmumbai Municipal Corporation (BMC) said. 5,570 COVID-19 patients recovered and were discharged on Sunday taking the recovery count to 6,66,796.
(With inputs from agencies)
01 June 2021 08:10 AM IST
Maharashtra logs lowest daily Covid cases of 15,044 since Mar 2021
Maharashtra reported lowest Covid cases on Monday, with the state reporting 15,044 new infections and 184 Covid-19 deaths in the past 24 hours, pushing its total positive cases to 57,46,892 and deaths to 95,344.
This is the lowest number of cases being reported in the state since March 11 this year when 14,317 cases were reported in a single day.
01 June 2021 08:16 AM IST
Pune district records 1,083 new COVID-19 cases, 53 deaths
01 June 2021 03:11 PM IST
Maha PWD creates record by constructing 39.69 km long road in 24 hrs: Minister
01 June 2021 03:11 PM IST
HSC exams more important than SSC, HC told
The Highest Secondary Certificate (HSC) exams are more important than the Secondary School Certificate (SSC) exams, the Bombay High Court was informed on Monday. The state government further said that it is yet to take a final call on HC exams and is awaiting the Union government's decision for class 12 exams.
01 June 2021 03:11 PM IST
Man held for killing his live-in partner in Mumbai's Bandra 
A 21-year-old man was arrested on Monday by crime branch sleuths for allegedly killing his paramour and dumping her body near a church in suburban Bandra, a Mumbai Police official said.
He said the accused was arrested while he was trying to flee to Jharkhand.
01 June 2021 03:11 PM IST
Non-essential shops in Mumbai can now operate 7 am to 2 pm on alternate days: BMC
01 June 2021 03:11 PM IST
Maha: Newborn tests positive for coronavirus in Palghar
A 15-hour-old girl in Palghar district of Maharashtra has tested positive for coronavirus, while her mother tested negative for the infection, a medical officer said.
The woman, hailing from Darsheth village, gave birth to the child at a private nursing home in Palghar town on Sunday, he said.
01 June 2021 03:11 PM IST
NCP chief Sharad Pawar to chair meeting with party legislstors and ministers today
01 June 2021 03:11 PM IST
TV actor Karan Mehra arrested for assaulting wife Nisha Rawal at Goregaon
Television actor Karan Mehra, who shot to fame with the show 'Yeh Rishta Kya Kehlata Hai' was arrested late on Monday night after his wife, actress and model Nisha Rawal, approached police for being assaulted by her husband. According to police, Mehra allegedly pushed Rawal against the wall following a heated domestic brawl in their Goregaon home. The actor was subsequently booked under relevant sections of the Indian Penal Code for assault and will be produced before a local magistrate court on Tuesday.
01 June 2021 03:11 PM IST
Maharashtra: Thane logs 512 new COVID-19 cases, 34 more deaths
01 June 2021 03:11 PM IST
Maharashtra Police registered a case against 60 people including BJP MLA Mahesh Landge for flouting COVID norms at a wedding ceremony in Pune
01 June 2021 03:11 PM IST
Shiv Sena MP urges govt to reduce mandated gap in 2 vaccine doses for students travelling overseas for further studies
01 June 2021 03:11 PM IST
Till there's no clarity on Maratha community reservation, State govt decided to support the community that doesn't come under any reservation category, with EWS reservation. Community with annual income below Rs 8 lakh are eligible for EWS reservation: Maharashtra Min Nawab Malik
01 June 2021 03:11 PM IST
Maharashtra vaccination tally reaches 2,25,75,481
01 June 2021 03:11 PM IST
Mumbai: Huge traffic jam on western express highway at Dahisar checknaka after police nakabandi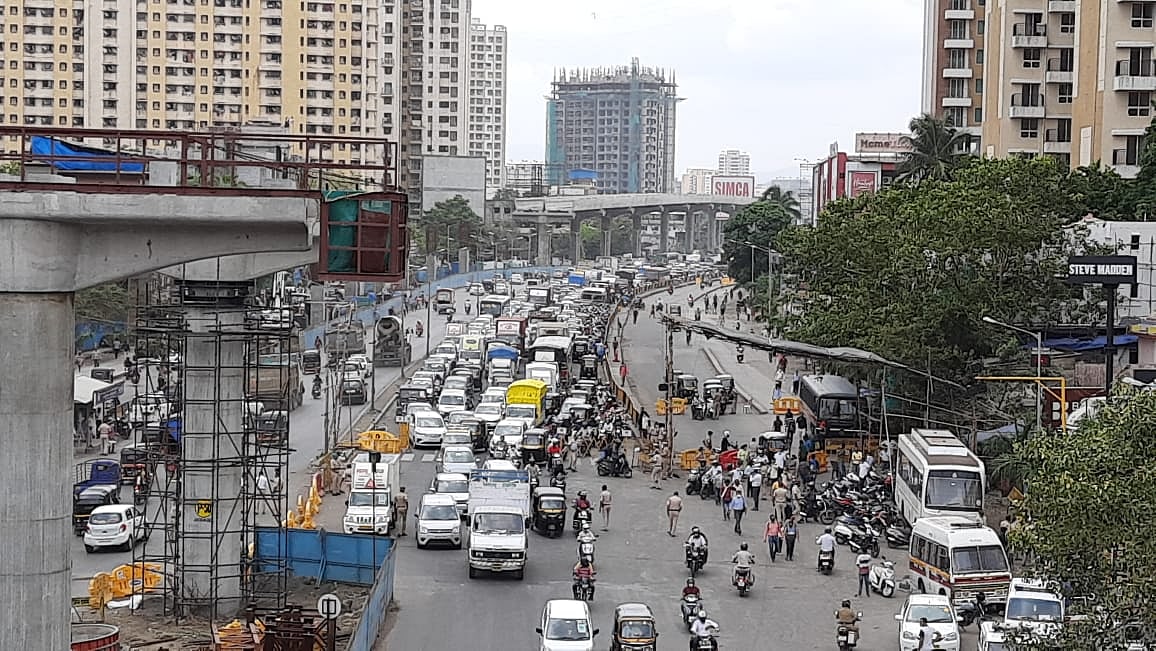 BL Soni
BL Soni
01 June 2021 03:11 PM IST
Radhakrishnan Rajaram Narwekar, ex President of the Mumbai Marathi Patrakar Sangh, and former editor of the Sakal, Mumbai, passed away this morning
01 June 2021 03:11 PM IST
Maha: 26 convicts refuse emergency parole, cite various reasons
01 June 2021 03:11 PM IST
Governor condoles demise of veteran journalist Radhakrishna Narvekar
01 June 2021 03:11 PM IST
Maha:Over 9900 minors contracted COVID-19 in Ahmednagar in May
01 June 2021 03:11 PM IST
Sajid Nadiadwala organises vaccination drive for over 500 employees
01 June 2021 03:11 PM IST
Pawar may have advised Fadnavis on oppn leader's role: Raut
01 June 2021 03:11 PM IST
Pune: BJP MLA, 60 others booked for violating COVID norms
(To receive our E-paper on whatsapp daily, please click here. To receive it on Telegram, please click here. We permit sharing of the paper's PDF on WhatsApp and other social media platforms.)