After opening its first outlet in the heart of Mumbai, Andheri in 2017, Yazu decided to make Lower Parel its next stop. The newly launched restaurant, spread across a sumptuous 6,000- sq ft seems to have hit all the right buttons! Reason? It's because by early evening on a weekday, the pub was packed and all the tables were full. The restaurant is helmed by Ranbir Nagpal, Gurmeet Arora, and Atul Chopra.
Fascinating custom light installation spanning the entire ceiling of the outlet, which stands as the focal point of the whole space, in-situ concrete custom design flooring with floral imprints and inlays to mirror the patterns in the ceiling above, a hand-carved wooden feature wall stands as a backdrop to a long seating space wrapped in a warm textural blend of cane and deep red leather, a stunning vertical bottle display, and larger-than-life sculptural lamps — all these elements make this restaurant totally Instagram-able. The highlight is definitely the opulence that defines the space as well as creates the perfect outdoor ambiance.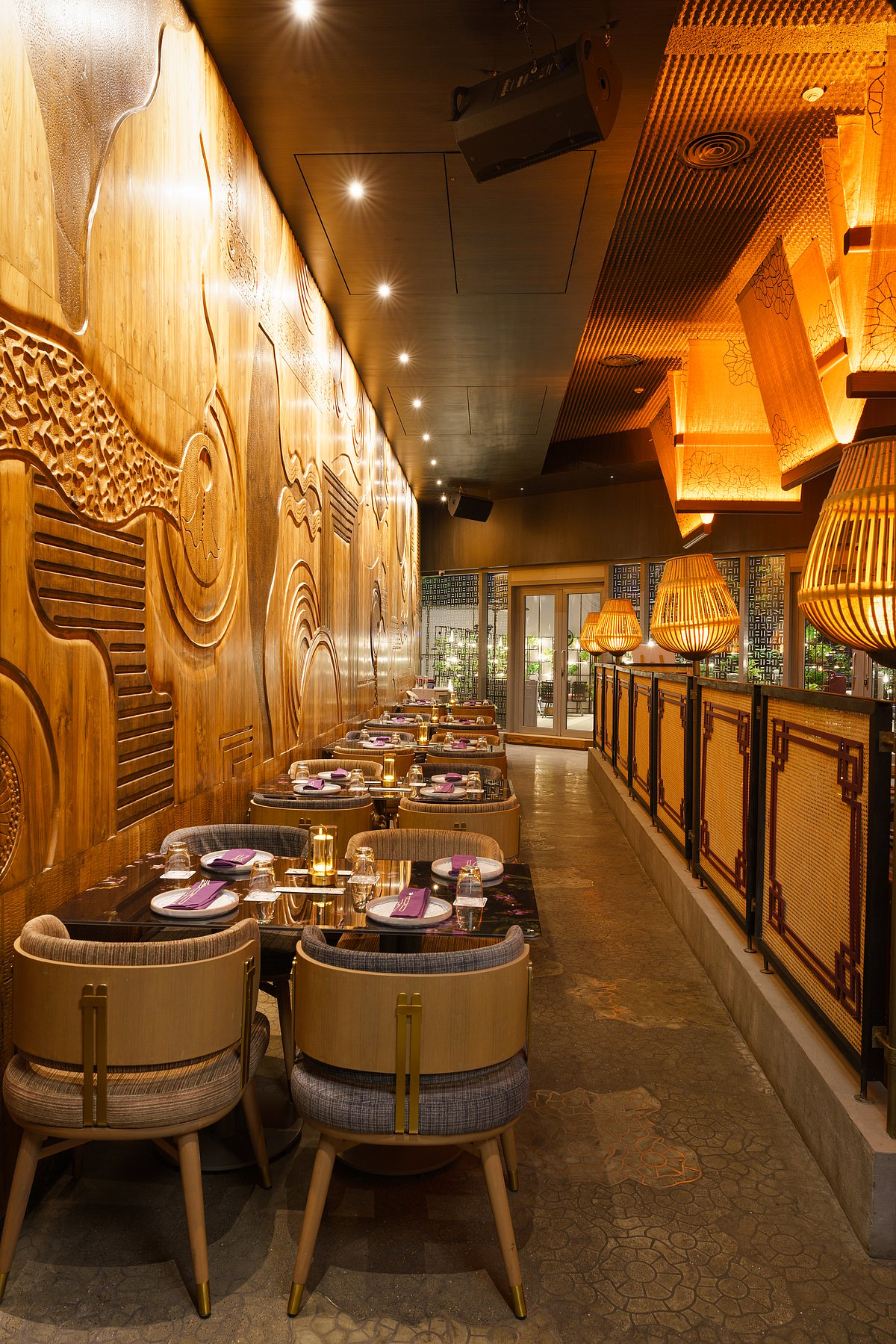 21FRAMES
Combining the stunning interior with culinary delights is the carefully curated Pan Asian menu served with some picture-worthy drinks. The food menu has everything you can think of from Japanese Carpaccio to Taiwanese Baos and Cantonese Cheung Fung to Nigiri Sushi, and Poke Bowl. Honestly, the extensive food menu is quite impressive. Pan-Asian is the easiest take for any restaurant, so you may have your reservations. But what follows, will totally win you over.
Some of their must-have delicacies include the Asian Pizza-San which is a delicious fusion of Asian flavours, featuring a crispy crust and unique toppings, Japanese Carpaccio served with Ponzu dressing, Taiwanese street food Baos, Cheung Fung, a traditional Cantonese dim sum dish made of delicate rice noodle rolls filled with meat, seafood or vegetables, a classic Japanese dish called Nigiri Sushi consisting of a small ball of vinegared rice topped with a slice of fresh, high-quality raw fish or seafood, Sashimi, Maki Sushi, and Poke Bowl which is a traditional Hawaiian dish consisting of a base of rice or greens, topped with marinated raw fish and a variety of colourful and nutritious toppings, among others. The restaurant also has separate Jain and Keto menus as well.
Taiwanese street food Baos |
Crispy Cheung Fun |
Dim Sums |
Pull me up Tiramisu & Berry Blossom Cheesecake |
Signature cocktail |
The impressive bar menu features some of its signature cocktails, spirits, and tonics. There is a range of cocktails called The Silk Route, which beautifully combines the flavours and techniques of the Asian Continent. There's also a cocktail, A Trip in Time made of Martini, Negroni, Whiskey Sour, and more. Complete your meal with some specially curated desserts like Berry Blossom Cheesecake, Salted Caramel Tart, Pull me up Tiramisu, and Coconut Panna Cotta.
Rs 2,000 + for two.
(To receive our E-paper on WhatsApp daily, please click here.  To receive it on Telegram, please click here. We permit sharing of the paper's PDF on WhatsApp and other social media platforms.)