Our mothers are the most important person in our lives, and though a day is not enough to remind us of their worth definitely, we can at least dedicate a day and make her feel special if we forget to do so on a day-to-day basis. Here is a list of 8 restaurants in Mumbai that are offering customised menus for making Mother's Day special; you can take your mom out on a brunch or dinner date at these restaurants and spend quality time with her and make her day extra special.
Bayroute
Bayroute |
Bayroute, an award-winning fine-dining restaurant chain that has become the 'very epitome of Middle Eastern dining,' has something special lined up for all the moms out there. The restaurant will be offering its famous Lotus Milk Cake as a complimentary dessert to all the mothers who will be dining at the restaurant on Mother's Day.
Price for two: Approx ₹3,500
Date and timings: Sunday, May 14. The whole day
Location: Cuffe Parade, Powai, Juhu, BKC, and Lower Parel
Foo
Foo |
Celebrate her special day at Foo with their specially curated brunch menu with love and perfection. The menu showcases a selection of dishes that will make your experience more joyous.
Begin your meal with a bowl of piping hot soup such as Miso Soup or opt for refreshing Som Tum salad and enjoy a delightful selection of sushis and dim sums such as Nikkei Avocado Uramaki, Aburi Veg Maki, Foo Bao, and Spicy Seafood Peking Dumpling.
The highlight of the brunch is the dim sum trolley, which will be serving a variety of hot, fresh, and delicious dim sum like Wasabi Truffle & Edamame Dumpling, Crystal Dumpling, and Sriracha Chicken Dumpling.
Foo |
You can also choose from a range of small plates, including Spicy Hunan Chilly Baby Potatoes, Hong Yu Waterchestnut Wonton Burnt Garlic, and Pink Pepper Prawns 7 Spice Seasoning.
Dive into their big plates like Foo Blue Butter Japanese Fried Rice, Foo Hakka Noodles, Prawns in Chilly Black Bean and more.
For the desserts, they have Foo Black Marble Sesame Cheesecake, Snickerz, and the seasonal special Alphonso Mango Cream Cake and their signature cocktails includes the Foo King and the Foo Queen, both one-of-a-kind vodka-based cocktails that will leave you wanting more. For a refreshing twist, Kokum Club, a gin-based cocktail with coconut liqueur and kokum syrup would be a perfect fit.
The elaborate menu extends to a carefully curated list of wines, a variety of Sangrias and mocktails. Your experience at Foo is incomplete without Foo Brew, their in-house rice beer that is freshly brewed, an absolute crowd favourite.
Price: ₹1650 food & ₹1550 cocktails
Date and Timings: Sunday, 14th May. 12 -4 pm
Location: Andheri / Bandra / Town / NESCO
Golden Chimney Restaurant
Golden Chimney Restaurant |
This Mother's Day, Golden Chimney Restaurant & Bar has a delectable menu that will surely make Mother's Day an unforgettable one for every family member.
Golden Chimney features a variety of mouth-watering dishes like delicious appetizers like Butter Garlic Prawns, Bombil Rava Fry, Crispy Fried Chicken, or Stuffed Prawn Papad Roll.
For the main course, the menu includes a variety of coastal specialties, such as Goan Curry versions of fish, chicken or mutton, Prawn Pulao, Spicy Ambotik Curry, and the chef's special Green Curry and Mix Seafood Pulao.
Golden Chimney Restaurant |
Vegetarians can enjoy the flavors of the coast with the special Exotic Vegetables available in Goan and Green Curry versions, as well as classic dishes like Dal Tadka and Paneer Makhani.
To end the meal on a sweet note, they have Tender Coconut Payassam or Mango Payassam dessert. They also has a special blend of refreshing cocktail flavours.
Price for two: Approx ₹1,600
Date and timings: 14th May. 12-3:30 pm, 7 pm-12.30 am
Location: Lamington Road, Near Opera House
KMC
KMC Fort |
Nestled in the heritage building of Kitab Mahal, the brunch menu will feature Seed Crisps with Avocado and Chawali, The Coffee Glazed Root, Shrimp Beignets and more. For a sweet ending, you can indulge in the comfort of a Chocolate Chip Cookie with Icecream and there are some amazing cocktails available as well.
Price: ₹1200+ for food and ₹1200+ for Drinks
Date and Timings: May 14 from 12- 6 pm
Location: KMC, Kitab Mahal, Fort
The Blue Bop Cafe
The Blue Bop Cafe |
The cafe which is a hub for delicious Italian & American food is all set to celebrate Mother's Day by offering complimentary Bellini/ Sangria on purchase of any cocktail and a complimentary Mother's Day cupcake on purchase of any dessert. They also have offers on delivery. You get a Mother's day cupcake free on orders above ₹499 on May 13-14.
Price for two: Approx ₹2,500
Date: May 14
Location: Linking Rd, Khar (W)
Millo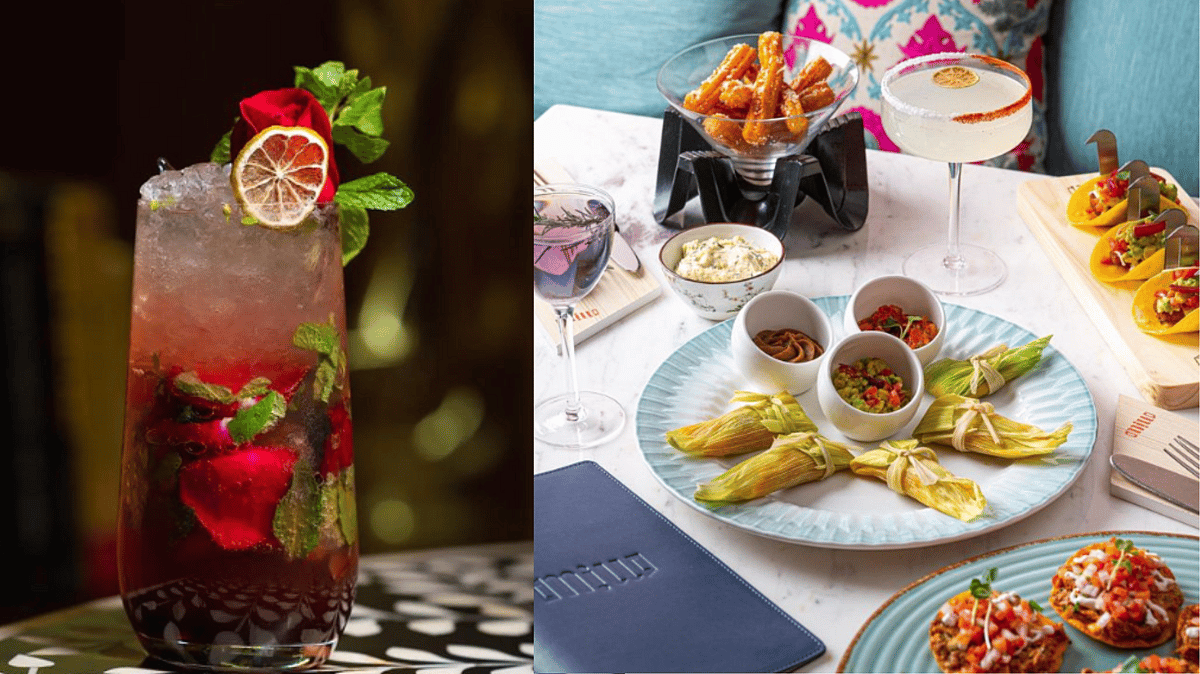 Millo |
Does your mom love delicious vegetarian food? Then, Millo has a quirky take on vegetarian recipes from all over the globe and focuses more on Mexican, Italian & European cuisines with a diverse range of vegan & plant-based food. This Mother's day they are offering a 20% discount on Margarita & Summer Mocktails ordered by any mother at the restaurant.
Price for two: Approx ₹2,000
Date: May 14
Location: Lower Parel
Taki Taki
Taki Taki Mumbai |
You can take your mom on a brunch date at Taki Taki Mumbai on this Mother's Day and indulge in a delectable menu featuring Japanese-inspired flavours, exotic cocktails, and live music.
Start your meal with the fresh and vibrant Horenso Gomai or Som Tam Salad. For those who love dim sum, the menu features Asparagus Corn, Thai Mushroom Bao, Chicken Truffle Siu Mai, Prawn & Petit Herbs, and Lobster & Chives.
You can indulge in flavourful appetizers like Daikon Cake, Wok Fried Fish in Hunan Sauce, Korean Fried Chicken with Kimchi, and more.
The mains include Exotic Vegetables in Crispy Chilli Sauce, Sanpei Thai Basil Chicken, or Red Snapper in Black Bean Sauce, etc.
You can also, sip on bottomless cocktails like Taki & Tonic, French 75, Mimosa, Gin Collins, and Lady Marmalade, all made with premium spirits and fresh ingredients and finish off your meal on a sweet note with their delicious crafted desserts.
Price : Food & Mocktails at ₹1750+
Food & Cocktails at ₹2750+
Date and timings: May 14. 12-4 pm
Location: Lower Parel
La Pôz Place
La Pôz Place |
La Poz Place, an upscale vegetarian restaurant, has taken the humble sandwich to a whole new level with its new Power Lunch menu which comprises Soup/Mocktail, Salad, Sandwiches, and Desserts. Head out to La Poz Place in Kala Ghoda with your Mothers as they have curated this Power Lunch Menu which will make your Mother's Day meal a memorable one with a hint of nostalgia.
Price: ₹600 +
Date: May 14, 12-3 pm
Location: Kala Ghoda
(To receive our E-paper on WhatsApp daily, please click here.  To receive it on Telegram, please click here. We permit sharing of the paper's PDF on WhatsApp and other social media platforms.)