Rang 2023
What: Make this year's Holi pictures better by taking a trip to Karjat for an overnight Holi party that encompasses travel and partying. Not only is there dance music by the pool, you enjoy a traditional festive lunch, followed by delicious treats at high tea. Do some kayaking till sunset and take in the golden rays of the sun at the banks of river Ulhas. Gear up for a Badminton competition or challenge your friends to a game of ludo. End the night with a live band till you wonder, 'Itna maza kyu aa raha hai?'
When: 7th March, 11 am
Where: Moonstone Hammock, Shelu, Karjat
Tickets: INR 3,800
Pool party
What: From an infinity pool to a rain dance on the dancefloor, there are multiple options to get wet at this beach resort. Kraxus (Alveda Records) will be spinning scintillating tunes. Expect an open terrace bar, live barbeque with amazing food and safe colours.
When: 7th March, 10 am
Where: Silverador Resort Club, Uttan
Tickets: INR 499 onwards
Holy Canoli
What: Combine all-out camping with a sizzling dance party that extends into the next morning. Holy Canoli has cozy campfires, delicious food, and movies under the stars.
When: 7th March, 5 pm
Where: Letscampout camp dreamscape, Panvel, Navi Mumbai
Tickets: INR 799 onwards
Rangotsav '23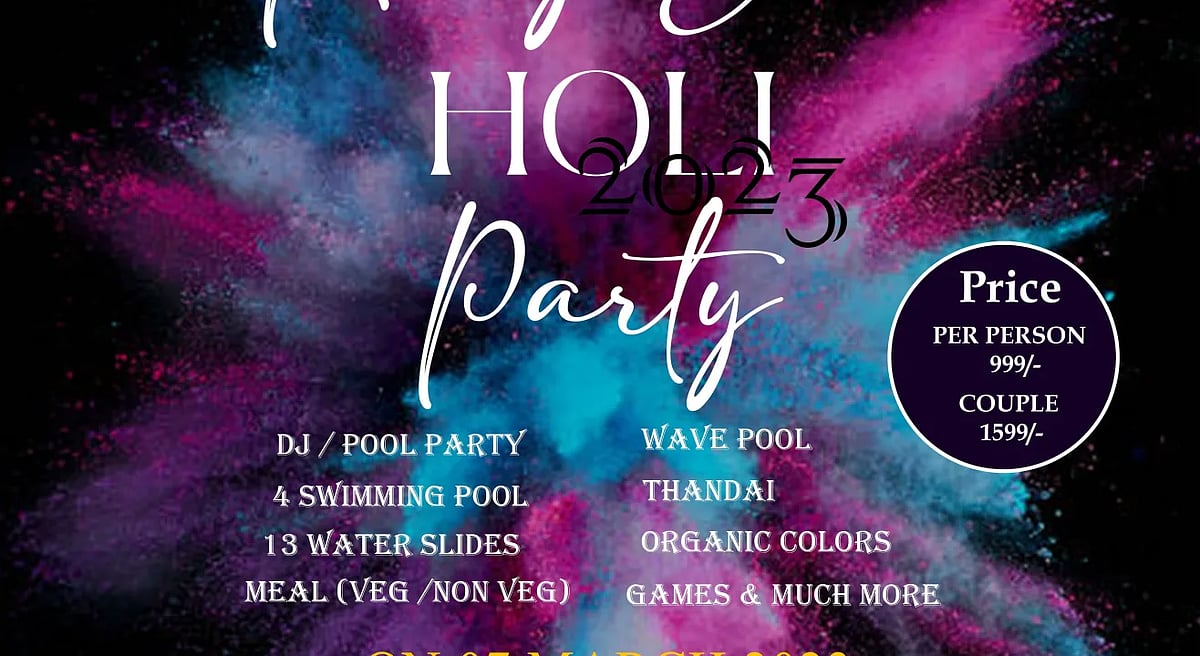 What: This resort party is being touted as the biggest beach party near Mumbai. Gorge on unlimited authentic Indian and play with unlimited organic colours by the sea. On the agenda are water cannons, Punjabi dhol to shake a leg, and lots of thandai to sip on.
When: 7th March, 9 am
Where: Nisarga Resort, Virar
Holi Blast
What: Holi Blast brings the festive celebrations of Holi with Sattva Ritual this Mar 07th at Agents Jack in Mumbai. The line-up has big techno and psy players like Psyaa, Psyhll, Vega, Madari, Ensenble Void and Altered Sensorium.
When: 7th March, 2 pm
Where: Agent Jack's, Dombivali
Tickets: INR 499
Holi Cow
What: Bollywood playback singer Sukhwinder Singh and hip hop superstar Divine with his gully gang will perform a full-fledged live concert.
When: 7th March, 11 am
Where: MMRDA Ground, Bandra East
Tickets: INR 999 onwards
Holi By The Bay
What: This is the biggest sea-facing Holi party in Mumbai. Whether you're a fan of traditional Holi tunes or prefer to dance to electronic beats, this event has various genres. International DJs like Madmen, DJ Ganesh, Perch, Kumar Swamy, and Justin Yanu will play 12 hours of nonstop music to keep the rager going. Dhol and taasha, organic colours and a rain dance apart, there will be a range of food and drinks available, so you won't have to leave the seaside venue while you get drenched.
When: 7th March, 10 am
Where: Bayview Lawns, Princess Dock
Tickets: INR 999 onwards
Rang Leela
What: Popular singers Dhvani Bhanushali and the Kakar Twins (Sukriti and Prakriti) will be on stage to add colour to your festivity along with kickass DJs. It's a family-friendly party so there is a designated kids' zone so the bachchas can mingle. Expect safe and organic colours, thandai and multi-cuisine grub.
When: 7th March, 10 am
Where: Lawns, JW Marriott Sahar, near T2 airport
Tickets: INR 499 onwards
Rang Utsaav
What: A multi-stage Holi festival by the seaside, this is a larger-than-life open air bash with best-in-class food & beverages. There are two concert stages. The Bollywood stage will showcase live music by Juggy Sandhu, Rammjii Gulatii, DJs Kumar Swamy, Rohitronic and David. The Slick! Stage will have EDM acts Ana Lilia, Arnova, AXL Stace, Bullzeye, Houdini and Yin Yang.
When: 7th March, 10 am
Where: Tulip Star, next to JW Marriott, Juhu
Tickets: INR 499 onwards
Colour Splash
The celebrations at Kutchi Ground are bigger this year with no less than 18 singers and DJs bringing down the house, alongside Puneri and Punjabi dhol players, besides a live band during the course of 10 hours. The food zone will have different cuisines and also has provisions for Jain and vegetarian fare.
When: 7th March, 10 am
Where: Kutchi Ground, Borivali West
Tickets: INR 499
New Sound Holi Blast
What: Underground music will be blasting in the burbs, thanks to Mayajaal, Gama Goblin, Jash Josh, Techknot, Blacksoul, NTBK, Elmubavi and Mihir handling the console for 12 hours nonstop. Former VJ Nisha Haraale will be headlining. Yummy food is available with your favourite drinks, and organic colours to play with.
When: 7th March, 9 am
Where: Airspace, Nexus Seawoods, Navi Mumbai
Tickets: INR 399
Dunk Fest
What: Dunk fest is a musical and colorful Holi celebration with the big boys of party scenes: DJs Chetas, Akhtar, Amann, Hardik, Bobby and Vron. This festival will be an all-day entertainment extravaganza, filled with celebrity appearances, diverse food stalls featuring a range of cuisines, and foamy fun.
When: 7th March, 10 am
Where: JVPD Ground – Arvog Leisure, Juhu
Tickets: INR 1,499 onwards
(To receive our E-paper on WhatsApp daily, please click here.  To receive it on Telegram, please click here. We permit sharing of the paper's PDF on WhatsApp and other social media platforms.)