Noted photographer Pravin Talan recently released sixteen pages of a breathtaking calendar that features stunning photographs of National Security Guard (NSG) commandos in action. The absolutely stunning images cover the elite Black Cat Commando using the death-defying spider-man technique for intervention to gain insight into anti-hijacking operations. This is the seventh edition of the NSG calendar by Pravin. Over the years, Pravin has captured several forces including Police Force, Central Reserve Police Force, Indian Army, Navy, Air Force and women in forces.
Stunning photographs of National Security Guard (NSG) commandos in action |
As part of a yearly calendar release, Pravin started working on the series in October last year and created stylised short training films with different forces. "We use that opportunity to capture a few images in the process with every force we capture in action. Our focus is always to bring the best of NSG into the calendar and create inspiration for the youth, and we are always very careful about what to showcase. NSG is a very shy, quiet organisation who rather lets the action speak, than words," says Pravin, who was accompanied by his associate photographer Rupali Saagar to capture these heroic actions. We have been shooting the forces for quite some time and most of the creative inputs, and fresh ideas come from her (Rupali).
The calendar is a tribute to the bravehearts of NSG for their supreme sacrifices |
For Pravin, a good picture is one which makes the viewer curious about the background story. "A good picture for me is the one which feels good to the heart and to the eye. Either it should calm our mind or create a wow reaction. If the viewer starts wondering how it's shot then that's a technically great photograph. People say every picture should tell a story, but I don't really agree with it. A good picture is a good picture. Though, the interpretation of a picture varies from individual to individual," opines the photographer, who never had any formal training in photography. "It has always been instinct and trial and error that have guided me throughout."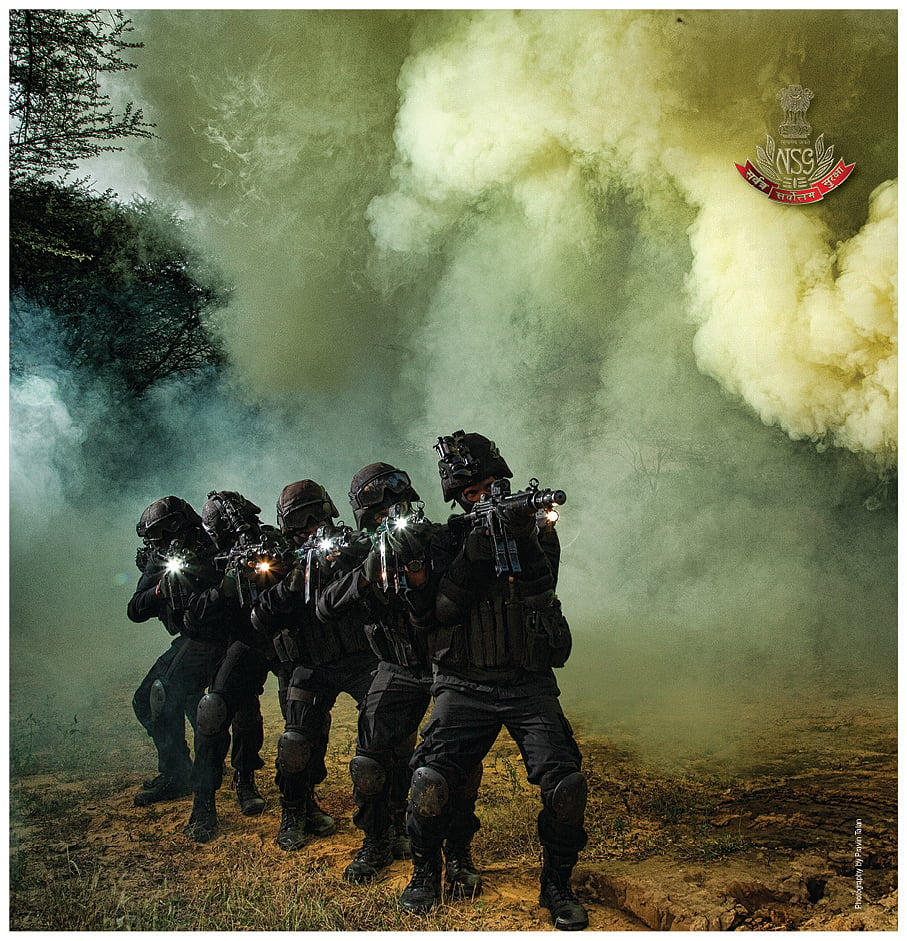 "If the viewer starts wondering how it's shot then that's a technically great photograph," says photographer Pravin Talan. |
While it is not easy to capture our men in action, Pravin pays tribute to their service through his photography and a calendar every year. "It is a tribute to the bravehearts of NSG for their supreme sacrifices. I can never forget the nightmare of 26/11 (Mumbai Taj Attack). This is to honour our bravest force through the images that stun the world," he says.

Armed with Canon 5d mark 4, and Sony A 7, Pravin keeps changing his equipment depending upon his assignments. As of now, Pravin is working on a web series based on special forces, "It should hopefully go on the floor for shooting by later this year. I am very keen to show a different side to our forces that no one has shown so far."
(To receive our E-paper on WhatsApp daily, please click here.  To receive it on Telegram, please click here. We permit sharing of the paper's PDF on WhatsApp and other social media platforms.)