Indore (Madhya Pradesh): Just a few days ahead of the cleanliness survey, the cleanest city in the country on Sunday conducted 'Hamari Swachhata, Hamara Gaurav Abhiyan' which saw an overwhelming response from residents, government officials, voluntary organisation members who turned up in large numbers to do their bit for the upkeep of the city.
From collector Ilayaraja T to mayor Pushyamitra Bhargav, public representatives to police personnel, government officials to commoners, all came forward to participate in the campaign.
FP Photo
As part of Indore Gaurav Diwas, the campaign was started by Bhargav from Lokmanya Nagar where he picked up a broom to clean the road.
The mayor also wielded the broom at Ranjit Hanuman Temple premises and in surrounding areas.
He also inspected cleanliness work at Mhow Naka, Lalbagh Palace Road, Collectorate Square, Moti Tabela, Gurudwara Square, Jawahar Marg, Rajwada, Kothari Market, Regal Square, Lantern Square, Janjeerwala Square etc.
FP Photo
"Cleanliness is our continuous activity and Indore's pride. To mark that, residents, organisations along with public representatives did 'shramdan' for cleaning different places in the city. Such activities keep us and sanitation workers motivated," the mayor said.
In all wards across the city, the cleanliness campaign was run with the help of local public representatives, shopkeepers, officials of Indore Municipal Corporation, and volunteers from different NGOs.
FP Photo
Cutting across party lines, public representatives participated in the cleanliness campaign.
Congress leader Deepak Pintu Joshi said that cleanliness is one subject on which all public representatives of Indore are on the same page.
Indoreans' love for cleanliness keeps city clean: Collector
Collector Ilayaraja T along with other administrative officials cleaned the collectorate premises themselves on Sunday.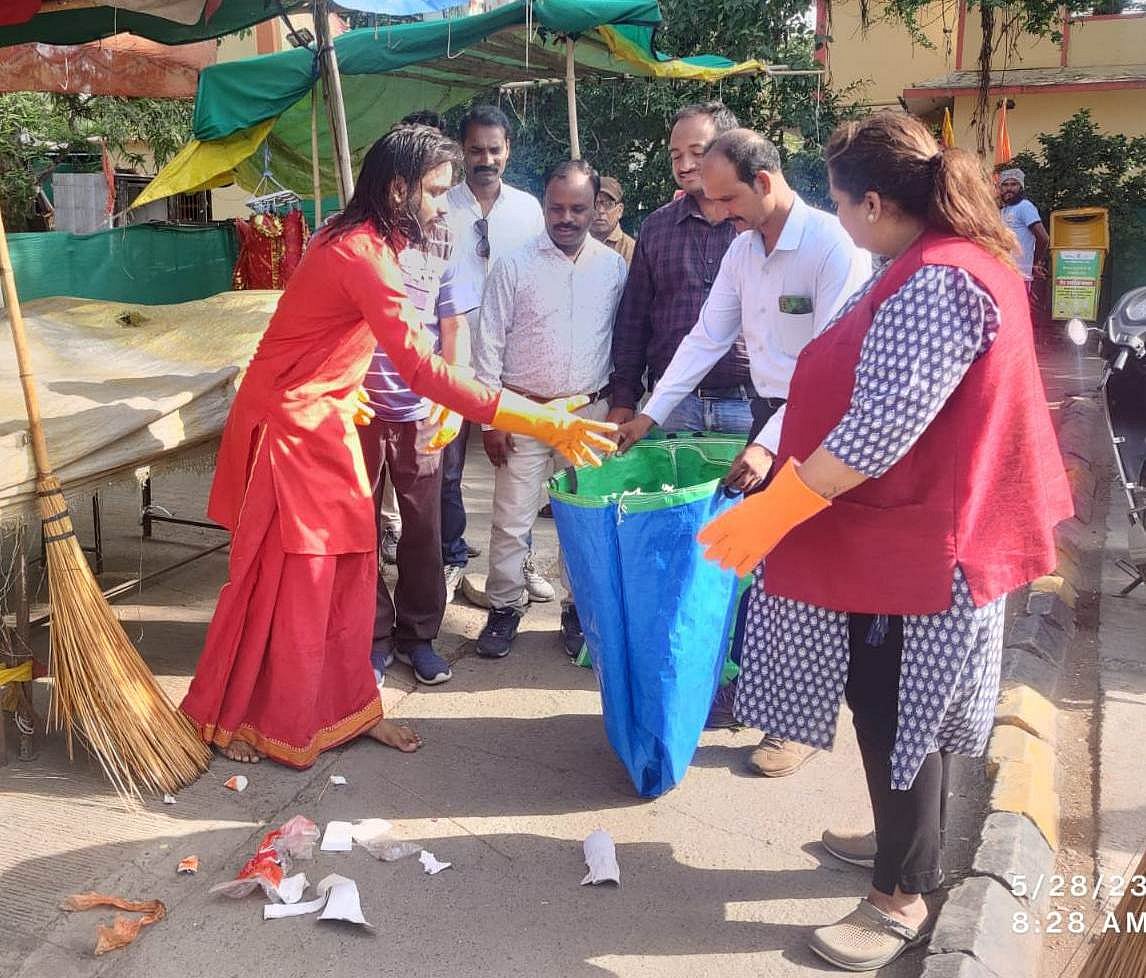 FP Photo
All officials and employees of the collectorate gathered on the premises around 7 am and cleaned it.
Ilayaraja covered every corner of the campus including the garden and collected garbage scattered here and there in a sack. Additional collectors Abhay Bedekar, Ajay Dev Sharma, Rajesh Rathore, Sapna Lovenshi, RS Mandloi and other officers and employees also carried out the cleaning work with enthusiasm. This cleanliness drive lasted for about 2 hours.
The collector had breakfast with the women sanitation workers. The sanitation workers shared their experiences with the collector.
"The love of Indoreans for cleanliness keeps their city clean, said Ilayaraja, adding, "I am confident of Indore clinching the cleanest city tag for the seventh time in a row."
(To receive our E-paper on WhatsApp daily, please click here.  To receive it on Telegram, please click here. We permit sharing of the paper's PDF on WhatsApp and other social media platforms.)