Gita Hari lays out a feast for Gudi Padwa
A new Hindu lunar calendar heralds the lunar New Year's day for Maharashtrians, Telugu and Kannada communities. With a change in the moon's orbit, this day is celebrated as Gudi Padwa in Maharashtra, Ugadi in Andhra, Telangana and Karnataka. Cheti Chand is celebrated on the same day by Sindhis as their New Year. Considered to be propitious to embark on new projects, this harvest festival is the harbinger of good times.
Aam panna, thalipeeth, bharleli vaangi, vatanache usal, kesari bhaat, shrikhand, sheera, puranpoli, amti are the traditional delicacies prepared in Maharashtrian homes but few know about an offering that is made on padwa in villages, which is called kadulimbacha prashad. It consists of neem leaves, gud/ jaggery, kokum or tamarind and salt where all the ingredients are muddled together and offered to God, indicating acceptance with gratitude of the various flavours that life offers – sweet, sour, bitter, salty.
Chefs share their recipes of food prepared specially on Gudi Padwa day.
Puranpoli 
Ingredients:
For Puran:
1 cup chana dal
¼ tsp  turmeric
¼ tsp salt
3 cup water
1 tsp  ghee
1 cup jaggery
¼ tsp nutmeg powder
¼ tsp cardamom powder
Method:
Pressure cook dal with turmeric.
Grind it into a find paste.
Heat ghee in a pan, add jaggery, dal and cook till it leaves the sides of the pan.
Flavor with nutmeg and cardamom powders. Set aside.
For Dough:
2 cup wheat flour
½ cup maida
¼ tsp  turmeric
¼ tsp salt
water to knead
Other ingredients:
¼ cup wheat flour
oil / ghee for roasting
Method:
Pinch a ball sized dough and flatten well.
Take a ball sized puran
Place the puran in center of dough.
Stuff the puran and pinch off the excess dough securing tight.
Dust the ball with wheat flour and flatten with hand.
Roll in one direction making sure the puran poli is thin
Now put the rolled puran poli over hot tawa.
Allow roasting on medium flame until it puffs up.
Grease with ghee and flip over and cook both sides pressing slightly.
Serve hot with ghee.
By Executive Chef Gulshan Kumar
The Orchid Hotel, Pune
Kothimbir Vadi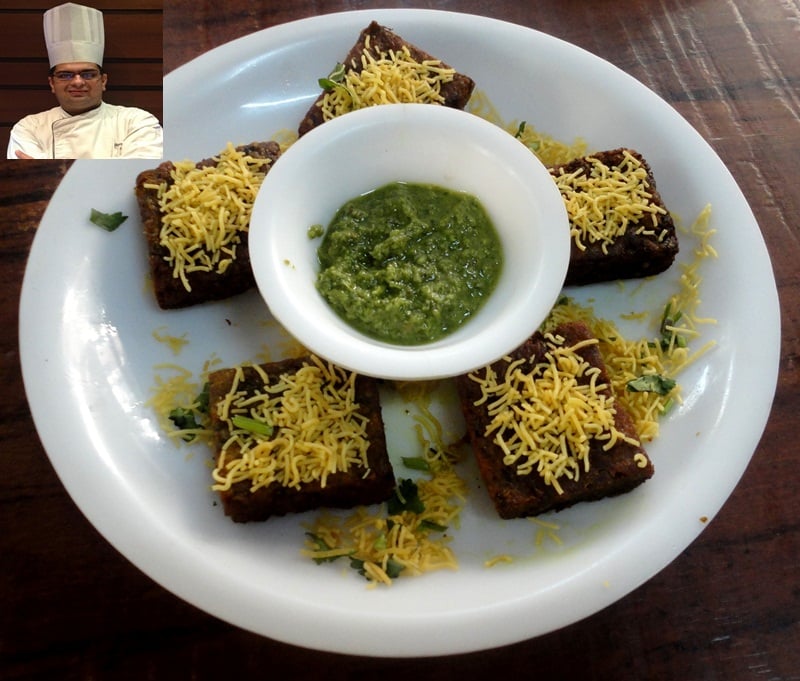 Ingredients:
2 cups chopped coriander
1 cup besan
1/2 tsp turmeric powder
1 1/2 tsp chilli powder
1 tsp coriander-cumin seeds powder
1/2 tsp garam masala
1 tsp ginger paste
1 tsp garlic paste
salt to taste
1 tbsp oil
1/2 tsp oil for kneading
oil for deep-frying
For serving:
Sev for garnish
Method:
Combine all the ingredients in a deep bowl and mix well to form  dough without using any water.
Smoothen the dough using oil.
Divide it into 2 equal portions and shape each portion into a cylindrical roll of approximately 5″ thick roll.
Arrange the rolls on a greased sieve and steam on a high flame for 12 minutes.
Remove and keep aside to cool completely.
Once cooled, cut into 3/4" slices.
Heat the oil in deep non-stick kadhai, deep-fry a few slices, at a times till they turn golden brown in colour from all the sides.
Serve garnished with sev
By Executive Chef Sheriyar Dotivala
The Resort Mumbai
Valache Bhirde
Ingredients:

Vaal/field beans         1 ½  cupful
Garlic cloves      4 with skin
Asafoetida a pinch
Red onion     one small finely chopped
tamarind paste  2tsp
Jaggery       ½ tsp
Mustard Seeds   a pinch
Cumin 1 small pinch
Oil        2 tbsp
Red Chilli powder      1 tsp
Turmeric powder       1/2 tsp
Coriander cumin powder      2 tsp
Fresh Coriander finely chopped to garnish – half of bunch
3-4 heaped tbsp grated coconut paste made by running through a mixer fresh grated coconut or frozen coconut with 1 green chilli and 1 clove of garlic. add 1/2 a finely chopped red onion which has been tossed on a pan with the coconut and green chilli toasty warmth to the gravy
Salt as per taste
Method
Remove sprouted vaal into a bowl and pour lukewarm water on them,decant the water and discard the skins.
Heatoil in a saucepan and dust some asafoetida and throw in mustard and cumin.
Throw in garlic with their skin.  Smashto flatten and as they turn colour and release their aroma, add the chopped onion.
Whenonion turns a delicate pink add turmeric powder, red chilli powder and then add the vaal.
Now addturmeric, red chilli, coriander and cumin powders and quickly stir in enough water to cover the beans.
On a low flame cook with lidon.
When vaal is almost done, add jaggery-coconut paste and tamarind paste. Add salt and garnish with finely chopped coriander.
Serve hot with rice or rotis
By Executive Chef Navid Akhtar Sayyad
The Orchid Hotel Mumbai
Sago and Carrot Kheer 
Ingredients:
Sago (sabudana) soaked -01 cup
Fresh Carrot, smooth puree- ½ cup
Full-cream Milk -03 cups
Water- 02 cups
Sugar- ½ cup
Green cardamom powder -½ tsp.
Almonds – ½ tbsp.
Pistachio, chopped- ½ tbsp.
Cashewnuts chopped- ½ tbsp.
Raisins- ½ tbsp.
Charoli, blanched- 1/4th tbsp.
For the garnish:
Lightly toasted and chopped almonds, pistachio, cashew nuts- ½ tbsp.
Dried and Edible rose petals- 1/4 tbsp
Saffron strands steeped in lukewarm milk- a few strands
Method:
In a deep non-stick pan, heat 2 cups water.
Add soaked sabudana, mix and cook till transparent and done.
In deep non-stick pan boil milk, add carrot puree, mix well and cook on slow flame for 5 minutes.
Add carrot milk to the cooked sabudana. Simmer for 2 minutes.
Add sugar and continue to cook. Add cardamom powder and mix well.
Add raisins, blanched charoli and nuts to the kheer, mix and cook on medium heat for 5 minutes.
Serve warm or chilled garnished with chopped nuts, dried edible rose petals and saffron strands.
By Chef Reetu Uday Kugaji
Culinary Expert & Blogger
(To receive our E-paper on whatsapp daily, please click here. We permit sharing of the paper's PDF on WhatsApp and other social media platforms.)
Published on: Sunday, March 31, 2019, 05:32 AM IST