Just two days away from the D-day, fans of Deepika Padukone and Ranveer Singh simply cannot keep calm. Apart from their fans it's the media that has been gawking on the minutest detail of the wedding. While we love the adorable couple, there's no denying to the fact that they've been giving us a hard time with no mobile phones or camera allowed inside the venue which means no pictures from the wedding.
However there's no need for fans to get upset as we can tell you the exact rituals which will be performed, the outfit which will be worn by the bride and groom and the food which will be served in the two day marriage ceremony. The wedding is going to be place in the span of two days. Ranveer and Deepika will tie knot as per the Konkani rituals on November 14 and on November 15 the wedding will take place as per Sindhi rituals.
Check out below what all is going to take place
Pre-wedding Rituals
Sindhi
According to the Sindhi ritual, Berana Satsang will be held today from Ranveer's side during which the whole family gathers and sings prayer to the Almighty Jhulelal and asks him to bless the couple.
As the wedding is going to take place tomorrow, Deepika will be applied Mehendi. All the women from both the households also get it applied on their hands.
The Haldi ceremony will be indeed Ranveer's favourite ceremony from the whole wedding as Sindhi's are known to have crazy Haldi ceremony. Apart from literally smashing grooms face with loads of Haldi there is also a ritual to tear one of the clothes which the groom is wearing during the ceremony. This ritual takes place on the morning of the wedding.
Konkani
Unlike Sindhi's, Konkani weddings doesn't have much pre wedding rituals. There's Phool Muddi where Deepika's father will gifts a gold ring to Ranveer and offers presents to his family. The same ritual will happen with Deepika but with her the ring will be replaced with flowers.
Another pre-wedding ritual is that of Edur Kansani where after the exchanges of flowers and sweets, The Padukone's and Bhagnani's (Ranveer's original surname) will appoint a dheddi and dheddo (bridesmaid and best man) for the bride and groom respectively. Dheddi is the younger sister of the bride who is next in line for marriage and the dheddo is the younger brother of the groom. While we knows that Anisha will be Deepika's Dheddi, wonder who will be Ranveer's dheddo!
Wedding day ritual
Konkani wedding
As Deepika and Ranveer will first tie knot in Konkani style, let us tell you the exact rituals which will take place tomorrow.
Until the actual Muhurtha (garland exchange time), it is either of the party on the main stage; Deepika with her parents or Ranveer with his parents. When one is on stage, the other one leaves the stage.
When the Muhurtha time is nearing, Deepika will be brought to the stage by her maternal uncle. By then Ranveer would have taken his position on the stage with garland in his hand. Unfortunately, Ranveer will be blocked from seeing the arrival of Deepika by a curtain as that is the tradition.
When the curtain goes off, Deepika and Ranveer will exchange garlands. There, begins the journey together.
Amongst all the wedding ritual, Kashi Yatra is a fun one where Ranveer has to show as if he is giving up worldly possessions and proceeding to Kashi. Deepika's father then have to convince him to come back and marry his daughter.
Sindhi
Sindhis's wedding are simple with the usual Jaimala, Kanyadaan and Pheras. There's a ritual called Paon Dhulai where Deepika and Ranveer are made to sit side by side. Deepika's parents will idolize Ranveer as Lord Vishnu and wash his feet with milk and water.
Outfits
Sindhi
For bride, its red or marron lehenga which they have to wear as red is considered the most auspicious wedding color. As far as the groom is concerned, he will wear a Sherwani with a churidaar pajama. He wears a Pagdi on his head which is either tied by his father. Along with his outfit he carries a long scarf or shawl like clothing.
Konkani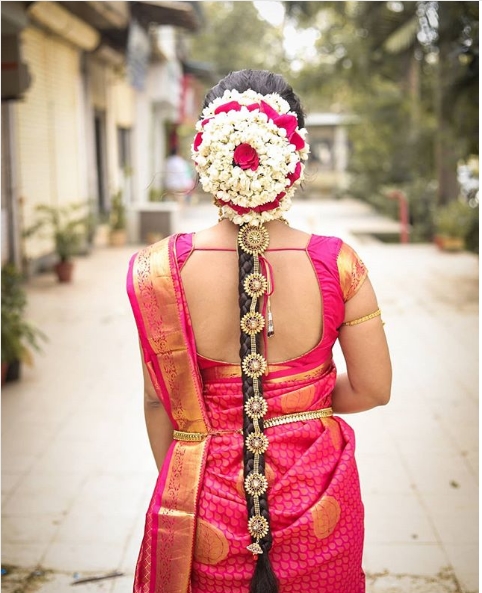 If Deepika chooses to deck herself up as a typical Konkani bride then let us tell you her bridal saree will be so very different. It comes a typical 'Kacche'; a style where one end of the saree is taken from between the legs, brought upwards from behind and tucked at her waist from behind.
Deepika will be having pallu to cover at the front. The pallu is wound around her waist and tucked again leaving a little to dangle from the side ways. And to cover her at the front a beige colored dupatta is used which is decorated with fancy ornates.
Deepika's hairdo will be also beautifully done with plaited jasmine flowers and roses in between.
Food
Konkani
While there will be variety of cuisines, I am sure that the Padukone's will definitely serve the typical Konkani food which is Dali Thove, Upkari, payasa, sweets, and lots.
Dali Thove is basically thick soup made from Toor Dal. It is a perfect combination along with hot steaming rice. And Upkari is a dry side dish made of half split raw cashews and any of the vegetable and garnished with grated coconut.
Sindhi
Dal Pakwan, Koki Papad, Seyun Patata, Chaap Chola, the mighty Sindhi Kadhi: Chaanwaran, Seero Malpurro are some of the food items which we can expect on 15 November when Deepika and Ranveer will tie knot as per the Sindhi rituals.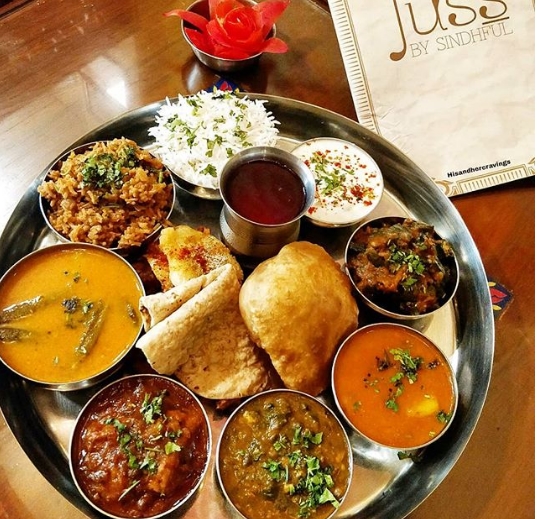 (To receive our E-paper on whatsapp daily, please click here. We permit sharing of the paper's PDF on WhatsApp and other social media platforms.)
Published on: Tuesday, November 13, 2018, 03:38 PM IST