Actor Salman Khan is celebrating 52nd birthday today. He is one star in Bollywood, who has ruled the box office and won heart of millions. He has fans everywhere from the old people to small kids. He basically called "Salman Bhai", "Tiger of Bollywood", "Bhaijaan", "Sallu", or a "blockbuster Khan". We have seen him doing a romance, action movies, comedy on a big screen, but do you know he was affaird to doing such kind of role beside romantic movie. Recently, at dance reality show, Salman reveals that, Dad (Salim Khan) asked him wither you can do action film, Salman said 'No', you can do comic film, again he said 'No'. So Salim ask him "Kya tum sirf romantic movie karoge'. That day Salman decided to do a versatile acting. And we all seen him different kind role in the movies like, Dabangg, Sultan, Kick, Bajrangi Bhaijaan, Maine Pyaar Kyu Kiya and his unforgettable role in 'Tubelight'. His recently released movie 'Tiger Zinda Hai' getting a lot of praised and had almost grossing a Rs 100 crore on box office.
On Salman Khan birthday we are filter out his 14 best throwback pictures, which I'm sure you have never seen before.
Salman Khan and Arbaaz Khan throwback picture is just unmissable
Arbaaz throwback picture of Salman Khan and other brother called 'brotherhood. Can you spot Salman Khan in one go. If you are not able to recognise, then just look for those eyes.
Aamir Khan, Salman Khan and Neelam Kothari captured in a same frame
When Salman return from Jodhpur jail
This throwback picture of Salman and Hrithik Roshan show theya re BFF's once
In the picture, a little Arpita can be seen along with her brother Salman Khan. Not only Salman, we also managed to take a quick look at young Sohail Khan in the background with the glasses and long hair.
Salman and Madhuri Dixit nostalgic picture.
Have you seen Salman and Shah Rukh this picture.
Ajay Devgn, Saif Ali Khan, Salman Khan and Akshay Kumar stand for Sanjay Dutt. They are spotted with a banner of Dutt in which it was written "We are with you"
Actor Dharmendra giving some useful tips to Salman Khan and Sohail Khan
Salman Khan and Sanjay Dutt's friendship is one example of strong solidarity. They are known to be friends for a very long time now and are also a mark of evergreen friendship since their 2002 release 'Chal Mere Bhai'.
Salman Khan spotted with Aishawarya Rai Bachchan, Amitabh Bachchan and Sanjay Dutt having a candid moment
A candid moment of Salman Khan and Aishwarya Rai Bachchan.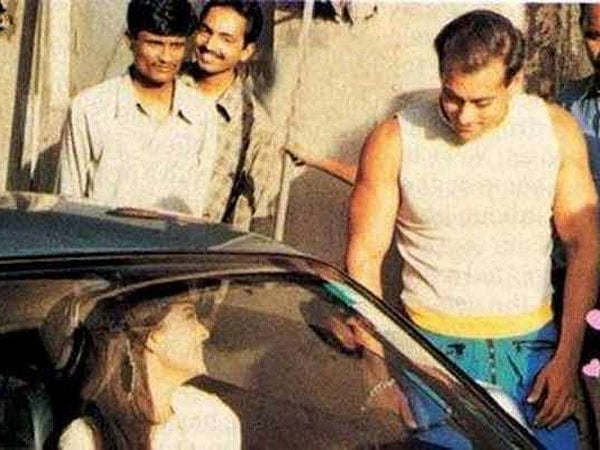 Salman and Ahil having a candid moment
Free Press Journal wished him a Very Happy Birthday.
(To receive our E-paper on whatsapp daily, please click here. To receive it on Telegram, please click here. We permit sharing of the paper's PDF on WhatsApp and other social media platforms.)
Published on: Wednesday, December 27, 2017, 07:15 AM IST