07 July 2023 10:48 PM IST
Bigg Boss OTT 2 July 7, 2023 (Day 20) episode begins with contestants starting their day with an energetic song, dancing in the garden, setting a lively tone for the day.
Falaq Naaz and Avinash Sachdev get into a brief argument over Falaq's use of the microwave to heat up her muffins.
Butler Service & Chivalry Talks
Pooja Bhatt playfully holds Bebika Dhurve's robe, jokingly referring to herself as Bebika's butler.
Bebika, Pooja, and Cyrus Broacha discuss Cyrus's chivalrous behavior in the house.
Bigg Boss Unveils Ranking Task
During a meeting in the living area, Bigg Boss instructs the housemates to rank each other based on their contributions, with rank 1 representing the best and rank 9 the worst.
Avinash presents lockets containing pink liquid, which will be given to the contestants according to their designated ranks.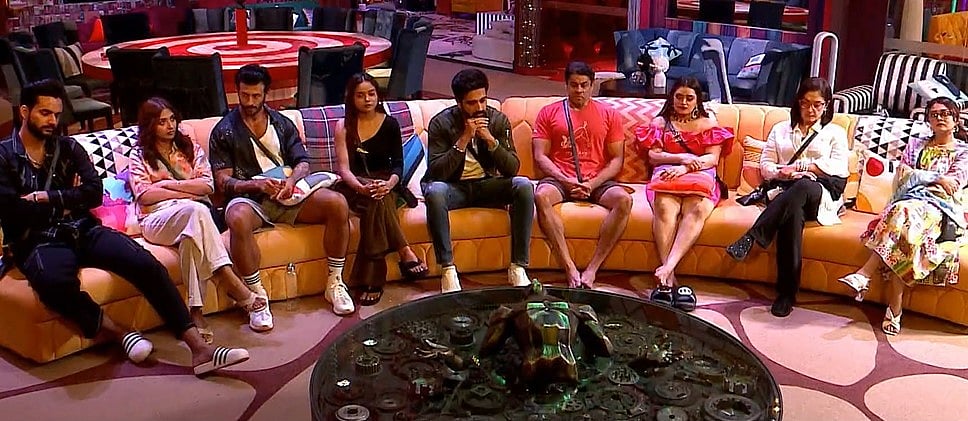 Debate Over Ranks
Falaq asserts her claim for the first rank, highlighting her activity and undefeated captaincy.
Abhishek disagrees, suggesting that Falaq appeared more like a personal assistant than a captain.
Bebika and Manisha Rani also argue for the top rank, while Cyrus suggests himself as the ninth rank. Avinash Sachdev vouches for the second position.
Jad Hadid and Jiya Shankar both express their willingness to be ranked third.
Pooja delivers a poetic speech, emphasizing that the public bestowed her the first rank previously.
Voting & Expressing Opinions
The contestants begin voting based on majority, with Bigg Boss reminding them to openly discuss their opinions.
Jad becomes frustrated when the housemates fail to translate and explain the ongoing events to him.
Abhi secures the first rank, triggering Bebika's argument for the top spot, refusing to settle for the second rank.
Rankings & Reality Check
Manisha takes responsibility and asks the housemates for their current rankings after the discussion.
Jad gets placed on 9th spot, while Cyrus is placed at 8th. Bebika and Manisha secure the 7th and 6th positions, respectively.
Avinash claims the 5th rank, while Jiya is placed 4th. Falaq takes the 3rd position, with Pooja securing 2nd, and Abhishek ranking 1st.
Bigg Boss' Reminder
Bigg Boss scolds the housemates, reminding them that it is a reality show and that they should not live in their false beliefs & judgements.
He emphasizes that their opinions must align with the public's perspective.
Arguments & Controversies
Pooja & Bebika argue with Abhi, stating that his opinion does not match the public's perception.
Abhi sarcastically mocks Bebika, calling her names like sofa & 'TunTun Mausi', for which she accuses him of body-shaming.
Jad isolates himself on the balcony, requesting he doesn't want to talk to anyone until he leaves the house, while Abhi and Jiya continue to provoke him.
Jad's Emotional Outburst
Jad expresses his frustration, feeling trapped in his own body and unable to express himself freely while hearing taunts in an unfamiliar language.
Bebika, and Pooja criticize and judge Jad, while others attempt to console him.
Falaq confronts the housemates, demanding to speak with Jad and follows him to the changing area where he is packing his belongings.
Tensions & Reflection
Bebika discusses her perceived lack of support from certain contestants against Jad, while Pooja advises her to handle the situation independently.
Jad confides in Falaq about feeling disgusted by himself due to the way he is spoken to and talked about by Bebika and Pooja
Jad Contemplates Leaving
Abhishek tries to explain Jad's feelings to Pooja, but Pooja expresses her willingness to leave if it makes Jad happy according to the audience's decision.
Cyrus, Jiya, Falaq, and Abhi rally around Jad, offering comfort and convincing him to stay for the night, assuring him they will honor his decision the next day.
Jad's Plea & Emotional Apologies
Jad requests his fellow housemates to stand up against Pooja, stating that he has served his punishment. Abhishek explains that he has tried to talk to her multiple times but cannot change her personality.
Jad embraces Avi and tearfully apologizes to him, while Avi reassures him that no apology is necessary.
Light-hearted Banter & Argument
Abhi and Manisha share a lighthearted moment, joking about Pooja's ambition for the top rank and her attempt to appear modest.
Pooja and Bebika get into an argument, while Cyrus chooses not to intervene.
Bigg Boss OTT 2 July 7, 2023 episode end with Bebika finding herself in an argument with Abhi, and when Manisha supports Bebika, Jiya and Abhi mock her in response.
(To receive our E-paper on WhatsApp daily, please click here.  To receive it on Telegram, please click here. We permit sharing of the paper's PDF on WhatsApp and other social media platforms.)