Mumbai: German Chancellor Olaf Scholz's much-publicised visit to India last month gave hope to thousands of Indian students and professionals aspiring to build their careers in Germany.
"I am very sure that many will want to take advantage of the opportunities to work as skilled workers in Germany," Scholz told reporters, during his visit to software company SAP Labs India in Bangalore.
Despite being the second-most populous country in Europe, the country faces an acute shortage of a young workforce. Official data shows that over 23 million people aged between 40-59 years make up the largest age group in Germany, with individuals aged 65 and above being the second largest cohort.
Universities step up as Scholz's call for Indian talent resonates
Scholz, who held a roundtable discussion with professionals from India's IT sector, seems aware of the potential offered by India's young population studying and working in STEM. German universities, through courses and research initiatives, are already working as catalysts for Indian students to understand the European nation's academic and career landscape.
Heidelberg University | Atelier Altenkirch
Heidelberg University officials at IIT Bombay |
"By having German delegations visit Indian institutions of higher education and research, we are seeking to explore opportunities for research cooperation and setting up exchange programmes," said Suboor Bakht, Director, Foreign Branch Office South Asia, Heidelberg University, which is located in Germany's Baden-Württemberg state.
He added that 300 Indian students have joined the university's various programmes, including doctoral courses for the winter semester between October 2022 and October 2023.
Built in 1386, Heidelberg is considered to be Germany's oldest university. It has four centres abroad, Heidelberg Centre South Asia in India being one of them. The Centre has been operating an internship platform for students in the Indian subcontinent to help them gather work experience in Germany as well as South Asia.
With more than 34,000 Indian students studying in German universities, they have been setting up liaison offices in India to monitor student movement from the country.
Mohaa Vyas, Senior Regional Manager, India, Technical University of Munich (TUM), said, "We do strongly support the Chancellor's plan. And concerning our students, it is already a reality. Graduating from TUM opens up many doors for young people looking for a promising career in the German and international industry."
TUM, which has a presence in India through its Mumbai liaison office, trains international students, especially those from India, to consider the special norms of the German job market and align their application and career planning according to the norms of the German job market. To this end, they carry out various activities including application training, one-on-one career counselling, and checking of application documents. The 1,886 Indian students studying at TUM, represent the second-largest international student cohort at the institute.
The University also has a podcast featuring success stories of its alumni members, who have made strides in the German workforce.
"One of our latest podcast episodes featured an Indian alumni, who spoke about how he entered the German job market and found an interesting position in a Munich-based family business specialising in power supply solutions," said Vyas, adding that though there's no specific data on Indian alumni working Germany, 60% of all TUM graduates from non-European countries stay and work in the country.
India-Germany mobility agreement a step in addressing the labour shortage
According to a survey by the German Chamber of Commerce and Industry (DIHK), around two million positions in the country's industries are lying vacant, representing roughly 100 billion euros in lost productivity. It estimates that more than half of Germany's businesses are having trouble filling vacancies.
The situation is significant in light of a mobility agreement signed between India and Germany which will facilitate the two-way movement of students, researchers, and professionals between both countries.
The agreement involves establishment of an Academic Evaluation Center in New Delhi, extension of student residency permits by 18 months, issuance of 3,000 visas each year to job seekers, liberalisation of short-term multiple entry visas, and simplified reentry processes.
According to German university officials, while the mobility agreement is a first step, changes concerning visa policies for Indians would be a welcome move.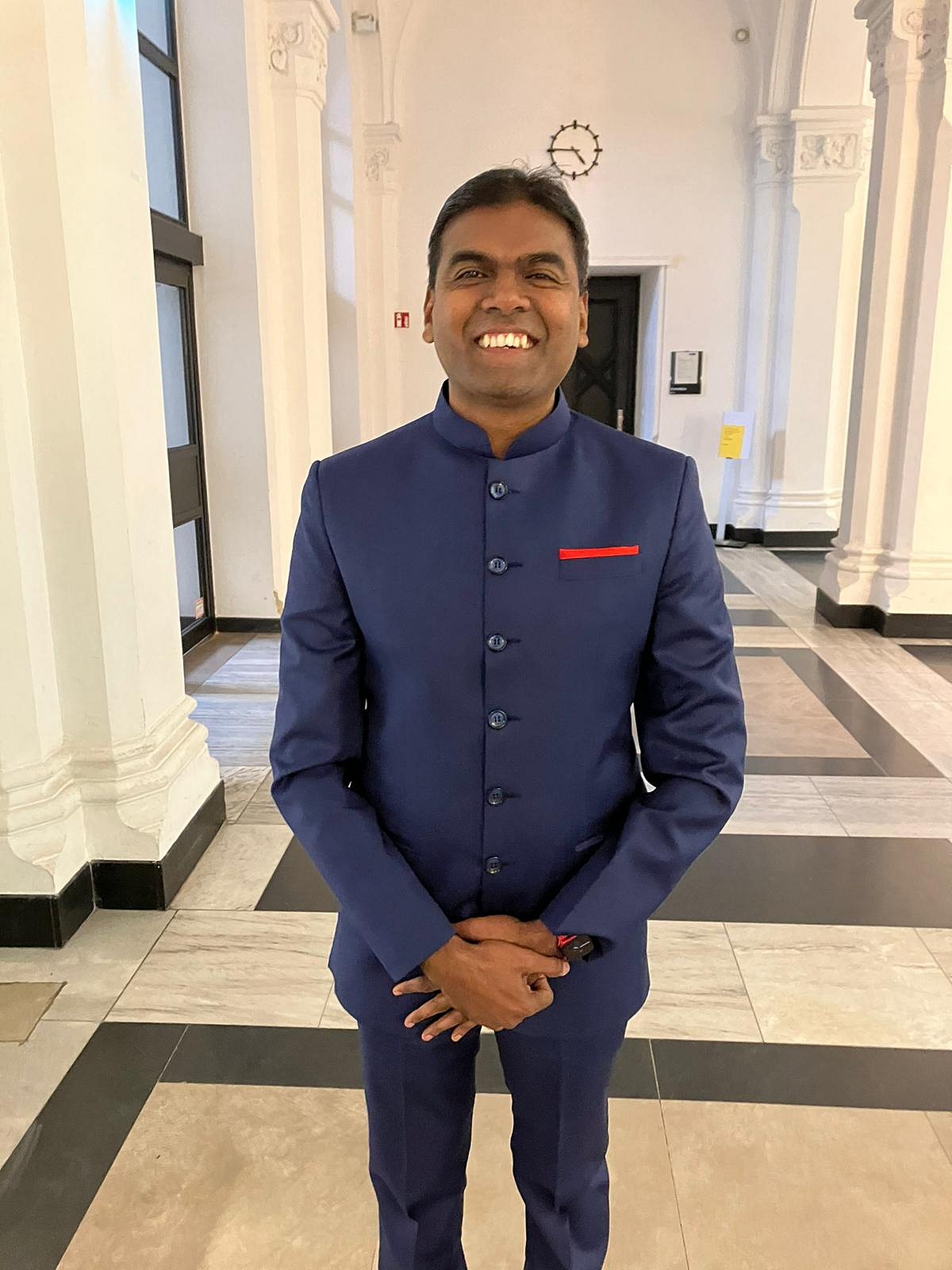 Balasubramanian Ramani is of Tamil origin and has been living in Germany for more than 20 years |
"Most of the visas in Germany are issued to people from other countries on an individual basis. Though initiatives were introduced for Indian IT professionals to access work visas in Germany in 2009, the bottlenecks remained in the form of restrictions on dependents and family members. There are policies in the pipeline that will encourage family members to join professionals without having to learn German," said Dr Balasubramanian Ramani, Advisor, India Relations, Leibniz Universitat Hannover, which is home to around 1,000 Indian students.
Ramani, who is an active member of the Social Democratic Party in Germany, highlighted that Indian student associations can connect with incoming students from Germany for any assistance regarding accommodation, admissions and other areas not only in Hannover but across Germany.
German and Indian institutions join hands on research, exchange
Many of Germany's universities have already built a working relationship with India's premier institutions and are exploring student exchanges and joint projects.
"For decades, RWTH Aachen University has been cultivating research collaborations and exchanges with Indian institutions, especially with the IIT Madras. As a University of Excellence, RWTH Aachen University is particularly popular among Indian students and we are witnessing a growing trend towards an exchange between India and Germany in science and academia," said Benjamin Pfrang, Head, RWTH Aachen University India Office. He added that the institute's 1,800-strong Indian student community has opportunities to work in relevant fields.
RWTH Aachen University | rwth-aachen.de
While TUM is working with IIT Bombay and IIT Kharagpur on the research topics of climate, environment, energy, mobility, and transportation, jointly funded by UGC and DAAD, Universität Hamburg and O.P. Jindal Global University signed a Student Exchange Agreement last year.
Sameeha Sule serves as the representative of Hamburg to India |
"Faculties and researchers at Universität Hamburg are strengthening their research collaborations with colleagues at several institutions in India. In Hamburg, all incoming students from around the globe enjoy comprehensive initiatives for onboarding, settling in, and connecting with fellow students from India, Germany, and other countries," stated Alexander Lemonakis, the President's press spokesperson at Universitat Hamburg.
Glimpse of TU Dresden's recent visit to India | Tina Schilbach
Germany's studienkolleg helps prospective students with German
Though German universities offer courses and entire programs in English, often on the MA level, students are advised to learn basic German up to A2/B1 level. In order to prepare for study in Germany, Studienkollegs offer preparatory courses in different subject areas in addition to language training.
"If students plan on attending college in Germany, a Studienkolleg provides them with preparatory courses in five subject areas in addition to extensive language training. Most BA programs at German universities are offered in German only, so students need those preparatory courses in addition to language competency at the B2 or C1 level of fluency. Depending on the major that students would like to study, they choose a subject area such as humanities, technical, scientific, and mathematical subjects etc., and pass an exam at the end of their course. After passing the exam, they can apply for a BA program," said Peter Rosenbaum, Head of the International Office at TU Dresden, which has 600 Indian students studying in different courses.
UGC's foreign campus rule yet to woo German univs
Though UGC's new norms on foreign campuses have already led Australian universities such as Deakin and Wollongong to initiate a branch in India, all German universities Free Press Journal spoke to denied having any plans of implementing a similar structure in the country.
While RWTH Aachen University stated that it will focus on building its relationship with Indian institutions instead of setting up a campus in India, TUM added that it will 'follow the developments by UGC with a lot of interest.'
Doubts over APS but universities patient
Since November of last year, all Indian students requesting a long-term student visa in Germany have been required to present an Akademische Prüfstelle (APS) certificate as verification of the validity of their academic credentials.
The change, which came after the German Ambassador to India Philipp Ackerman raised concerns about 15% of the student visa applications from Indian students being fake, is strictly for courses that have a duration of more than 90 days and are not required for short-term courses.
German university officials, who are not entirely supportive of the new rule, are adopting a wait-and-watch approach to it.
"Our university did have some reservations about the certification requirement as it's expensive and can delay student visas for students, affecting genuine candidates. This can affect Germany's image as a favoured study destination so we will have to wait and see its impact," added Dr. Balasubramanian.
Germany sees decade high in international students
As Anglosphere countries, including the US, UK, Canada, and Australia work on shelving the Covid-induced downturn in international students, Germany's emergence as a top five study destination has been monumental as the number of foreign nationals studying in the country rose by 70% in a decade from 184,960 students in 2010-11 to almost 325,000 by 2020-21.
(To receive our E-paper on WhatsApp daily, please click here.  To receive it on Telegram, please click here. We permit sharing of the paper's PDF on WhatsApp and other social media platforms.)