I'm about to change my social media bio to 'COVID-19 survivor'. This was one of the jokes I shared with my colleague after testing positive for the novel coronavirus. I believe I'm a strong woman, and there was no way I was going to let a virus steal my thunder. I am not denying the fact that this pandemic has taken lives and left many families mourning. I have experienced the horror first hand, met people who grieved, cursed the government for lack of facilities and being denied help on time.
I don't know how my experience can help others. We are all fighting individual battles. But, what I can do is share my story. So here's a step-by-step guide on how I, along with my family, got treated for COVID-19 free of cost and recovered within 14 days at a state-run quarantine facility (without visiting the hospital).
Background: My father fell ill after he started going to office when the '33% staff allowed to operate' rule came into effect — though it was not an everyday travel. He visited our local doctor who prescribed a five-day antibiotic course and recommended a blood test to check for diabetes and cholesterol. The reports didn't show anything significant, while his health deteriorated rapidly.
Primary symptoms
My then father decided to visit another doctor. Soon, I had high fever and an itching sensation in my throat. My brother and mother also showed similar symptoms. However, after visiting the second doctor and taking the prescribed medicines, all of us, except my father recovered in a day.
About five days later, one scary morning, my father started feeling breathless. It was then we all decided to get tested for COVID-19. We were almost ready to visit a private laboratory nearby, when a family friend said the same can be done at a quarantine facility in Dadar for free, just by using Aadhar card.
My father and brother visited the facility and got tested first. Their results came in the next day, which confirmed our worst fears: They had coronavirus. Back home, my mother and I encountered BMC officials who arrived to sanitise the outdoors and neighbouring areas.
(Note: Every ward has a quarantine facility where you can get admitted and tested free of cost. The centres are meant for patients with mild symptoms who can be cured through oral medications. Critical cases are shifted to state-run hospitals.)
Social stigma
It didn't take long for word to spread. Our neighbours started looking at us as if we had suddenly turned into aliens. We were treated as outcasts and alienated. No help was offered, even when we were struggling to get essentials. I don't intend to generalise. I'm sure good Samaritans exist, but there were none in my sight. The people who extended a helping hand were my employers, colleagues and friends. Reaction of relatives was on a different tangent. It can easily be summarised as an exchange of dialogues seen on soap operas that was good in terms of a performance, but sadly lacked empathy.
Getting quarantined
The following day I left with my mother to get quarantined and tested at the same facility. Upon reaching, we were asked to wait at the gate. The volunteers came, sanitised our hands, checked our oxygen level and pulse. I was anxious and trembling. They asked me to calm down, took my details, medical history and asked for my Aadhar card (mandatory for admission).
The facility
The quarantine centre was a school that had been revamped with beds for patients with mild symptoms, or the ones whose family members had tested positive. This was more like a waiting room till we were tested. We were given beds kept at a safe distance. These were more like 'khatiyas' with a sponge mattress covered in plastic. A disposable sheet, warm blanket and pillow case were given. We were also provided with a kit of toiletries (toothbrush, toothpaste, soaps) including a bucket to wash our clothes.
In terms of hygiene it was well-maintained. Volunteers would sweep, mop and sanitise the room once a day. The only downside was common washroom (separate ones though, for men and women). Another drawback, no hot water! I avoided bathing for the first three nights, since I am not used to bathe with cold water. Instead, I would mix antiseptic liquid with water to sponge my body.
Food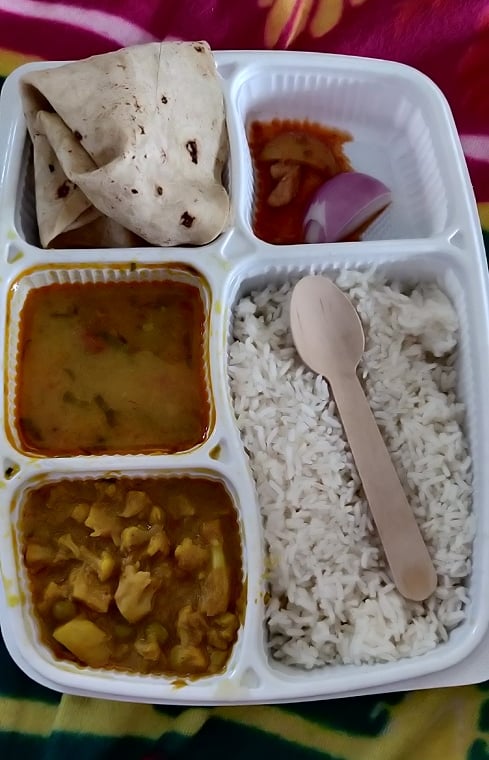 The food was pretty decent. Breakfast, lunch, dinner and tea with biscuits were provided. It was a vegetarian fare with the same items everyday – chapatis, dal, rice, one vegetable, a slice of onion and some pickle. The only dish that changed on the menu was the sabzi — being a hardcore non-vegetarian this was something I had tough time adjusting to. Breakfast was the usual poha, upma, dosa, idli, medu vada and vada pav. In case you don't want the food provided, you can ask your family members to deliver home-cooked food at designated timings. Besides that patients weren't allowed to order from restaurants (even the ones providing healthy meals).
Secondary symptoms
The next day I woke up to no sense of taste or smell. I began sneezing again, so the doctor prescribed some nasal drops assuming they were allergies (I am allergic to dust). However, things escalated and I felt weak with a headache — bad enough to not let me sleep. I was given two tablets after which I felt comparatively better.
Testing and Results
On the third day, I was given a form with my details, signed by a doctor, which was to be taken for testing. My mother and I, along with other patients were taken to a nearby hospital in an ambulance. The doctors there took our throat swab and sent us back to the facility. The next morning I got a call from the BMC informing me that I had tested positive, while my mother wasn't. I was moved to the COVID-19 ward within an hour and my mother was sent home.
COVID-19 ward
This was a wedding hall adjacent to the quarantine centre, exclusively meant for patients who had tested positive. It had about 20 patients. Here, I had to stay for another ten days. The doctors prescribed a dosage of antibiotics twice a day including chewable Vitamin C tablets, a cough syrup and some oral rehydration salts. Here, too, there was one washroom. The only relief was the availability of an electric kettle, which I used to warm water and have a bath, finally!
Strange as it may sound, though my father and brother were right next to me, we hardly engaged in any kind of activity together. Apart from occasional small talk, we were practically glued to our phones. In hindsight, I think it was the anxiety of having contracted the virus that held us back from making a lot of conversation. Probably we didn't want our own anxious thoughts to spill over the other, it was our way of keeping each other strong and going.
Having a daily routine helps
It is of paramount importance to have a routine. It helps keep anxiety at bay. Spending ten days with strangers might sound like a vacation you didn't ask for, but it is bothersome. My daily routine included listening to music, reading books online, play games on my phone, social media engagement and watching movies or videos.
In the evening, patients would collectively do yoga for about 30 minutes. Doctors would come in every day to check on patients. Some were fine, others had a tough time. Oxygen levels were monitored, additional symptoms were also treated.
Food was the same as the one from the quarantine ward. The only difference being earlier the food parcel was given in our hands, but after being shifted to the COVID ward, the parcels were left at the door in a basket, which we then had collect, one patient at a time.
Discharge
I was discharged on the 11th day after testing positive (14 days in total clubbing the time in the quarantine ward). The volunteers asked me if I'd like to arrange my own vehicle or would prefer going in their ambulance. I picked the former. Words can't describe how happy I was to leave the place. Before leaving, I was given a discharge certificate and a stamp on my hand suggesting home quarantine for the next seven days. There wasn't a second test since I didn't have any persisting symptoms. My brother and father were discharged five days before me.
Key takeaways
Every person has different set symptoms. Hiding at home with the fear of being judged is not going to do any good to your health. Go ahead and get tested to eliminate any suspicion and also save those around you. Talk to the BMC officials in your ward so that they can help by suggesting the best option for you. It is important to stay calm in a situation like this to avoid causing further damage to your health.
My COVID-19 journey might appear to be a smooth ride, but I did encounter patients who had lost their loved ones because of the virus. The virus takes around four-five days to appear in your tests. If you have mild symptoms getting tested right away can show a false negative. However, absolute loss of smell (not being able to smell even your soap) or taste should not be taken lightly. I didn't have to pay any money — be it for the test, medications or my stay at the quarantine centre. Do not fall for middlemen who suggest alternate routes or better facilities in exchange of money.
COVID-19 doesn't discriminate. Blaming anyone for giving you the virus is preposterous. Focus your energy in getting treated. Wear masks, wash hands regularly and maintain social distancing at all cost. The worst isn't over yet.
(To receive our E-paper on whatsapp daily, please click here. We permit sharing of the paper's PDF on WhatsApp and other social media platforms.)
Published on: Sunday, July 05, 2020, 07:00 AM IST