DIY Magic Toolkit: Make Your Own Magic
WOW Factor: "The beauty of the Make Your Own Magic Toolkit is that it encourages you to spot and create wonder filled, joyful moments in your daily life while simultaneously fuelling your creative side," begins Afsheen Dattoobhai, creative coach and founder, Whistle. "In uncertain times like these, it is extremely beneficial to have a positive and creative mindset. This DIY toolkit equips you with the strength and outlook you need to face the challenges that come your way," she says.
Subscribing to a Make Your Own Magic box, which is priced at Rs 3,500, will get you a box of magic featuring 21 daily prompt cards, a bag of magic that lets you make your own magic sticker sheet, bonus special gifts and gift cards for when you are in Mumbai next and a digital magic maker.
DIY Art Kit: The Aesthete Project
WOW Factor: "Our high-school love for all things creative found its way back to us in the form of The Aesthete Project. Our aim is to make crafting convenient and bring out the inner artist in everyone," explains Sanjana Bhansali, founder, The Aesthete Project. Her thoughtfully curated DIY boxes comprise all the supplies you need, and an easy-to-follow guide to help you design your own masterpiece. "The Sip & Paint boxes have reference art works from children at various NGOs; and a portion of our proceeds go back to these organisations. We hope we can help these young aesthetes to continue pursuing their passion," she states.
DIY Hair Spa: Kuntal Care Kit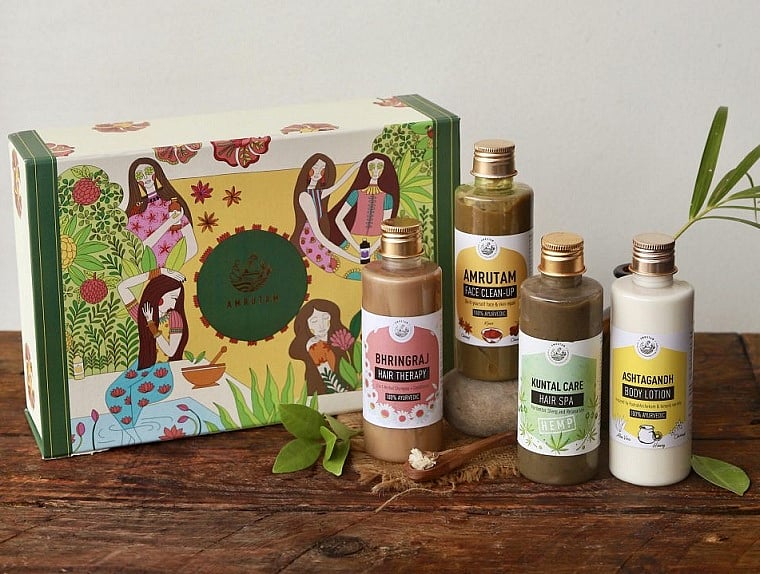 WOW Factor: "All the products in the kit are 100% ayurvedic and the ingredients we use have immense therapeutic properties. They address the root cause of the problem and make you feel more in touch with yourself. In today's uncertain times, there is an urgent need to emphasise on self-care and self-reliance. Kuntal Care DIY Hair Spa comes with customised recipes that are easy to mix, create and follow," says Ashok Gupta, founder of Amrutam.
DIY Food Kit: Taste Retreat Food Box
WOW Factor: "Being a passionate foodie and an avid traveller, I always relished exquisite dishes and a multitude of gourmet experiences before the pandemic turned our lives upside down. Plus, as a globetrotting food connoisseur, I missed the simple joys of travelling to cafes or sitting in beautifully-lit restaurants to satiate my creative and culinary cravings. And that's the USP of our DIY kits. We aim to fulfil your cravings by sending across your favorite cuisines right at your doorstep! Italian, Mexican, Asian, Indian... You name it and we have it!" shares Tasheen Rahimtoola, founder, Taste Retreat.
These scrumptious meal boxes are customised and can be entirely personalised to suit your palette.
DIY Anxiety Alleviating Kit: The Anxiety Box
The Anxiety Box, as cited on its official site TheThoughtco.in, is an emotional care box that comprises a collection of tools that are often used in therapy. The box contains stress-relieving items, including scientifically researched strategies, that aim to manage anxiety effectively and enhance emotional and mental well-being through relaxing activities.
Each box is packed with five innovative activities that are rooted in cognitive behavioral and mindfulness techniques that help you internalise healthy thought patterns and behaviours.
So reinvent and recharge yourself while you stay home and stay safe!
(To receive our E-paper on WhatsApp daily, please click here.  To receive it on Telegram, please click here. We permit sharing of the paper's PDF on WhatsApp and other social media platforms.)