The Group of Seven leaders aim to end their first summit in two years with a punchy set of promises Sunday.
They want to convey that the club of wealthy democracies - Canada, France, Germany, Italy, Japan, the United Kingdom and the United States - is a better friend to poorer nations than authoritarian rivals such as China.
UK Prime Minister Boris Johnson, the summit's host, wanted the three-day meeting to fly the flag for a "Global Britain," his government's initiative to give the midsized country outsized influence when it comes to global problem-solving.
The leaders smiled for the cameras on the beach at cliff-fringed Carbis Bay, a village and resort that became a traffic-clogged fortress for the meeting.
The leaders mingled with Queen Elizabeth II at a royal reception on their first evening, and were served steak and lobster at a beach barbecue on their second.
The re-energised G-7 made ambitious declarations during their meetings about girls' education, preventing future pandemics and using the finance system to fund green growth.
Non-G-7 nations India, South Korea, Australia and South Africa were invited to attend as guests to bolster the group's support for fellow democracies.
The White House said the leaders had also agreed an infrastructure plan, the Build Back Better world plan, to help low and middle-income countries. The move is a response to China's "belt and road" initiative, which has increased Beijing's influence in countries around the world.
White House officials said Biden wants the G-7 leaders to speak in a single voice against the forced labor practices targeting China's Uyghur Muslims and other ethnic minorities. Biden hopes the denunciation will be part of a joint statement Sunday, but some European allies are reluctant to split so forcefully with Beijing.
The summit was also supposed to focus on climate change and to set the stage for the U.N. climate conference being held in November in Scotland.
Here's a look at the G-7 summit in pictures.
The Royal Air Force Aerobatic Team, the Red Arrows perform a fly-past during the G7 summit in Carbis Bay, Cornwall on June 12, 2021. | AFP
US President Joe Biden and US First Lady Jill Biden arrive for a Sunday service at a church in St Ives, Cornwall during the G7 summit on June 13, 2021. | AFP
Canadian Prime Minister Justin Trudeau, right, welcomes French President Emmanuel Macron as the two leaders meet at the G7 Summit in Carbis Bay, Cornwall, England, Saturday, June 12, 2021. | Adrian Wyld/PTI
Frances President Emmanuel Macron (R) and Japans Prime Minister Yoshihide Suga (L) pose for a photograph before holding a bilateral meeting during the G7 summit in Carbis bay, Cornwall on June 12, 2021. | AFP
Britains Prime Minister Boris Johnson (R) and his wife Carrie Johnson (L) greet South Koreas President Moon Jae-in (2nd L) and his wife Kim Jung-sook (2nd R) during an official welcome during the G7 summit in Carbis Bay, Cornwall on June 12, 2021. | AFP
US President Joe Biden (L) speaks with South Africas President Cyril Ramaphosa (R) as they attend the G7 summit in Carbis Bay, Cornwall on June 12, 2021. | AFP
(From centre clockwise) British Prime Minister Boris Johnson, US President Joe Biden, Frances President Emmanuel Macron, Canadas Prime Minister Justin Trudeau, Japans Prime Minister Yoshihide Suga, President of the European Council Charles Michel, Italys Prime minister Mario Draghi, Australias Prime Minister Scott Morrison, Germanys Chancellor Angela Merkel, South Africas President Cyril Ramaphosa and South Koreas President Moon Jae-in attend a working sesssion at the G7 summit in Carbis Bay, Cornwall on June 12, 2021. | AFP
(L-R) Australias Prime Minister Scott Morrison, Germanys Chancellor Angela Merkel, South Africas President Cyril Ramaphosa, South Koreas President Moon Jae-in, Britains Prime Minister Boris Johnson, US President Joe Biden and Frances President Emmanuel Macron wait for the start of a working session at the G7 summit in Carbis Bay, Cornwall on June 12, 2021. | AFP
Britains Prime Minister Boris Johnson, left, and US President Joe Biden during the G7 summit in Cornwall, England, Saturday June 12, 2021. | Leon Neal/PTI
Prime Minister Narendra Modi participates in the first Outreach Session of the G7 Summit in New Delhi on Saturday. | ANI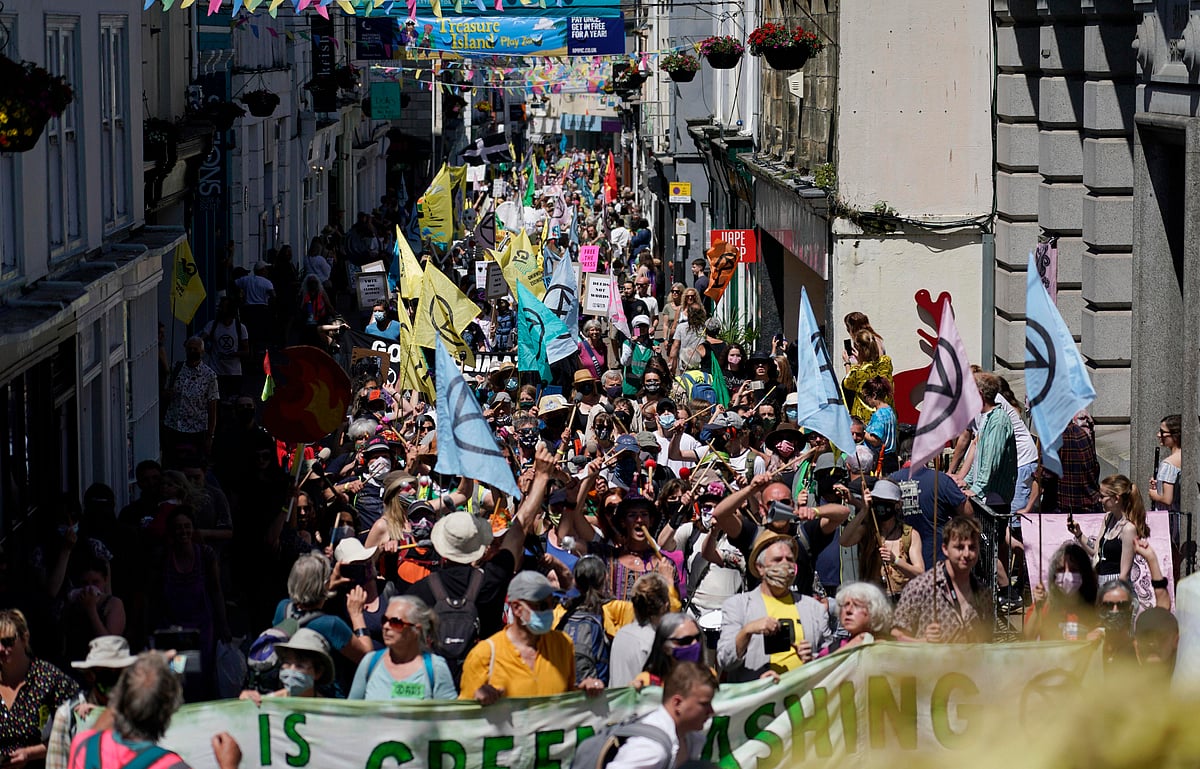 Activists march through the streets in during a demonstration around the meeting of the G7 in Falmouth, Cornwall, England, Saturday, June 12, 2021. Leaders of the G7 gather for a second day of meetings on Saturday, in which they will discuss COVID-19, climate, foreign policy and the economy. | Alberto Pezzali/PTI
(To receive our E-paper on whatsapp daily, please click here. To receive it on Telegram, please click here. We permit sharing of the paper's PDF on WhatsApp and other social media platforms.)