Indore (Madhya Pradesh): Prime Minister Narendra Modi here on Monday dubbed Pravasi Bharatiyas (Indian diaspora) as "national ambassadors" on foreign soil and said that they echo the voice of a powerful and capable India when the world evaluates their contributions.
At the inaugural function of 17th PBD convention in Indore, the PM said, "I call all Pravasi Bharatiyas as brand ambassadors of India. You all are "Rashtradoots". Your role is diverse. You are brand ambassadors of India's heritage, Make-in-India, yoga, India's cottage industry and handicrafts, and at the same time India's millets."
Guyana President Mohamed Irfaan Ali was present as chief guest and Suriname President Chandrikapersad Santokhi was special guest even as external affair minister S. Jaishnakar and Madhya Pradesh Chief Minister Shivraj Singh Chouhan shared dais with the premier.
Addressing the gathering, Modi said, "The nation has entered the Amrit Kal of the next 25 years. Pravasi Bharatiyas have a significant place in this journey. India's unique global vision and its important role in the global order will be strengthened by you."
INDIA @ 75
Highlighting achievements of the country in recent years, PM Modi said India administered more than 220 crore free doses of vaccine to Indians, built Tejas fighter jets, aircraft carrier INS Vikrant and nuclear submarine Arihant.
DIGI-TALL INDIA
He added that 40 per cent of the world's real-time digital transactions are being done in India and the country has capability of launching hundreds of satellites at one go!
"The message of India has its distinct importance… The world is keenly watching the country (India) with great curiosity for what and how it is doing today," Modi said, adding that the strength of the country is only going to get a boost in the future.
He appealed to the Indian diaspora to enrich their knowledge not just about India's culture and tradition but also about the nation's progress. "In that way, the overseas Indians can address the world's desire to know more about India in an effective manner," he added.
Underlining the skills, values and work ethics of the Indian youth, the PM said that today India has not only the opportunity to become the knowledge centre but also the skill capital of the world.
"This skill capital can become the engine of global growth," he added.
As India took over the G-20 presidency this year, the PM said, "G-20 is not just a diplomatic event but it should be turned into a historic event of public participation. India is seeing this responsibility as a big opportunity. It is an opportunity for us to tell the world about India."
The PM also asked the universities in India to document contributions made by the Indian diaspora in their respective nations.
"The Indian diaspora has made extraordinary contributions in their nations of domicile. We should document their lives, struggles and achievements," he said.
The PM released a commemorative postal stamp 'Surakshit Jaayen, Prashikshit Jaayen' and also inaugurated the first-ever digital PBD Exhibition on the theme 'Azadi Ka Amrit Mahotsav - Contribution of Diaspora in Indian Freedom Struggle'.
PM Modi | PTI
Indore is a phase that walks ahead of time: Modi
Heaping praise on Indore, Modi said Indore is a city as well as a phase. "It is a phase that walks ahead of time while taking care of its heritage.
The PM stated that Indore is not only the cleanliness capital but some people call it the capital of "swaad" (taste) in the country. Mentioning poha, sabudana khichdi, kachori, namkeen, Modi said, "the delicacies of Indore are mouth-watering and the people who taste them once never turn to anything else."
Modi also remarked that Madhya Pradesh is famous for the holy waters of Narmada, the greenery, the tribal culture and spirituality. He also mentioned the recently developed Mahakal Lok in Ujjain, and urged the diaspora to visit these places.
MP CM Shivraj Singh Chouhan | File
Only Modi could have advised Russia against war: CM
Chief Minister Shivraj Singh Chouhan stated that only PM Modi could have advised Russia on the war against Ukraine.
"If anybody could have told Russia that (the world) needs peace and not war, that person has to be only PM Modi," he said, recalling that Modi had advice to Russian President Vladimir Putin.
The CM stated that under the leadership of PM Modi, a new Indian is rising – a prosperous, capable and powerful India.
Chouhan said Indoris were eager to host the NRI guests at their homes instead of hotels. "There is an atmosphere of wonderful enthusiasm in Indore," he added.
He said Indore city has been decorated and groomed to welcome the guests. Chouhan said to make the PBD convention a memorable event, a "Global Garden" was developed in Indore where delegates from 66 countries along with local residents planted saplings on Sunday.
PM Modi with Guyana President Mohamed Irfaan Ali | Twitter
India belongs to all of us: Guyana Prez
Guyana President Mohamed Irfaan Ali praised India for providing Covid-19 vaccines and medicines to other countries during the pandemic. Citing India's philosophy of 'Vasudhaiva Kutumbakam', Ali said, "When the world locked its borders and globalisation collapsed, PM Modi showed the way. When the world couldn't find the vaccine and you faced the challenge of the Covid-19 pandemic and you showed the world what real love and hope is when you shared vaccines with the rest of the world," he said.
Ali said he was delighted to be in India as he had completed his higher education here in India. "I am delighted to be here once again. India belongs to all of us," he added Ali further said India's independence was an inspiration for freedom-seekers. He said India is a world leader in developing talent. As President, I find commonality in Sabka Saath, Sabka Vikas, Sabka Prayas, Sabka Vishwas," Ali said.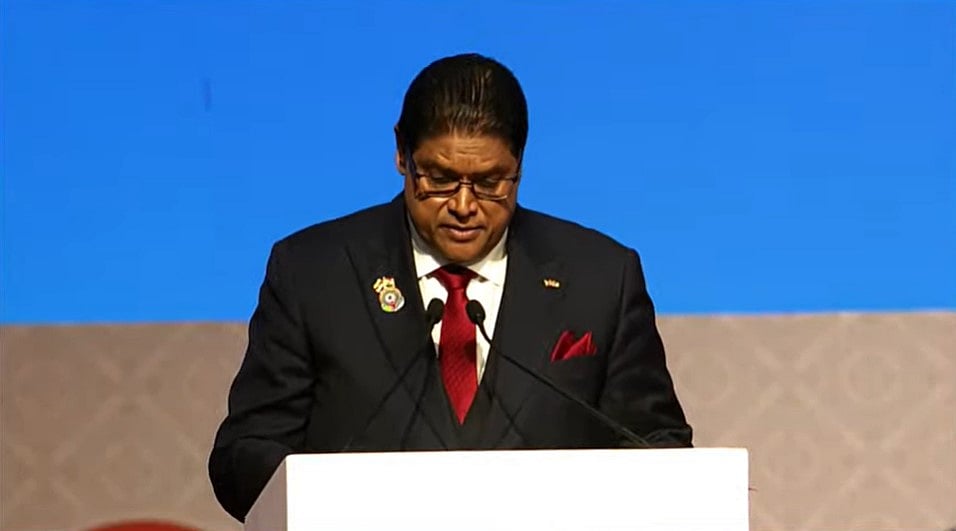 Chandrikapersad Santoki, President of the Republic of Suriname |
India has proven to be a reliable partner, says Suriname President
President of Suriname Chandrikapersad Santokhi greeted PM Narendra Modi in Hindi in his address. He also expressed condolences over the demise of his (the Prime Minister's) mother, Heeraben. He said India has proven to be a reliable partner on regional and global platforms. He sought a partnership (with India) in various fields including health, financial sectors and strengthening cultural ties by "setting up institutes for Hindi language promotion in the Caribbean country.
"A diaspora fund should be created for diaspora projects & programmes in the region. Training centres, schools should be set up in different places of the countries to impart lessons in Hindi language and these centres should also highlight religions and culture and our tradition," he said.
"Academies should be set up in the Caribbean for supporting the film industry where diaspora youth can get the opportunity to showcase talent," he added.
(To receive our E-paper on WhatsApp daily, please click here.  To receive it on Telegram, please click here. We permit sharing of the paper's PDF on WhatsApp and other social media platforms.)