When you meet Dinesh Doshi, you don't feel you are meeting an 85-year-old. He barely displays signs of age. His secret? Auto-urine therapy, a cause to which he has been 'married' for the last 30 years. Not only does he practise but also functions as a full-time urotherapist, guiding, advising and curing people. However, he does not charge a single penny for this, because he says it's his passion, not profession.
This businessman has lived in Kolkata and Chennai and had shifted to Mumbai in 2000. After retirement, he has been working as a part-time stock-trader, choosing to devote most of his time and energy in reading and researching urine therapy and has made himself the subject of many an experiment.
In this, he has a famous predecessor – the late Prime Minister Morarji Desai, who was an avowed practitioner of this therapy. Doshi learnt about this therapy, known as Shivambu, from Morarji Desai's interviews.
When he started practising it himself, 30 years ago, it did wonders to this body. He felt so fit and energetic, he believed he would never fall ill. So strongly did he believe this, he discontinued his medical insurance. His decision paid off because he has never needed it in the last three decades.
We ask him the most obvious question, keeping in mind today's situation – does it help against coronavirus?
He says, 'I believe if you drink a glass of your own urine every morning, coronavirus will not harm you.'
Standing tall, at 100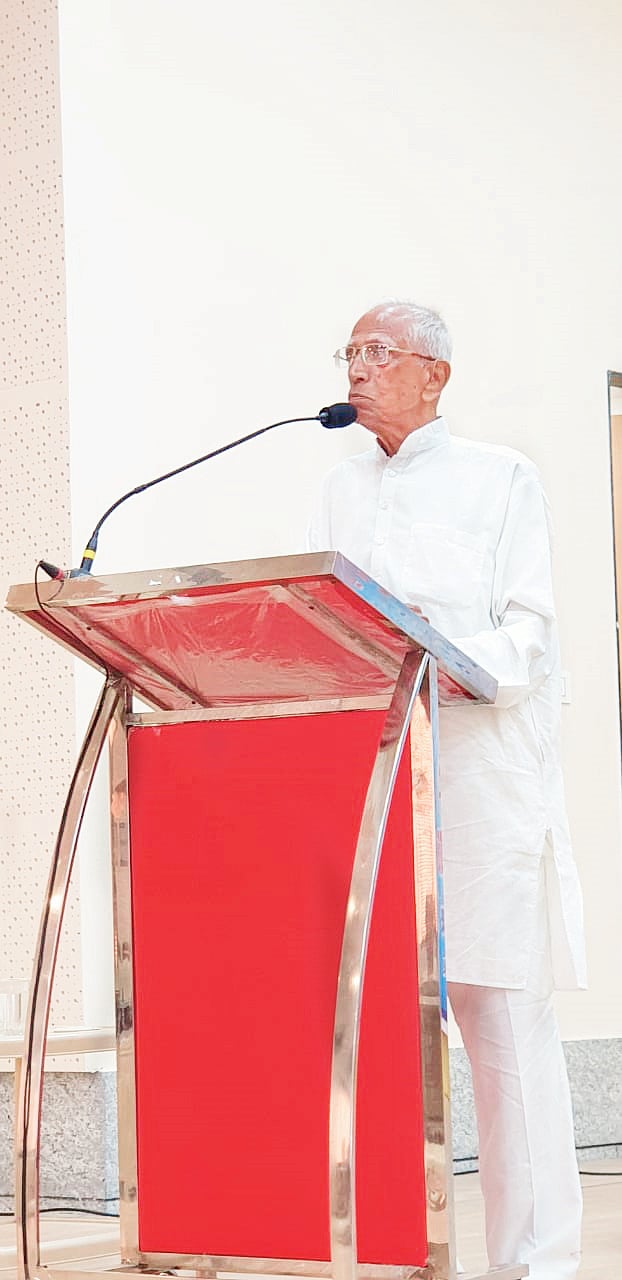 Professor, columnist, writer, political analyst, speaker -- Padma Shri Nagindas Sanghvi is all this and much more but prefers to call himself a teacher.
Nagindas Sanghvi turned 100 on March 10 and stands tall. His day begins at 5am and by 6am, is at his desk, reading and writing throughout the day, with a short break in the afternoon. His columns appear in various Gujarati publications.
No exercise, no walk, no yoga and still no blood pressure, no diabetes. Even he is surprised at having scored a century. "I don't know how I have achieved this feat. I am not a believer, so don't believe in God's grace and all that, but the body is still working.'
A Mumbaikar until 98, Nagindas Sanghvi moved to Surat two years ago.
The Modi lookalike
Ten years ago, during Navratri, Lalit Mehta had gone without a shave for 12 days because of a religious observance. The beard he grew in this period made him resemble the then chief minister of Gujarat, Narendra Modi, and his life was changed forever.
Coincidentally, the pathology laboratory operated by Mehta in Bhayandar west is known as Modi's lab. Visitors to his lab make it a point to snap a selfie with him before they leave. Wherever he goes, he becomes the centre of attraction. He has the same effect even at the weddings he attends, getting more attention than the bride and the groom, as guests flock to him for pictures and selfies.
For the privilege of a selfie, Mehta charges Rs 20 each but this is a voluntary fee. However, most people pay it willingly. He collects arround Rs 1,000 a month and donates the amount to gaushalas to provide fodder for cows.
Ordinary women, extraordinary stories
To mark international women's day, Meghana Gandhi, an inner power expert, author and life mentor, has written a book in Gujarati. The Kandivli resident has woven together the extraordinary stories of 10 ordinary women of different ages and different fields. The stories are those of a collegian, a mother, a school principal, a social worker, a healer, a psychotherapist, a transwoman, a homemaker etc.
'Hriday thi Nayan Sudhini Safar' - A Book By Meghana Gandhi | Apoorva Gajjar
Says Meghana, 'Every seemingly ordinary woman has inner divine shakti which one has to identify and nurture. The title of the book suggests that the journey of any being starts with a beating heart (hriday) and ends when the eyes (nayan) are closed.'
Meghana's own story is no less inspiring. A commerce graduate when she got married, she managed to get a Bachelor's in Hindi and a Master's in child psychology 17 years after marriage.
(To receive our E-paper on whatsapp daily, please click here. To receive it on Telegram, please click here. We permit sharing of the paper's PDF on WhatsApp and other social media platforms.)
Published on: Tuesday, March 17, 2020, 06:00 AM IST