From drawing caricatures to speaking out his mind to arouse strong emotions, Bal Thackeray was the mascot of Marathi pride and Hindutva.
Bal Keshav Thackeray, popularly known as Balasaheb Thackeray, was born on January 23, 1926. He began his political career as a cartoonist with the Free Press Journal and later formed his own political weekly named 'Marmik'.
He was the founder of the Shiv Sena mouthpiece 'Saamna' and 'Dophar Ka Saamna'. His father was a part of Samyukta Maharashtra Mission and this is where his philosophy was shaped. He was fondly known as 'Hindu Hridaysamrat' meaning 'Emperor of Hindu hearts', he was idolised with God-like devotion by his followers.
Several of his decisions changed the political scenario of the country. He was a hero for many and villain for some; love him, follow him, hate him but you cannot ignore him. On his 9th death anniversary, let's revisit Bal Thackeray's life through pictures.
Bal Thackeray addressing supporters at Kala Ghoda
Pinterest
Thackeray leading a demonstration of Shiv Sena workers in Bhiwandi
Pinterest
Bal Thackeray launching Saamna, with Chaggan Bhujbal (left), and Pramod Navalkar (second from right).
Pinterest
Bal Thackeray with former Prime Minister Atal Bihari Vajpaypee.
Pinterest
Bal Thackeray with former Chief Minister of Gujarat and current Prime Minister of India Narendra Modi.
Pinterest
Bal Thackeray with Michael Jackson at Matoshree, Thackeray's residence.
Pinterest
Bal Thackeray with Son Uddhav Thackeray and nephew Raj Thackeray.
Pinterest
Bal Thackeray with family – Jaidev with wife Smita, Bindumadhav with wife Madhavi, Uddhav with wife Rashmi.
Pinterest
Bal Thackeray with his grandson Aditya Thackeray.
PTI
Madhuri Dixit and Bal Thackeray at 70th Master Dinanath Mangeshkar awards.
Bollywood Hungama
Shiv Sena patriarch Bal Thackeray with cricket legend Sachin Tendulkar.
Pinterest
Bal Thackeray with superstar Rajinikanth.
PTI
Bal Thackeray with superstar Amitabh Bachchan, Cricket legend Sachin Tendulkar and legendary playback singer Lata Mangeshkar.
PTI
Bal Thackeray with Sunil and Sanjay Dutt.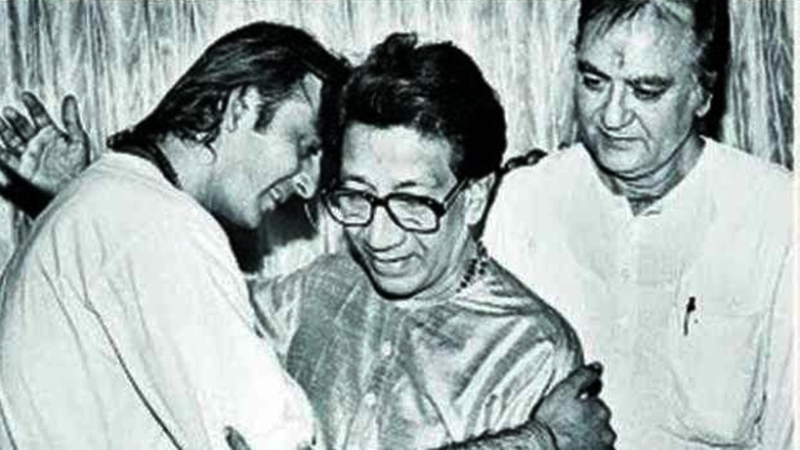 Pinterest
Former Pakistan cricketer Javed Miandad with Balasaheb Thackeray at Matoshree.
PTI
Bal Thackeray playing cricket.
Pinterest
Thackeray had a soft side as well. His love for dogs is an open secret.
Pinterest
(To receive our E-paper on whatsapp daily, please click here. We permit sharing of the paper's PDF on WhatsApp and other social media platforms.)
Published on: Wednesday, November 17, 2021, 10:36 AM IST