The Engineering Department of the Mumbai Division of Central Railway has undertaken significant infrastructural advancements, safety enhancements, and passenger amenity improvements during the month of May 2023. These initiatives aim to provide a better travel experience for passengers and strengthen the overall railway infrastructure.
"The Central Railway has focused on upgrading several key areas to benefit commuters. One notable achievement is the construction of Road Over Bridges (ROB) and Foot Over Bridges (FOBs) at various important stations. In Thane, major repair work was successfully completed on the Kalyan end Foot Over Bridge, including the strengthening of the FOB staircase of Platform no. 9/10 by replacing worn-out components such as nosing angles and broken step tiles. This development has brought great relief to the large number of passengers commuting through Thane" said a senior officials of CR.
Wadala Station | Kamal Mishra
Major repairs for Kalyan: CR official
"Kalyan, another vital station along the Central Railway, witnessed significant improvements. Major repairs were executed on the Old Foot Over Bridge, along with the staircase leading to Platform no. 6/7. These repairs addressed issues such as corroded distressed stringers, dislodged nosing angles, broken step tiles, and leaky roofing sheets. The refurbished bridge and staircase have now been opened for public use, enhancing safety and convenience for passengers" he said.
Pax amenities received special attention in May
According to a senior officer of Central Railways, passenger amenities received special attention during the month of May. Foot Over Bridges at various locations were strengthened, ensuring the safety and comfort of commuters. Additionally, a new 6-meter-wide Foot Over Bridge, spanning 40.15 meters with two spans, was opened for public use at Wadala Road station, offering improved accessibility.
Wadala Station | Kamal Mishra
The Mumbai Rail Vikas Corporation also contributed to passenger amenity enhancements by constructing a 6-meter-wide Foot Over Bridge with three staircases at Neral Station. This new bridge, which provides access to the eastern side, was made available to passengers on May 1, 2022.
Apart from that the Central Railway successfully launched the longest Open Web Girder across the track, spanning a distance of 99.34 meters. This accomplishment took place during the construction of a Road Over Bridge across Vidyavihar on May 30, 2023, further improving connectivity and infrastructure in the area.
Addressing the issue of encroached land, the railway authorities took decisive action in May. A total of 120 hutments were demolished between the Bhiwandi and Kharbao section.This effort aims to reclaim land and ensure the safety and efficiency of railway operations.
Vidyavihar Station FOB | Kamal Mishra
Safety is top priority: CPRO
"Safety remains a top priority for the Central Railway, and continuous track strengthening is an integral part of the engineering department's work. In May alone, the department successfully completed testing of 583 kilometers of rail and 127 kilometres of welds, ensuring the reliability and security of the railway network" said Dr Shivraj Manaspure chief public relations officer of CR.
"The month of May witnessed substantial progress in upgrading infrastructure, strengthening safety measures, and enhancing various passenger amenities across the Central Railway network. These developments reflect the railway's commitment to providing a safe, efficient, and comfortable travel experience for the residents of Mumbai " said Dr Manaspure.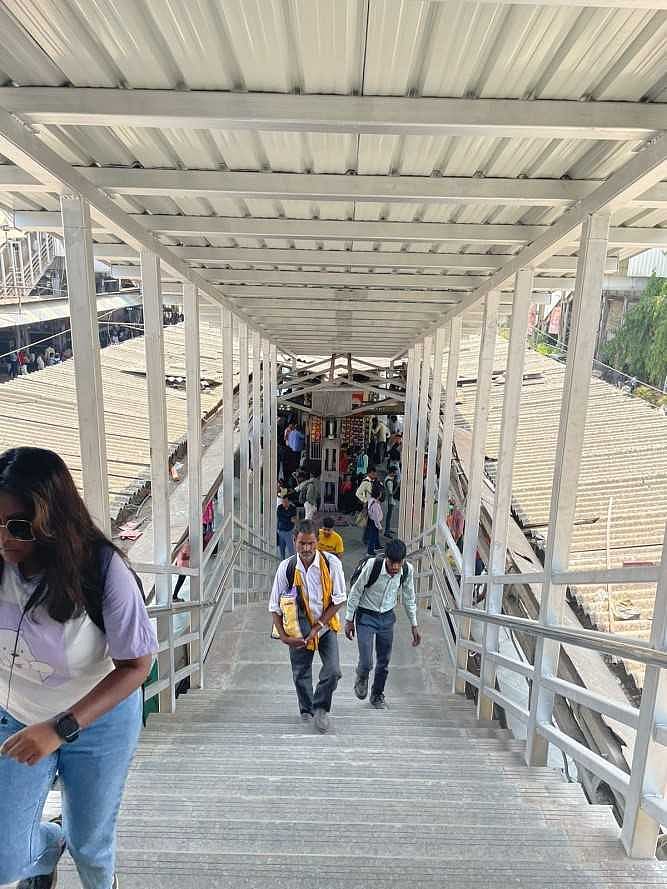 Thane Station FOB | Kamal Mishra
(To receive our E-paper on WhatsApp daily, please click here.  To receive it on Telegram, please click here. We permit sharing of the paper's PDF on WhatsApp and other social media platforms.)