As we gear up to celebrate the Republic Day of India on January 26 with much enthusiasm and fervor, it is also a time to remembers all those who fought for the nation to make this day possible. To celebrate the 74th anniversary of India's Constitution's implementation, let's dwell into the timeless memories from our freedom struggle and interesting stories that remind us of our courageous history.
From tales about fearless soldiers to stories about our predecessors, this is the perfect list to binge-listen to on Republic Day with family and friends. Here's a unique selection of audio series to help us get into the patriotic spirit.
Yoddha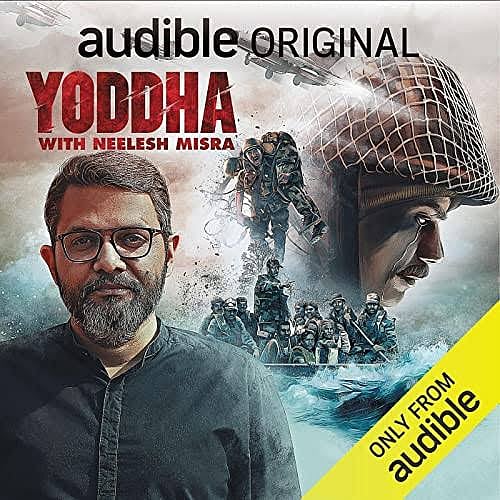 Yoddha is a 30-episode series created and performed by Neelesh Misra. This series celebrates the bravery of the Indian Armed Forces, chronicling soldiers' fierce sense of duty against impossible odds. The stories also reveal their personal lives and sacrifice and the courage of their family members.
On Audible Suno
Commander Karan Saxena
Based on author Amit Khan`s `Commander Karan Saxena` novel series, this audio show features Bollywood star Sonu Sood in and as Commander Karan Saxena. Directed by Mantra Mugdh, this is a story of a secret agent who is fighting with the enemies of the nation.
On Spotify
Boots Belts Berets
Apart from watching TV and OTT shows, you can also listen to this audio show written by Tanushree Podder and narrated by Abhishek Banerjee. It is a story of youth getting trained at National Defence Academy and their life full of adventure, ambition and tough challenges.
On Audible
Bose to Netaji Tak
This is the story of India's most popular leader and brave freedom fighter Subhash Chandra Bose. This special presentation of Pocket FM closely tells the journey of Subhash Chandra Bose from his childhood to his becoming Netaji. The series traces the formation of the "Azad Hind Fauj" as well as the events that comprise Netaji's tireless struggle and sacrifice.
On Pocket FM
SID
Patriotism ignites in the hearts of every Indian on this day and why not make it more interesting by listening to the tale of Virat Agnihotri. Virat Agnihotri, since childhood, has been passionate about serving and fighting for the country, but he gets trapped in strange circumstances. After completing his training, he dreams of being posted on the border, but things take a sudden twist in his life. Virat joins the Secret Intelligence Department (SID) despite not wanting to be there, he is forced to work as a secret agent, and this is where the real story begins. What will happen when a recruit contributes to the country by becoming a spy? Will Virat gain access to intelligence and expose the spies?
On Pocket FM
(If you have a story in and around Mumbai, you have our ears, be a citizen journalist and send us your story here. )
(To receive our E-paper on WhatsApp daily, please click here.  To receive it on Telegram, please click here. We permit sharing of the paper's PDF on WhatsApp and other social media platforms.)