Raksha Bandhan- celebrates the bond between siblings and is a time when they cherish their favourite moments. Though brother and sister may always fight with each other like Tom & Jerry still the love and affection between the duo is boundless.
So, to make your siblings feel even more special; you can give them these delectable sweet gift hampers to add more sweetness to your relationship and make them smile.
So, Here you go, take a look:
Sweet Hamper
Bombay Sweet ShopF |
Bombay Sweet Shop has curated assortment of delectable treats that will your siblings' will absolutely love.
Available online at ₹700 onwards
Dark Chocolate & Cookies Gift Hamper
The Gift Studio |
You can choose from the vast range of gift hampers by The Gift Studio. You can even curate the perfect personalized hamper for your dearest sister or brother to create a bespoke gift that resonates with their tastes and preferences.
Available online at ₹3,299. Other hampers starting from ₹1500 onwards
Rakhi Gift Hamper for Kids
Nestasia- Yellow Dino Rakhi Hamper For Kids |
Yellow Dino Rakhi Hamper For Kids by Nestasia is a meticulously curated hamper that features a yellow dino decor showpiece, a yellow stainless steel feeding cup and a matching kids' feeding spoon, ensuring a fun and enjoyable mealtime experience. There is a beautiful bronze-yellow rakhi and the roli and rice bottle for the auspicious Raksha Bandhan ceremony in this hamper. It also contains a delicious pack of Ferrero Rocher chocolates. This rakhi hamper could be the best choice for your little sibling or little one in your house.
Available online for ₹2,914. There are other Nestasia gift hampers with different price ranges available as well
Mithai & Dry Fruits Hamper
Meetha by Radisson, Goregaon |
Meetha by Radisson, Goregaon known for their Premium Mithas has curated a special hamper for Raksha Bandhan that will be a mix of dry fruits and Artisan mithai varieties. The hamper includes 2 dry fruit jars, sweets like Chocolate Motichoor Ladoo and Rose Petal Gulkand Ladoo, Dryfruit sweets like Coco Orange and Kaju Coin, Sugar-free sweets like Anjeer Ladoo, Cranberry Delight and Badam Pak. Hampers can also be customised according to your choice.
Available online from ₹2000 onwards
Exquisite Hamper For Your Foodie Siblings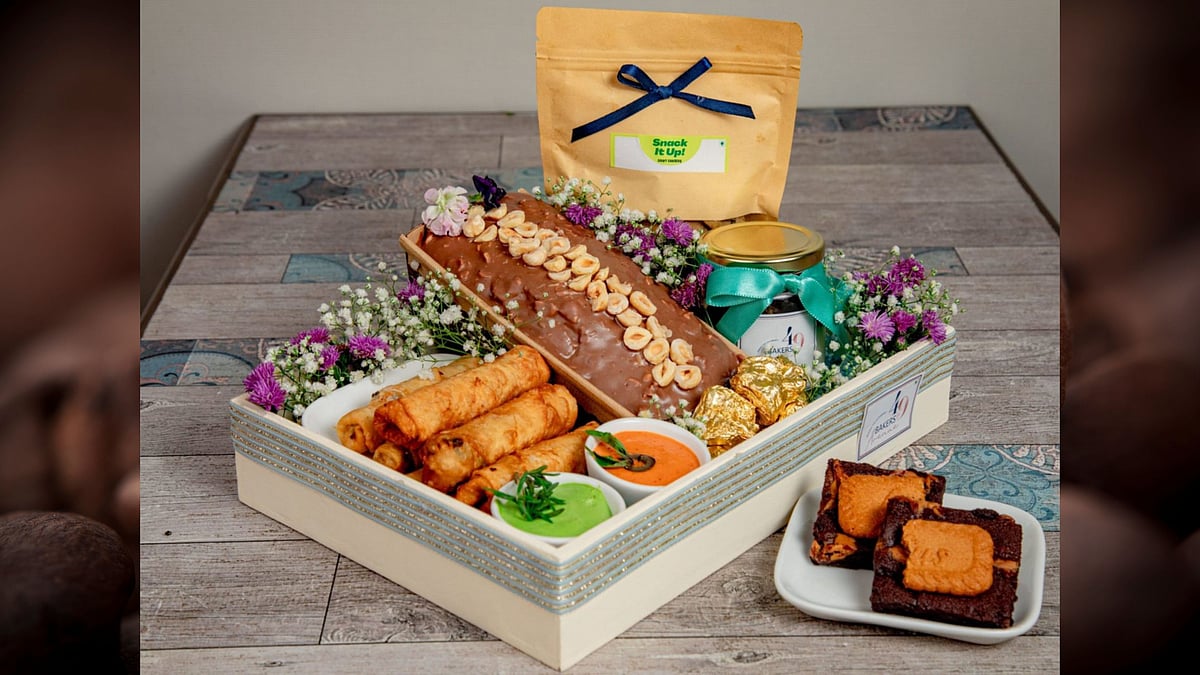 Cafe 49 & 49 Bakers Avenue, Juhu |
Exquisite Hampers from Mumbai's Cafe 49 & 49 Bakers Avenue, Juhu boasts a delightful variety catering to different preferences. From the dainty Petite Hampers to the indulgent Classic Hamper, and the health-conscious Healthy Hamper to the sophisticated Cheese Platter, there's something for every taste. You can also customise these hampers as per your choice.
Gelato Hampers
Coppetto Artisan Gelato Hampers |
You can celebrate your special sibling relationships with plenty of gelatos and lots of love by gifting Gelato Hamper which contains the decadent flavours of chocolate and vanilla gelato.
These hampers are availble at Coppetto Artisan Gelato Outlets in Bandra, Chowpatty, and Juhu starting from ₹210 onwards.
Chocolate Hamper
La Folie's Rakhi Special Collection |
La Folie's Rakhi special collection- 'Chocolaty Bandhan' features boxes crafted especially for lovers of artisanal chocolate and caramel. Each of these hampers is carefully designed to celebrate the unique bond and connection between siblings, honouring the memories, laughter, and love that make your relationship truly special along with Handcrafted rakhis.
Available online from ₹750+ onwards
All in one- sweet, nuts & chocolates hamper
Haldiram introduces 'Pyaar Ka Tohfa'- a diverse range of delectable and well-designed gifting range of sweets, nuts & chocolates in carefully curated gift hampers.
These are available online as well as in their stores.
(To receive our E-paper on WhatsApp daily, please click here.  To receive it on Telegram, please click here. We permit sharing of the paper's PDF on WhatsApp and other social media platforms.)