DHAR: The administration with the cooperation of private labs may set-up a centre to collect plasma for treatment corona infected patients.
Dr Anil Verma and some social workers are expecting the administration to give consent to this initiative.
"A primary lab for plasma therapy can be set-up in District Headquarters. The process requires due permissions and infrastructure, so we are collecting the data of all the people who have recovered from coronavirus infection at least 4 months ago. After examining their blood sample, the lab can collect their plasma"—Dr Anil Kumar Verma, a senior pathologist and blood bank in-charge, District Hospital, Dhar said.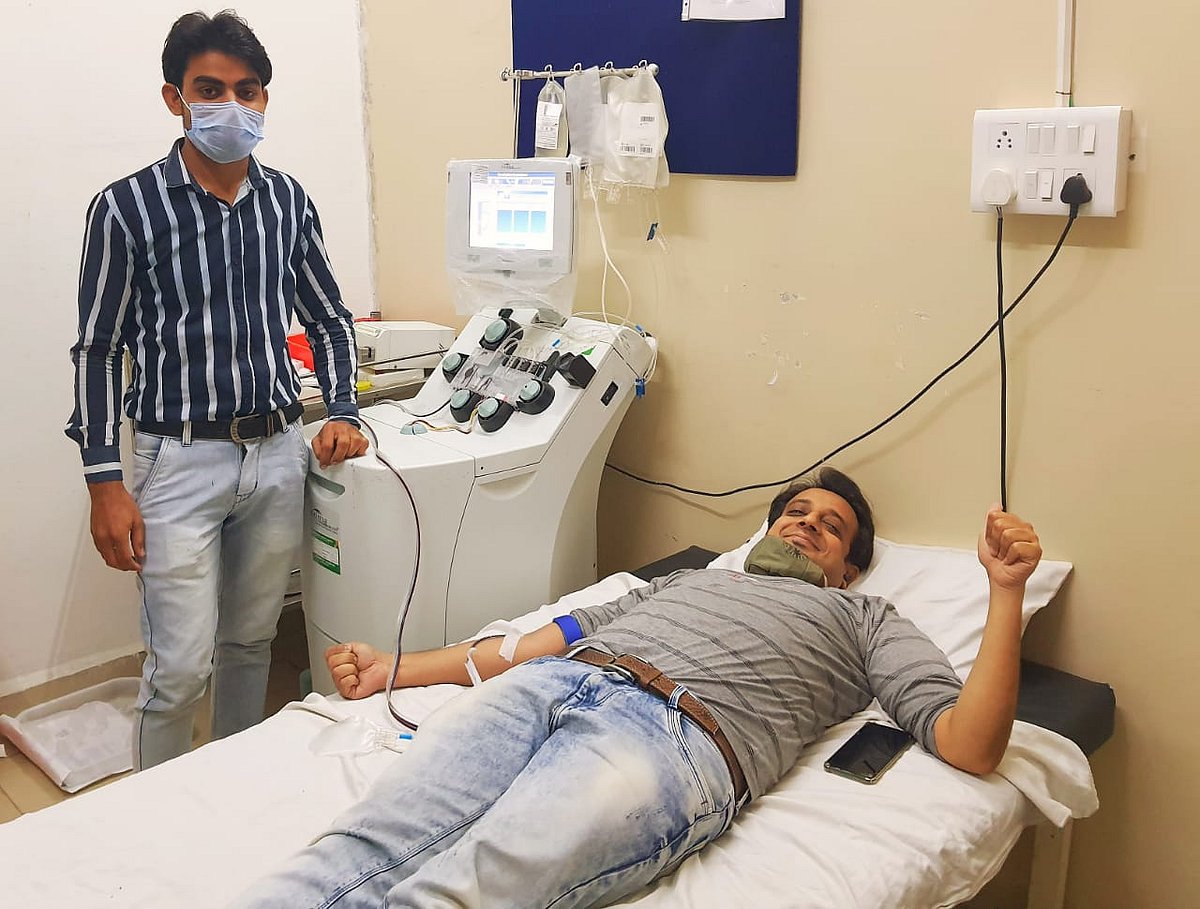 Vijay Agrawal, a resident of Anandeshwar Marg donating plasma | FPNS
Vijay Agrawal, a resident of Anandeshwar Marg donated plasma 20-25 days ago. He said that it is totally a safe procedure and has no side effects. Agrawal donated plasma in the plasma bank of Aurobindo Hospital, Indore after being going through medical examination for half an hour. Plasma donors can make another donation after 15 days.
Sunil Mahajan donating plasma | FPNS
Sunil Mahajan, an Indore-based Civil Engineer donated plasma on April 10 to an aged man in a very critical condition. Sunil said that he is glad that the patient has recovered.
Corona winners can donate plasma subject to following conditions:
1. After 14 days of recovery
2. Age range: 18-60 years
3. Body weight donor should be above 45 kg
4. Woman who has never been pregnant and all men
5. Anyone who fulfils the conditions of blood donation and apheresis donation.
6. 14 days after recovery
7. Donors can donate plasma again after every 15 days if found fit in antibody tests
(To receive our E-paper on whatsapp daily, please click here. To receive it on Telegram, please click here. We permit sharing of the paper's PDF on WhatsApp and other social media platforms.)