Chandrayaan-2 is expected to make a soft landing on the South Pole of the moon around September 6, 2019. If all goes well — and there seems no reason why it shouldn't — two of the happiest hearts on earth will be those of Muthayya Vanitha and Ritu Karidhal.
Leaders of the mission, Vanitha is the director responsible for the entire project, while Karidhal is the mission director coordinating Chandrayaan-2 when the satellite is injected into orbit.
Indian women are clearly no longer the 'sidekicks' when it comes to India's space programme. Former director of the ISRO satellite centre in Bengaluru, Dr M Annadurai, echoes the sentiments of many when he points out, "It is good to see more and more women taking up leadership roles and this will continue in future missions of ISRO as well."
For fact is, while women have led various satellite launches in the past, in a first both the mission director and project director of this noteworthy Rs.978 crore mission are women.
According to ISRO Chairman K Sivan, women comprise 30% of the team working on Chandrayaan-2. This is heartening news considering that according to UIS data, the percentage of female world researchers pursuing careers in STEM (Science Technology Engineering Math) is less than 30%.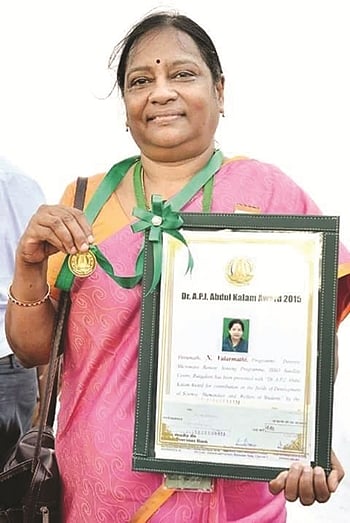 Even more sobering, is the fact that a mere 8% of ISRO's technical and scientific staff comprises of women. It doesn't need mentioning that ISRO has never had a female head since it was founded back in 1963.
However, the fact that women scientists are an integral part of the organisation was underlined five years ago, when an image of them in the ISRO control room, celebrating the Mars Orbiter Mission or Mangalyaan's entry into the planet's orbit, had emerged...and promptly gone viral.
With Chandrayaan-2, the role of women at ISRO has ceased to be of a supporting nature—it is a principal, leading part and nothing less.
Breaking the glass ceiling
Breaking the glass ceiling is not easy, but these women are doing it with verve, vigour, and on the strength of sheer skill and capability. Take Mutthaya Vanitha, awarded the Best Woman Scientist in 2006, who is especially proficient at handling data interpretation.
Coming on the top of strong problem solving and team management skills, she is clearly a valuable asset to ISRO. Ritu Karidhal, who had been Deputy Operations Director of Mars Orbiter Mission, is also voluble when it comes to encouraging young girls to follow their dreams, while exhorting parents to support their daughters' ambitions.
Minnie Vaid, author of the book Those Magnificent Women and Their Flying Machines, which profiles ISRO women scientists, believes that for most of them, the challenge begins with being permitted to pursue science beyond graduation, or leave their comfort zone and travel distances to study and finally, work at ISRO.
She points out that no woman has reached the top rank at ISRO since its inception on August 15, 1969. That said, the last fifty years have seen an increasing number of women scientists and engineers take on leadership roles as project managers, project directors and programme directors.
Vaid writes, "They have carved their own space in a fiercely competitive, male-dominated world, managing homes and families through meticulous planning, efficient organisation and an unflappable temperament."
Among the 21 women scientists profiled are Nandini Harinath and Ritu Karidhal who were tasked with operations and design; Minal Sampath and Moumita Datta who worked on the complex scientific instruments or payloads aboard the Mars Orbiter; and even senior women scientists like Seetha Somasundaram, programme director Space Science; N Valarmathi, deputy director URSC (U R Rao Satellite Centre) and T K Anuradha, the program director of GEOSAT (Geodetic Satellite).
Tales of inspiration
Vaid had shared that she presumed the women would have faced a strong gender bias, as there are far fewer women in Science, Technology, Engineering and Mathematics (STEM) than men.
Some, like T K Anuradha, went against their father's wishes in choosing engineering over medicine, both of which she had topped in. Anuradha's rationale? 'It is possible to make something go good, if you want it to go good'.
Unlike most of her college mates, she didn't give in to the temptation of going abroad, worked and did well at ISRO, also striking a balance with family life.
Despite the women scientists denying any struggle related to gender at ISRO, the fact remains that there exists a yawning gap between male and female scientists both in terms of numbers and top positions.
The stories of the challenges and success of ISRO's women brigade serve as an inspiration to the many young girls who want to pursue STEM but might lack the confidence or the support of their environment.
As Minnie tells it, these women scientists have provided a visible reference point for countless youngsters in India, especially those who might face resistance from family and society about doing science — still seen as something 'not for girls.'
Eventually, it does do wonders when scientist N Valarmathi herself tells young school- and college-going girls in the course of her motivational talks, 'If I am able to do this, why not you?' Why not, indeed!
(To receive our E-paper on whatsapp daily, please click here. To receive it on Telegram, please click here. We permit sharing of the paper's PDF on WhatsApp and other social media platforms.)