There's nothing fashion addicts were craving more than a fabulous red carpet, and the Cannes Film Festival was just what the doctor ordered. After the event was cancelled last year in light of the pandemic, all eyes were glued to this season's fashion gala as the 74th edition of the annual event kicked off with much pomp and glamour.
This year, Indian beauties who are regulars at the Cannes, like Sonam Kapoor, Priyanka Chopra, Deepika Padukone, Aishwarya Rai Bachchan, were missing due to travel restrictions.
Nevertheless, the star-studded Cannes 2021 had all the glitter and glamour which we were missing since last year. Hollywood personalities took to the red carpet with panache, dressing up in the latest trends.
For her second day, supermodel Bella Hadid opted for an all-black Schiaparelli dress with a gold necklace that resembled lungs.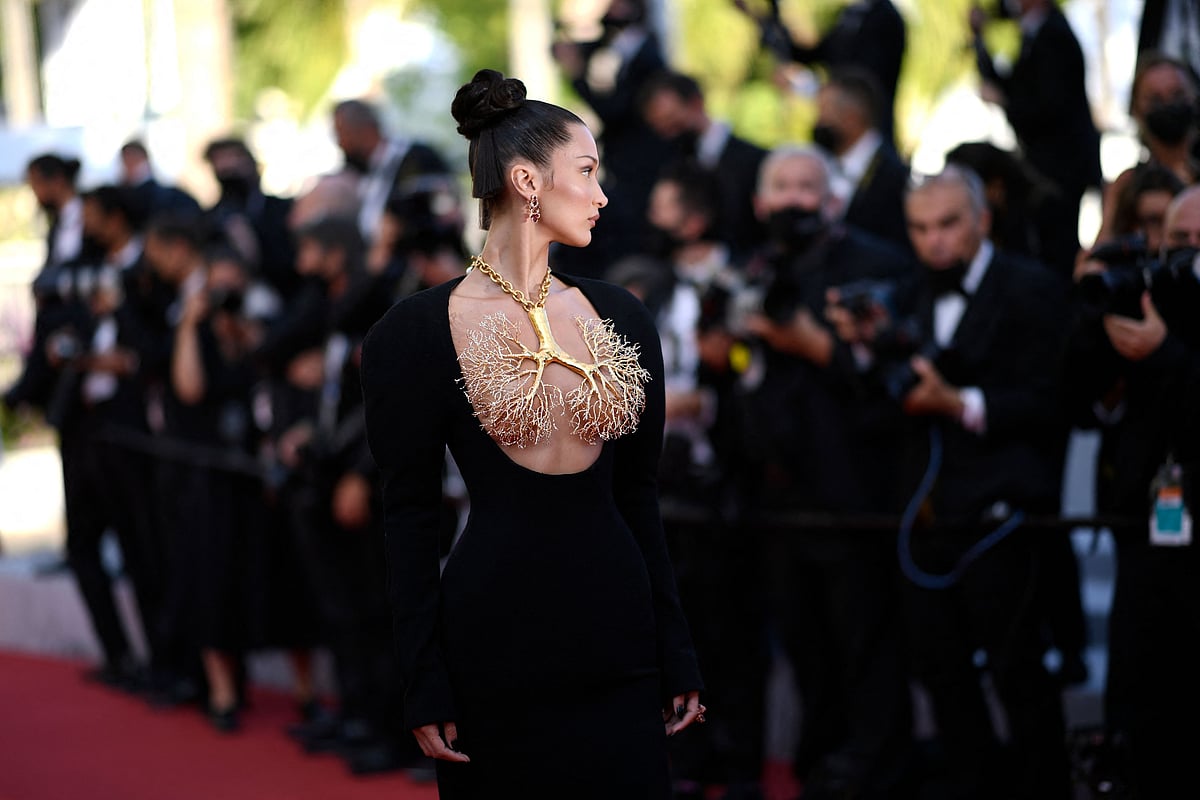 Photos by AFP
Earlier, Bella wore a vintage Jean Paul Gaultier gown in monochrome with a sheer veil, wrapped as halter neck. Pear-shaped diamond earrings, a diamond ring, and heart-shaped ruby ring finished her look.
Last week, Bella took her love public by posting a PDA-filled photo with her rumoured boyfriend Marc Kalman.
Kalman works as an art director and has collaborated with Travis Scott and Kng Kng Records, among others.
Hadid was first romantically linked to the artist in early June when they were spotted out on a lunch date together.
As per reports, they were apparently introduced through friends and their relationship started up following her split from on-again-off-again boyfriend The Weeknd, who sparked his own romance rumours this week after dining with Angelina Jolie.
However long the pair have been dating, the model does not seem to be keeping Kalman under wraps anymore. She posted a sweet photo of them canoodling on a balcony while travelling between Paris and Cannes for the Cannes Film Festival and Paris Fashion Week.
Kalman has also done projects in the fashion industry sphere, designing logo art for Made Fashion Week and fashion brand A Bathing Ape. He was also involved with a Smoke x Mirrors eyewear campaign and worked as a "fashion assistant" for major publications, as per his website.
He is very private about his personal life and does not have public social media accounts. But his Instagram has a number of high-profile followers aside from Hadid, like Virgil Abloh, Diplo and Fai Khadra.
(If you have a story in and around Mumbai, you have our ears, be a citizen journalist and send us your story here. )
(To receive our E-paper on WhatsApp daily, please click here.  To receive it on Telegram, please click here. We permit sharing of the paper's PDF on WhatsApp and other social media platforms.)