Some of us have had a dream that has our favourite food, but then wake up to nothing. This leads to not knowing what to have for breakfast and we end up skipping the most important meal of the day. But that won't be the case anymore, as we take a look at the best breakfast joints in Mumbai.
So if you're having a hasty start, or a hangover that's tearing you apart, these breakfast joints are your life savers. They are the jewels serving mouth watering breakfasts to add an extra ray of sunshine to your day.
From century old cafes to the ones serving classics, we shed light on the 21 best breakfast places the city has to offer.
Fat Man's Cafe
Fat Man's Cafe serves king size breakfast portions to kick start your early morning hunger pangs. Their waffles, pancakes and a variety of egg items are bound to attract you over and over again.
Location: Bandra and Juhu.
Cost for two: 1500 INR approximately
Cafe Madras
A glorious place serving Indian breakfast fare with lip smacking flavours of South India. Their crispy dosas and fluffy idlis are to die for. Their other food specials include Upma Podi, Rasam Idli, and Malga Podi. The place is always packed to devour pure deliciousness.
Location: 38 B, Circle House, King's Circle, Matunga East.
Cost for two: 250 INR approximately
Kyani & Co.
The charm of Irani Cafe culture is very well loved in Mumbai. Kyani & Co. happens to be one of the oldest Irani food joints in Mumbai, that goes back to more than a century old. The place is not too fancy with a reasonably priced menu. However, foodies from all strata of society come over to feast on their delectable breakfast. Their toast, kharis, kheema pav and the classic Irani chai makes for a perfect breakfast on the go.
Location: JSS Road, Jer Mahal Estate, Opposite Metro Cinema, Marine Lines.
Cost for two: 200 INR approximately
Good Luck Cafe
This is another old Irani joint famous for their magical potion of Kheema Ghotala with buttery pav (bread). The orders are served in minutes and the aroma of the spicy chilli-doused minced meat brightens up any lazy morning. Wash that down with a cup of masala chai and you're good to go.
Location: Opposite Mehboob Studios, Near Bandstand, Bandra West.
Cost for two:  550 INR approximately
Dakshinayan
This one's another option for those who are in the mood of South Indian breakfast. With food created to satiate your salivating taste buds, Dakshinayan sums up to be a great breakfast pick.
Location: Juhu and Malabar Hill.
Cost for two: 600 INR approximately
Prakash Shakahari Upahaar Kendra
If you wish to start your mornings with authentic Maharashtrian breakfast, this is your spot. Prakash has been serving some mouth watering snacks and savoury dishes to spice up your mornings. The Batata Vadas are something you can't miss.
Location: Horizon Towers, Ranade Road Dadar West, Shivaji Park.
Cost for two: 150 INR approximately
Cafe Basilico
It is collated in a Victorian Building with classic interiors and French windows to give you that essence of a vintage dining atmosphere. Popular for their Eggs Shakshouka, which are poached eggs placed on top of creamed spinach and crispy English muffins. Cafe Basilico holds a special place in serving fresh breakfast that blends in its surroundings of art and culture.
Location: Colaba and Bandra.
Cost for two: 2000 INR approximately
The Bagel Shop
With great consistency in culinary quality, The Bagel Shop, has flagged itself in serving the best bagels for breakfast. Their variety consists of all sorts of healthy options. You can also try their freshly squeezed seasonal fruit juices which go well with the bagels.
Location: 30, Pali Mala Road, Carter Road, Bandra West.
Cost for two: 1000 INR approximately
Candies
They have been serving awesomeness for the last 25 years. Their menu includes a variety of snacks, meals and desserts. With gorgeous interiors, Candies is a favourite among foodies for their eclectic mix of food creations.
Location: Pali Hill, Bandra West and Reclamation, Bandra West.
Cost for two: 700 INR approximately
B Merwan
The authenticity of this place is absolutely at another level. It opens around 5 am and brings out its first batch of freshly baked mawa cakes. There is a queue outside even before they open the bakery. Their bun maska with a cup of classic Irani chai is a must try for beginners.
Location: Ali Bhai Remji Road, Opposite Station, Grant Road East.
Cost for two: 200 INR approximately
Theobroma
It might seem as an unusual choice of place to have breakfast, but when they're not baking their sweet delights, they serve come classic breakfast options. Their full English Breakfast is what you need to try, which includes two sunny side ups, baked beans, bacon, sausages, mushroom tossed with corn and onion, hash browns and toast.
Location: Powai, Bandra, Colaba, Andheri, Goregaon, Peddar Road, Fort, and Breach Candy.
Cost for two: 600 INR approximately
Suzette
It was started by 3 French professionals turned Chefs. If you happen to be here early, make sure to pick their perfectly, flaky, freshly-baked, warm croissants. However, Suzette has gained popularity for its authentic French crepes with the choicest of ingredients. The medley of such heavenly breakfast goes well with their freshly squeezed juices. The place offers a homely feels, with a customized menu and a variety of vegetarian, vegan and gluten free options.
Location: Bandra, Powai, and Nariman Point.
Cost for two: 1900 INR approximately
Jimmy Boy
It is a classic Parsi breakfast joint that serves authentic Parsi breakfast options. A serving of their famous Salli Per Edu is a must. It is an absolutely divine combination of fried potato straws with eggs.
Location: Vikas Building, 11 Bank Street, Off Horniman Circle, Lane Opposite Cheetah Gate, Fort.
Cost for two: 850 INR approximately
The Pantry
The place screams fresh out of the oven. It is a beautiful place with light hued interiors which give a relaxed and warm appeal. Their menu is something that needs a mind of experimentation. This is not your ordinary breakfast joint, so be prepared to taste something new. For starters you can go for their Tomato Scramble Eggs with Parmesan and Potato Roesti.
Location: Yeshwant Chambers, Military Square Lane, Near Trishna, Kala Ghoda, Fort.
Cost for two: 1300 INR approximately
Kala Ghoda Cafe
Set in the early 20th century, the Kala Ghoda Cafe is a definite one when it comes to having spectacular breakfast. Our extra points go for their very own thick, homemade whole wheat toast. Their muesli with yogurt is a mandatory pick you can't afford to miss. This can be followed by their Belgian waffles with chocolate sauce just because like to have a sweet morning.
Location: 10, Ropewalk Lane, Kala Ghoda, Fort.
Cost for two: 500 INR approximately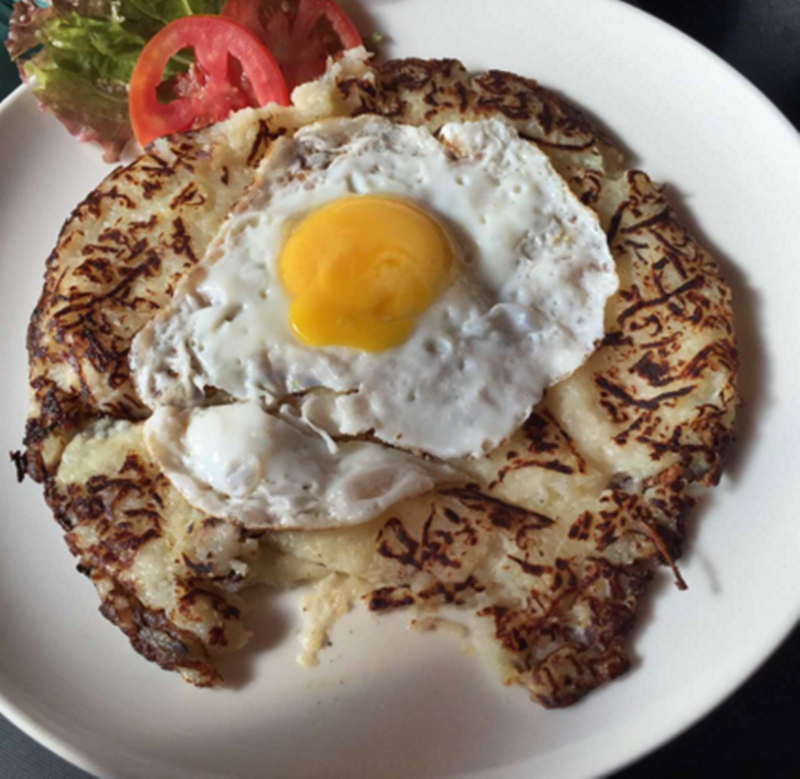 The Nutcracker
It is a fresh addition to the breakfast joints in the city. It lays its attention to a variety of egg dishes and other vegetarian options. Their Salli eggs, Bagel & Cream Cheese, and Mushroom on Toast are a must try.
Location: Modern House, Dr. V.B. Gandhi Marg, Opposite One Forbes Building, Kala Ghoda, Fort.
Cost for two: 1200 INR approximately
Cafe Zoe
This place is bustling with energy at all times with their authentic breakfast options that are all about eggs, waffles and a combination of sides. Their Eggs Benedict with Salmon, Scones with Clotted Cream and Blueberry Compote are a must try.
 Location: Mathuradas Mills Compound, NM Joshi Marg, Lower Parel.
Cost for two: 1200 INR approximately
Leaping Windows
It is a perfect place for those who love to eat and read. It is quite the hidden gem in the culinary arena. With a little cafe style setting and a library, this place is great for breakfast over books! Their best pick includes Pork Full House and an Orange Fennel Pancake.
Location: 2 & 3, Corner View, Ashok Chopra Marg, Opposite Bianca Towers, Versova, Andheri West.
Cost for two: 1200 INR approximately
Eat Around the Corner
Tucked away amidst Bandra, Eat Around the Corner offers multiple combinations of breakfast. From a variety of preparations made of eggs, bacon, sausages and bread, this place will kick in your taste buds and make you want more.
Location: 24th & 30th Road Junction, Opposite St Theresa's Boys High School, TPS III, Pali Hill, Bandra West.
Cost for two: 900 INR approximately
Cafe Churchill
It is a small place with a couple of tables with a casual setting. This not so fancy place, however serves some amazing breakfast picks. And because of this, the place is generally packed during peak hours.
Location: East West Court Building, Opposite Cusrow Baug, Shahid Bhagat Singh Road, Colaba.
Cost for two: 1200 INR approximately
Cafe Moshe's
Moshe's is a massive restaurant chain that has been serving some commendable delights to feast on. They swear by good food and amiable ambience. With casualness and warmth, it is an apt place to start your mornings with an array of lip smacking breakfast options.
Location: Juhu, Goregaon, Vashi, Bandra, Cuff Parade, Lower Parel, Malad, and Kemps Corner.
Cost for two: 1300 INR approximately
(To receive our E-paper on whatsapp daily, please click here. We permit sharing of the paper's PDF on WhatsApp and other social media platforms.)
Published on: Monday, November 30, 2015, 07:01 PM IST