Bollywood's muscular actor Suniel Shetty turns 57 today and on a special day, the Balwaan actor will be celebrating birthday with his family and friends. Well, Suniel Shetty is one of the popular actors of late 90s. The actor has worked in many popular films like, Mohra, Waqt Hamara Hai, Hera Pheri and others.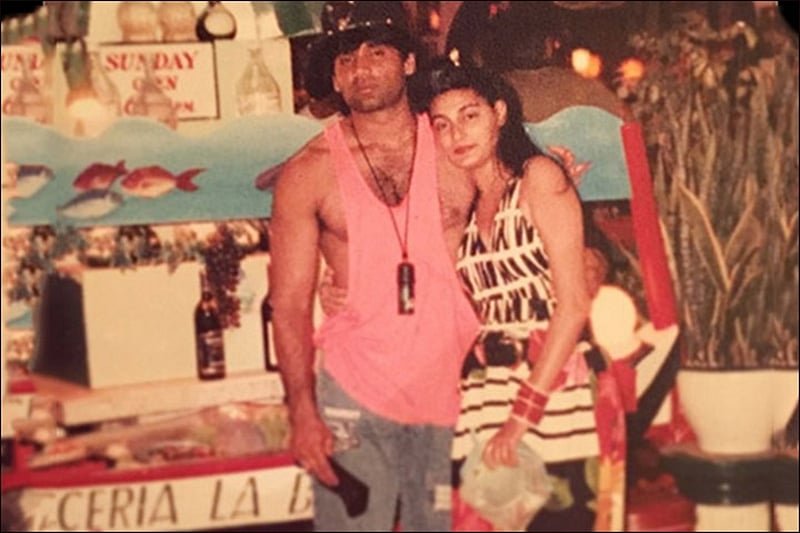 Many people have had made comment on Suniel Shetty's career graph but nobody noticed that his love story with his wife Mana Shetty has always been a relationship to get inspired from. Amid the religious politics happening in India, Suniel and Mana have set an example of successful inter-religion marriage since many years. After all, Suniel belongs to Tulu speaking Kannada family whereas, Mana was a daughter of a Punjabi Hindu mother Monisha Kadri and Gujarati Muslim father.
Well, Suniel and Mana first met at the age of 21 and 17 years old respectively. When they met for the first time, Suniel and Mana were introduced to each other through common friends. Interestingly, after seeing Mana for the first time, Suniel got attracted to her and fell in love with her. While remembering an introduction, Suniel said in an old interview, "There was something about her that was different."
Later, Suniel asked his friend to organise a get-together and requested to invite Mana as well. Interestingly, his friend invited Mala and she came as well. After the party, Suniel and Mala went on a motorcycle ride together in the dark of night where they realised that they have fallen for each other.
At that time, Mana and Suniel's father were not in mood to approve their relationship as they belonged to different religion and culture. This religious aspect made Mana and Suniel worry as they tried to convince their family for 9 years.
Finally, after 9-years, Suniel and Mana got an approval from their respective parents as they got hitched in 1991. At that time, Suniel had not made his debut in films. In an interview, Suniel shared that, their marriage was 10 days long event. In 1992, Suniel and Mana gave birth to daughter Athiya Shetty, who is now an actress in Bollywood. In 1996, the couple had their second child, son Ahan Shetty, who is currently preparing for his Bollywood debut.
Suniel and Mana have known each other since 36 years, however, unlike other Bollywood marriages, this one lasted. Their 26 years of successful married life is an example for many people.
Happy Birthday, Suniel Shetty!
(To receive our E-paper on whatsapp daily, please click here. To receive it on Telegram, please click here. We permit sharing of the paper's PDF on WhatsApp and other social media platforms.)