O sajna, barkha bahar aayee,
ras ki puhar layee,
ankhiyon mein pyaar layee
Sawaan ke jhoole pade,
tum chale aao,
Bole re papahara
Jhiri jhiri barse sawan...
It's a given. As the monsoons charge in with thunder, lightning, and heavy blinding showers at the peak of summer, not just the earth and the trees rejoice, the human spirit too picks up – old rain melodies (such as these) erupting on lips, oozing out of radio channels, and featuring as much in small homely soirees as in Bollywood musical shows and classical music baithaks. The provocation to turn to music is almost compulsive. When the roof of our world – the sky itself breaks down and gives of itself wholly, not holding back anything, the human heart is subliminally moved to express its deepest emotions, and thus to seek music -- the most effective conveyor of human emotions.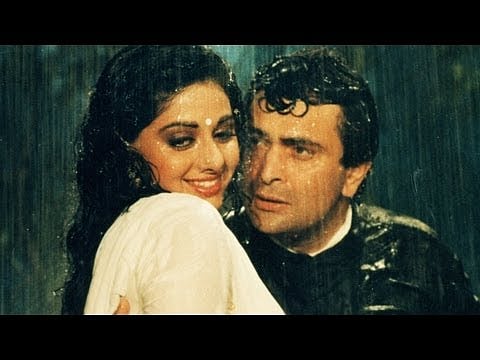 Hindi films, especially old Hindi films, exuberantly celebrated the rains with lilting rain melodies and matching beautiful pictorisations, which have now become a part of the Indian collective consciousness. Songs like Bole re papihara (Guddi), Rimjhim gire sawan (Manzil), Aaj rapat jaaye (Namak Halal), Palbhar mein yeh kya ho gaya (Swami), Barsaat mein humse mile (Barsaat), and Kali ghata chaaye mora jiya tarsaye (Sujata) are as deeply embedded as images like a lean Amitabh and a voluptuous Moushumi Chatterjee strolling through Mumbai in the rains, drenched, caressed by surf, singing Rimjhim gire sawan; Raj Kapoor and Nargis gathered under one umbrella in film Shree 420 gazing lovingly at each other; a curvy Zeenat pouting Hai hai yeh majboori in Roti kapda aur makaan; and Sridevi all wet and wild dancing to Parvat se kaali ghata takrayee with Rishi Kapoor in Chandni. Bollywood has indeed bequeathed Indians a rich vocabulary to express monsoon-stoked emotions.
Of course, the inspiration for these songs go a long way back, rooted as these are in ancient Indian classical and folk music. Indian classical music system incorporates ragas for both different times of the day and for different seasons. And the rainy season with its deeply churning, fertilising effect on the human mind as much on the loamy earth, is predictably twinned with mesmerising ragas such as Raga Megh and Raga Miyan ki Malhar. To hear Ustad Rashid Khan's vocal rendition of the traditional Bhatkande composition 'Garaje ghana ghata' or Pandit Nikhil Bannerjee's recital of the same on sitar, is to experience the meditative grandeur and thrill of the rains, in every pore of one's being.
And at least two semi-classical forms of music – Kajris and Jhoola – are devoted to the rains. Says distinguished vocalist Aditi Bannerjee, (a prime student of late thumri queen Shobha Gurtu), "Kajri and Jhoola are inspired by the folk music of Uttar Pradesh. Originally folk, these melodies were later adopted into semi-classical music, as most were based on ragas like Piloo and Tilak Kamod. Jhoola songs primarily describe Radha and Krishna enjoying the monsoons, and are sung in villages where jhoolas (swings) are put up in the monsoons."
Jhiri jhiri barse sawan, Barsan lagi, and Jhoola dhirey se jhulao are some of these songs that Bannerjee renders on stage in this season. The evocative lyrics presented with lot of emotion and a tinge of playfulness make these songs hugely popular with audiences.
Not just Uttar Pradesh, almost every region of India boasts of their own rain-melodies. Assamese singer Juthika Chowdhury, who is now based in Mumbai and doing musical shows (of largely Bollywood numbers), some of which exclusively feature popular monsoon numbers in sync with the season, recalls crooning the soulful, rhythmic Assamese song,
'Boroshunor botorot Moina nuthe motorot,' as a child. "The song is about a child who wants to be allowed to play outdoors in the rain. It resonated well with me then."
Talk rains and Nita Khajuria breaks into her childhood favourite Gujarati ditty, 'Aav re varsad, ghebariyo parsaad, ooni ooni rotli ne karela nu shaak.' Says Nita, "I remember thinking as a child that every day one has to make karela (bitter gourd) in the rains and my mother correcting me that was not so. Of course later I grasped that since karelas are found in abundance in this season, they found their way into the song."
As for Bengal, thanks to Rabindranath Tagore, the state developed a tradition of celebrating the monsoons with special programmes called 'Barshamangal.' Tagore wrote and composed a literal treasure trove of melodies dwelling on different aspect of rains like Aaji jharo jharo mukhar badar diney (expresses the vague yearnings rains arouse), Aashad kotha hote aaj peli chada (the fury of first rains that sets nature dancing), and Emon dine taare bala jai (the keen desire to confess one's love on this rain-darkened day). These are sung avidly to date, buttressed with other popular compositions like Aashad shraban mane na to mon.
Bengali, Bhojpuri, Marathi, Gujarati…the language and tunes in which the heart sings may be different, but sing it will, for we are a part of nature after all. So when the monsoons unleash their passion on the earth, how can the sensitive human heart remain silent?
Rimjhim gire sawan, sulag sulag jaaye man… Sing on…
(To receive our E-paper on whatsapp daily, please click here. To receive it on Telegram, please click here. We permit sharing of the paper's PDF on WhatsApp and other social media platforms.)