Aditya Roy Kapur and Mrunal Thakur will soon be seen in Vardhan Ketkar's thriller film Gumraah. The film's team unveiled its trailer in Mumbai. The Free Press Journal was also present at the do.
Aditya, who plays a double role in Gumraah for the first time shares, "Double roles are actually done in comedies but since I never tried a double role so it was very exciting for me to do this film. When people will watch the film, they will realise that we didn't have much to play around with the looks of both the characters. We had to find a way out that they should speak differently, styling to make up, etc."
Aditya Roy Kapur |
He further explains, "My director Vardhan was clear on the page that both the characters felt differently. I feel Gumraah is a family thriller since it's a clean film. It has nothing to do with the tone of a thriller like The Night Manager I just did. As an actor, I don't want to keep repeating myself."
Mrunal Thakur |
Mrunal, who plays a cop for the first time tells, "It was interesting to perform with one actor, who is performing two different roles. I learned a lot. I would like to thank my director Vardhan for this opportunity. To shoot with double roles is tricky. For Aditya, it would be difficult to shoot. Thriller is a genre that we all enjoy and to play a cop in a film like Gumraah is just amazing."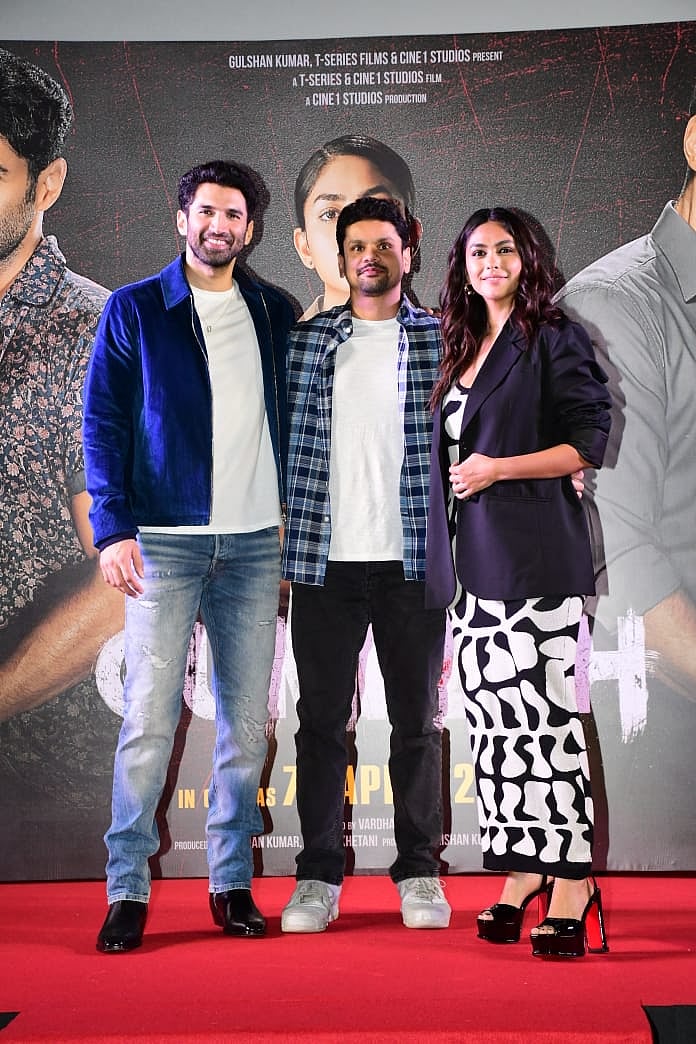 (l-r) Aditya Roy Kapur, Vardhan Ketkar, Mrunal Thakur |
When asked how she greenlit the film, Mrunal says, "When I heard the story, I was at the edge of my seat and within 30 seconds, I said yes to the film. Initially, I didn't want to do thrillers but the script of Gumraah changed me. And with this film, I've become an expert now. It was challenging to play a cop. I have never played such a firm role. I had to work on my voice. I took help from my family members who are in the police department. When I signed this film, I only imagined Tabu ma'am."
Vardhan Ketkar |
Debutant director Vardhan Ketkar, who has been an assistant director on films like Dabangg (2010), Mubarakan (2017), Brothers (2015), etc. reveals, "It was a big responsibility but Aditya and Mrunal made it very easy for me. In fact, Aditya is such a hard working actor that he inspired me to work harder on the sets. It was like a dream come true and since the trailer is out now, it feels like another dream coming true."
Gumraah will hit the screens on April 7. It also stars Ronit Roy and Operation Romeo (2022) fame actress Vedika Pinto in important roles.
(To receive our E-paper on WhatsApp daily, please click here.  To receive it on Telegram, please click here. We permit sharing of the paper's PDF on WhatsApp and other social media platforms.)