Bhopal (Madhya Pradesh): Madhya Pradesh CM Shivraj Singh Chouhan's big ambitious scheme Ladli Behna Yojana was launched at Jamboori Maidan on Sunday, which is also his 64th birthday.
Around 1 lakh women were present in the programme.A sum of Rs 1,000 per month will be given to eligible women under the scheme for five years.
Domicile and income certificate will not be required. To take advantage of this scheme, a team of officers and employees will visit villages, cities and get the application filled.
A provision of Rs 8,000 crore has been made for the scheme in the state Budget presented in the Assembly recently.
"Potential beneficiaries can submit forms from March 15 to April 30. After scrutiny, a list of beneficiaries will be put out on May 1 and the final list on May 31. The beneficiaries will start receiving financial aid in their accounts from June 10 and every month thereafter," Chouhan said.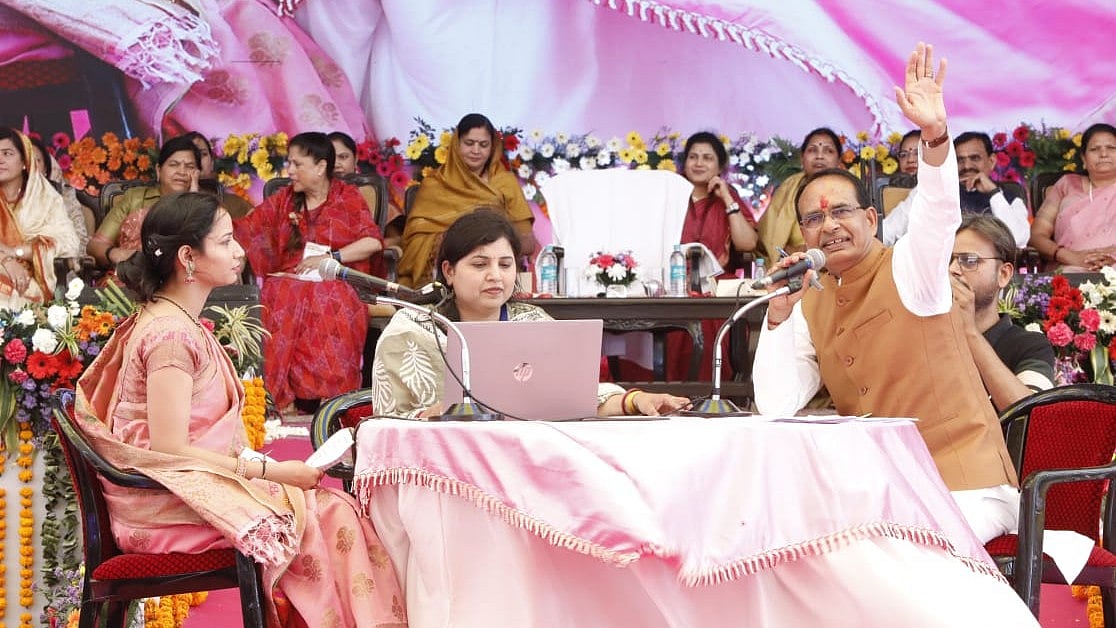 CM Chouhan addressed the program
The Chief Minister while addressing the program said that he used to worship daughters till date. But, even in sisters he sees Maa Durga, Lakshmi and Saraswati. The Chief Minister himself filled the first form of the scheme.
The Chief Minister further said that "we consider daughters and sisters as Durga, Lakshmi, Saraswati. We take the name of Lakshmi before Vishnu, Sita before the name of Ram. Our sisters gradually became victims of discrimination several times. I have seen in my village, home, family that if a son is born then he is welcomed.
"I used to talk at many places that son and daughter are equal. At one place, while I was giving a speech, the old mother stood up. She said - If the daughter is born and grown up, will you get her marriage arranged? At that time, when I became an MLA, I started getting poor daughters married with the help of my friends. When I became the Chief Minister, I made the first scheme "Kanya Vivah Yojana", Chouhan added.
"I felt that Kanya Vivah Yojana would not work. That's why I decided that if a daughter is born, she should be a millionaire. The officer said to me - how will this happen? I said that MAMA is the chief minister. Daughters will definitely be made millionaires. That's why the Ladli Laxmi Yojana was made. After this, it was decided that if the daughter of the village gets 60% marks in 12th, they will be appreciated by some money. When Kamal Nath's government came, many such schemes were stopped," said Chouhan while addressing the public.
He further said that "one day I stayed awake all night. I told my wife that a plan has come to my mind that as all sisters consider me as a brother, I should do something for my sisters.
"If I give money to my sisters every month, then the problem of sisters will be solved. They will be able to live with dignity. Chief Minister Ladli Behna Yojana was made with this thought. This is not just a plan, it is a grand campaign to save the lives of sisters," said Chouhan.
Behnas dance with open hands
Ladli Behnas applauded the new scheme of the state government "Ladli Behna Yojana 2023" with open hands and dance steps.
There are a total of 5 crore 39 lakh 87 thousand 876 voters in Madhya Pradesh. The number of women voters in Madhya Pradesh is 2,60,23,733, and in at least 18 of the 230 Assembly segments in MP, they outnumber male voters. These include tribal-dominated Balaghat, Mandla, Dindori, Alirajpur and Jhabua districts.
The number of new women voters has gone up by 2.79 per cent, while it is 2.30 per cent for male voters, officials said. Of the 13.39 lakh new voters, 7.07 lakh are women, as per state officials.
(To receive our E-paper on WhatsApp daily, please click here.  To receive it on Telegram, please click here. We permit sharing of the paper's PDF on WhatsApp and other social media platforms.)