Ujjain (Madhya Pradesh): After two years of Covid-19 restrictions, the denizens exhibited their affection with colours across the city this year on the occasion of Rang Panchami on Sunday. The people were seen drenched in full enthusiasm. Traditional kadav holi, mud holi and chhadimaar holi were also played at key places. Several get-together programmes were also organised.
On the occasion of Rang Panchami, devotees offered prayers at Shree Mahakaleshwar temple here on Sunday. They offered flowers to Lord Mahakal and also the colours which were prepared from Tesu flowers. Bhasma Aarti was performed in the court of Lord Mahakal early morning. Lord Mahakal was anointed with milk, curd and water. The temple priests showered gulal and colours on the devotees.
Dilip Guru, a temple priest said, 'We did a special shringaar on Baba, we did aarti and offered colours to God which were specially prepared from Tesu flowers which are originally pure and natural. This is a festival celebrated in the whole Malwa province, especially Ujjain and Indore. We conducted a pooja for the well-being and peace of our devotees.' Devotees from all over the country come to Ujjain to play Holi with Lord Mahakal.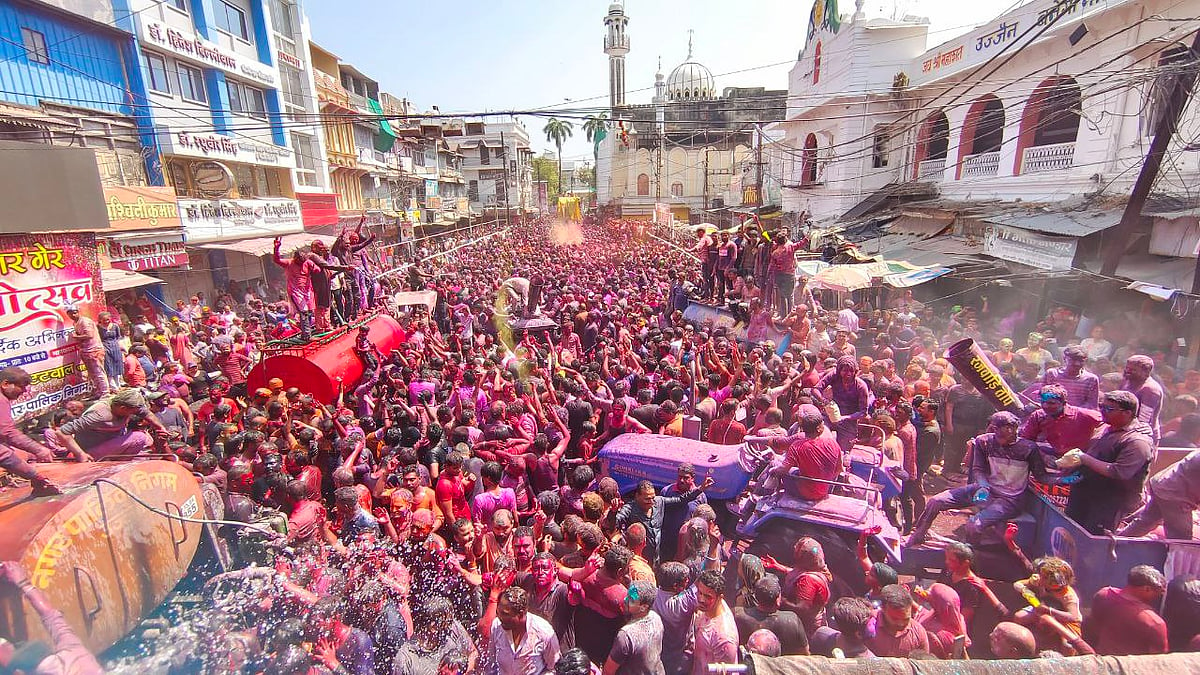 HUGE 'NAGAR GAIR' TAKEN OUT
Ujjain Municipal Corporation (UMC) organised 'Nagar Gair Rangotsav' on Sunday morning. A huge procession was taken out from the main gate of Mahakaleshwar Temple which passed through Gudri Square, Patni Bazaar and concluded at Gopal Mandir. The gair was inaugurated by worshipping the flag. Coloured water was sprinkled on the participants by fire fighters. A number of water tankers were used. Citizens present in gair were welcomed with gulaal and herbal colours by various societies and social organisations. Besides Mayor Mukesh Tatwal, higher education minister Mohan Yadav and MP Anil Firojia also joined the celebrations.
DHWAJ CHAL SAMAROH MESMERISES PEOPLE
The 'dhwaj chal samaroh' (flag procession) of Baba Mahakal was taken out in the evening from Shri Mahakaleshwar Temple on Rang Panchami Mahaparva. Along with the 80-feet tableau from Indore, the tableaux from Barnagar and Badnawar were the centre of attraction in the procession. A group of 100 people from Nashik and Padurna in Maharashtra worshipped Mahakal with the beat of drums, while the display of Trishul was also the attraction.
'RAPAT ROLIA' ATTACTS YOUTH
Rang Panchami was celebrated in the city and people also played Holi fiercely at Barsana Gopal Mandir. Like every year, this year too Swarnim Bharat Manch organised a Rapat Rolia programme to celebrate Rang Panchami at Gopal Mandir, in which the courtyard of Dwarkadhish Gopal became colourful with sprinkling of indigenous tomatoes and gulaal. 551 kg of indigenous tomatoes were arranged at the venue.
SEVADHAM INMATES JOIN FESTIVAL OF COLOURS (PIC-5)
The disabled, psychiatric, small children and youth of 'Ankit Gram', Sevadham Ashram's Sri Ramakrishna Children's Home and Maa Sharda Girls' Home also participated in the festival of colours. They played Holi with pure turmeric and celebrated the festival with natural colours. They danced and sang to the beats of songs and music.
HOLI STUFF DISTRIBUTED TO SLUM CHILDREN
Under the auspices of Yuva Manch Satsang Samiti and Mahakal Help Team, packets of pichkari and colour, gulaal, etc, were distributed to poor children of Jhuggi Jhopri on MR 5 road to play Holi. Biscuits and sweets were also distributed to them.
(To receive our E-paper on WhatsApp daily, please click here.  To receive it on Telegram, please click here. We permit sharing of the paper's PDF on WhatsApp and other social media platforms.)