With a population of 12.91 million people, Mumbai's population is exploding through its seams, and projections by NEERI (National Environmental Engineering Research Institute) estimates the city's population to reach 13.35 million in 2034. But can the city support the kind of population it has, is an egging question that many would like to dodge. One of the major concerns for Mumbai, according to environmentalists is its 130-year-old sewage disposal system which at the moment is close to being non-existent this considering that the development of Mumbai's sewage system dates back to the British era when the first section of the sewage system was constructed between Colaba and Worli in 1867.
Post-independence, it took 32 years for the civic body to create a master plan for its sewage disposal system which would have sustained for 25 years. The master plan which was envisaged in 1979, when the city's population was just above 71 lakh, was completed in 2003 with the help of the World Bank. It saw Mumbai being demarcated into seven sewage zone defined largely as Colaba, Worli, Bandra, Versova, Malad, Bhandup, and Ghatkopar with an 1830 kilometres long sewage network.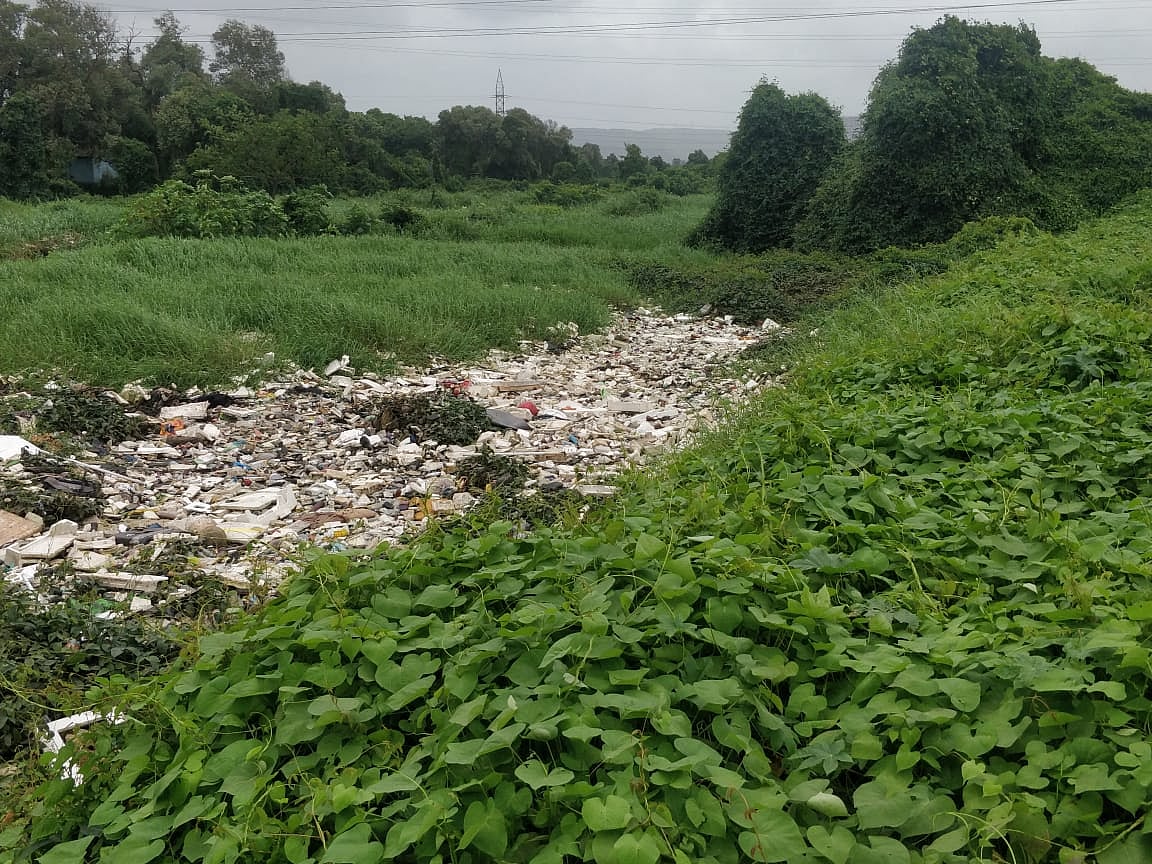 But what strangely remained elusive through the master plan of sewage disposal system where the Sewage Treatment Plants in these seven zones. According to the National Green Tribunal's latest order, there is only one state-of-the-art sewage treatment plant in Mumbai at Colaba which treats sewage to the required standards before allowing the water to be released into the nearest water source. The remaining sewage plants essentially have been pumping out close to 1,842 million litres of wastewater per day directly into the rivers, streams, or the sea without it being treated.
Waste water | FPJ photo
In its order dated July 16, 2021, NGT stated: "There is no treatment mechanism for sludge or grit at any sewage treatment facility (except Colaba STP). Mumbai is surrounded by creeks and sea, the net the result is the separation of sludge and grit at the sewage treatment facility and ultimately polluting water bodies through potential seepage and leachate from grit disposal location keeping in view of rainfall in Mumbai…This fact can be easily experienced at sewage treatment facilities of Mumbai as the grits had bad smells. In general, about 10 kg to 20 kg of grits per million litres may be available in sewage which needs proper treatment. "
"More than 2,700 million litres of raw or partially treated sewage is directly discharged into nullahs, sea or creek per day. Also, the treated sewage from primary level STPs is far behind the standard discharge norms. The Island City has proper sewerage connections but the suburbs have grown rapidly and unfortunately, there have been very few sewerage networks as well as treatment facilities," said a former BMC official.
Moreover, western suburbs (Bandra to Dahisar), which have seen a huge increase in population in the last few years, do not have a proper sewerage network and no treatment facility either. With a population of 33 lakh, raw sewage from these suburbs is going into the creeks directly. The reasons attributed, for the slowdown of implementation of the Mumbai Sewage Disposal Project (MSDP) and the upgradation of sewage treatment plants, are land acquisition, environment clearance, non-compliance of effluent discharge norms among others.
Waste in creek | FPJ photo
D M Sukhthankar, former IAS officer and BMC commissioner (1981-1984) said that the issue of proper disposal of wastewater and augmentation of sewer lines always took a back seat and it continues to be neglected even today. "I would like to confess that in the '80s there was less consciousness or awareness about the issue of sewage treatment and wastewater disposal. The STPs and sewer lines planned during 1979 were keeping in mind the population density of that time, things are totally different now. The focal point in those times remained the augmentation of the water supply. Availability of resources and capital was also limited, rates of interest were very high which forced us to prioritise projects. This was exactly a time when World Bank loans had started coming in and it was a big deal. The population then was rising by five to six percent every year as compared to now when it has stabilized. Now the supply of capital has increased and the cost of capital has decreased, there is no constraint of resources. Hence, it is relatively easier for the administration to address the issue of augmenting sewage treatment plants. "
Sukhthankar added, "Allocating the budget every year is not the only thing that will help make the sewage treatment facilities better, resources need to be mobilised, the administration will also have to learn and achieve the global standards of sewer disposal and urgently before it harms the biodiversity and ecology until it is irreparable.
Mumbai Sewage Disposal Project (MSDP) - a far fetched dream
BMCs Mumbai Sewage Disposal Project was an ambitious project to overhaul the city's drainage system. The civic body aimed to construct seven treatment plants to treat raw sewage. However, the civic body failed to implement the project in compliance with the norms stipulated by Central Pollution Control Board (CPCB). Of the eight STPs only Colaba STP was functioning in accordance with the effluent discharge norms, the NGT order stated.
The BMC's plan to upgrade/rebuild completely the STPs at a cost of Rs 15,000 crore has been moving at a snail's pace for more than 15 years.
In 2018, Nitin S Deshpande, a when Pune-based activist approached the NGT against a Ministry of Environment, Forest and Climate Change (MoEF) notification issued on October 13, 2017, for required standards for Biochemical Oxygen Demand (BOD) and Total Solid Suspended (TSS) for Sewage Treatment Plants (STPs).
Cement slurry being dumped into creek | FPJ photo
As per Deshpande's case, in its 2015 draft notification, the MoEF had laid down effluent discharge norms of 10 mg/l of BOD and 20 mg/l of TSS as optimal for the health of water bodies but later relaxed the norms in the 2017 notification wherein the discharge norms changed to 20 mg/l for BOD and 50 mg/l for TSS. Following this, the NGT ordered a stay on the notification on December 21, 2018, and asked experts from the CPCB, NEERI, and IIT to prepare a report and submit it before March 31, 2019.
The stay by NGT in 2018 on the notification specifying discharge norms put on hold BMC's plan of awarding contracts for construction and upgradation of five Sewage Treatment Plants at Worli, Bandra, Versova, Ghatkopar, and Bhandup. Meanwhile work on the upgradation of the Colaba STP had just begun at that time, and the proposed STP at Malad did not get environment clearance as it would require the destruction of mangroves.
Following that the BMC, in August 2020 floated fresh tenders with new discharge norms which state biochemical oxygen dissolved (BOD) or dissolved oxygen level should be at 10 milligrams per litre (mg/L) and total suspended solids (TSS) at 20 mg/l for the STPs to be constructed on Design, Build, and Operate (DBO) basis. BOD and TSS are important factors to maintain water quality.
Elaborating on the situation P Velarasu, BMC's additional municipal commissioner (Projects) said that the civic body has floated tenders for all STPs except Malad and the project will take at least five more years to complete with the revised effluent discharge norms and revised cost. "As per the directions from the NGT, we have already floated the tenders and the revised tenders are in conformity with the effluent discharge norms. But we still have many hurdles before we actually start implementing or constructing these STPs," said Velarasu
Velarasu added, "However, we are in the final process of awarding the work to appropriate contractors. The offers from bidders are on a slightly higher side i.e. about 30-35 percent higher. Hence, we are in the process of negotiating with the companies on bringing down the cost they have offered. This is not a simple thing and the process will at least take a month or two. Once finalized, the revised proposal will be tabled before the civic standing committee for its approval, following which work orders will be given."
While the existing STPs except for the one at Colaba do only a primary treatment before discharging effluent or wastewater into the sea, once the new STP's are built they will carry out tertiary treatment of water, said Velarasu. "As per norms stipulated by the CPCB secondary treatment of sewage water is sufficient, however, our system will be advanced and will carry out tertiary treatment too," informed Velarasu.
All sewage should be treated at the source and then release into Creek via streams. This will be taken up by Municipal Corporation of Greater Mumbai for implementation. It will be the responsibility of the Municipal Corporation of Greater Mumbai to ensure the proper functioning of treatment plants & release treated sewage water to the Creek.
Fully functional STPs are not the only solution to the problem
Environmentalists say this will not address the sewerage needs of nearly a third of the city's population that lives in about 250 slums clusters. The sewerage requirement for these areas runs into an estimated 143 kms, which, BMC has clarified --- will be laid "as and when" slum rehabilitation schemes are effectively implemented across the city.
Sewage Treatment Plant | FPJ photo
Slamming the BMC, NGT in its July 16, 2021 order stated: "Bioremediation and/or phytoremediation or any other remediation measures for the treatment of sewage water if not taken by the Municipal Corporation, compensation at the rate of Rs. 5 lakhs per month per drain is to be deposited with the CPCB by the Municipal Corporation. This, however, is not to be taken as an excuse to delay the installation of STP or not doing anything and discharging the untreated water into the water bodies. Where the operational deficiencies of the existing STPs have not been rectified and untreated are being discharged into the water bodies, the environmental compensation at the rate of Rs. 10 lakhs per month per STP be deposited to the CPCB."
Gopal Jhaveri, co-founder of River March (an organisation that works towards rejuvenating the city's rivers) said, "This has become a chain, which BMC does not seem to be wanting to break. Until they organise the sewer lines connecting slums, which discharge sewage directly into the stormwater drains, the problem will continue to persist. The gutters of nullahs that exist across Mumbai were originally meant to be functional only during monsoon carrying rainwater. However, in Mumbai, it carries sewer water all year round. This is because the sewage from slums does not have a connection to STPs and enters the Storm Water Drain (SWD), then it flows into tributaries to rivers, then into creeks and mangroves, and finally into the sea."
There are still more than 90 openings across the city and suburbs that continue to discharge untreated sewage directly into creeks and drains. Explaining its stand, BMC in its recent submission to MPCB stated: "Sewerage infrastructure development will provide 100 percent sewer connectivity is being implemented under the Mumbai Sewerage Improvement Program (MISP). It will require four to five years' time for completion."
Stalin D, director of NGO Vanashakti pointed out "Even after upgradation of STPs, the Mumbai civic body will be able to service only 68% of the city's population, that too the BMC said it would need another "four to five years". However, the city will still have 32% of the population/households, whose sewer lines will continue to open into stormwater drains and discharge making its way to the creeks and rivers. Why cant the BMC adopt phytoremediation for the treatment of sewage water? Do they have an answer to that?"
As a quick solution, the activists have demanded installing nets across outlets preventing the discharge from entering the creeks and mangroves. "We have evidence of how thermacols, plastics are entering into the mangroves, creeks and even rivers. We have been suggesting to them to install nets, which is a basic, simplest, cost-effective way to reduce the amount of garbage entering our creeks and coastline. Even if it takes five years to set up an STP or to lay sewer lines, this is a quick solution that can resolve the problem to a large extent in the meantime. It is baffling that the BMC has made no steps toward getting it done, they are more interested in implementing costlier options and spend huge some on court cases," added Stalin.
However, in a reply to environmentalists demanding for installation of nets, Velarasu said "People demanding for installing nets must understand that is not a solution for sewers, nets are basically to collect plastics and floating material.
NGT too in its order stated that the BMC should ensure the mangrove area is kept to the plastic-free zone. It stated further: "It is recommended to install Trash Boom or Trash Trap for collection of floating plastic and other wastes & its disposal."
Besides even MPCB had also directed the Mumbai civic body to install nets in stormwater discharge drains to prevent sewage from entering the sea along with the solid waste. It is an inexpensive stop-gap measure, the pollution control body stated.
"I feel sad when I see tourists bathing in the water at Juhu Beach or Chowpatty. These tourists enjoy it, not knowing that the water they are soaking themselves into is nothing but seawater mixed with sewer," added Stalin.
National Green Tribunal Vs BMC
The National Green Tribunal (NGT) in its order dated July 16, 2021, levied a penalty of Rs. 2.1 crore on the BMC as environmental compensation for discharging inadequately-treated effluent into city drains from six different sewage treatment plants (STP).
The NGT has also directed that BMC commissioner Iqbal Singh Chahal remain present 'in person' during the next hearing to be held on August 28, 2021.
In October 2020, in response to a petition by Vanashakti, NGT had slammed the Mumbai civic body for allegedly discharging untreated continued pollution of the city's creeks and water bodies. Vanashakti in June 2021, had written to Maharashtra CM and the environment minister with a photo and video evidence showing BMC owned vehicles, tankers disposing of 'hazardous' waste, cement slurry into mangroves and Creeks.
"We have been writing to Regional Officer of Maharashtra Pollution Control Board (MPCB) and BMC officials from Solid waste management department and even followed with them numerous times, however, received no response from either of them. We then approached NGT," added Stalin.
"The Chief Secretary of Maharashtra may set up appropriate monitoring mechanism at State Level specifying accountability of nodal authorities not below the Secretary level and ensuring appropriate adverse entries in the ACRs of erring officers. Monitoring at the State level must take place on a fortnightly basis and a record of progress maintained. The Chief Secretary may have an accountable person attached in his office for this purpose," NGT stated in its July 2021 order
The green tribunal had imposed an environmental compensation of Rs 34 crore, which BMC is yet to pay to the Central Pollution Control Board (CPCB). Currently, in total the penalty imposed b NGT to be paid by the BMC now stands at Rs 36 crore.
Dr. Y B Sontakke, MPCB Joint director (Water quality), " BMC is the local body handling the project, we have to accept the reason they submit to us for the delay in resolving the issue of STPs and discharge of effluent into water bodies and then investigate accordingly. Besides they need to recognise their responsibilities. Corporations should spend more on constructing sewage treatment plants (STP) systematically along all marine and river outfalls. About compliance to sewage treatment, even if the MoEF notification on levels of BoD and TSS is on record, we have sought another clarification on this recently."
Effects of non-compliance of effluent discharge norms
Biochemical Oxygen Demand (BOD) stands for the amount of oxygen needed by microorganisms in the water to break down organic matter for their own food. A high BOD points to the presence of high amounts of sewage and other organic matter in the water. Consequently, a drop in oxygen levels, which makes it completely unsustainable for fish and other aquatic life.
Total Suspended Solid (TSS) is the portion of organic material that does not dissolve but remains suspended in the water. It provides hiding space for disease-causing micro-organisms, silting in water bodies, and deterioration of water quality. Another important factor is Faecal Coliform (FC) that causes disease and epidemics such as diarrhea, dysentery, cholera, gastroenteritis, hepatitis B, etc.
As per norms set by the CPCB, a BOD level above 60 mg/l is harmful to aquatic life.
"Raw sewage and primary treated sewage contain extremely high bacteria and dangerous E-coli. Besides this untreated sewage also contains extremely high levels of organic material. And this organic material provides food for all the bacteria. If they go untreated into the sea they can spread various diseases like stomach upset, loose motion. Besides, bacterial infections can cause even skin infections," said an MPCB official.
Sontakke, added, that there was more pollution in the creeks than in the sea, where dilution takes place continuously. "The major problem seen here is the untreated or primary treated sewage discharged in creeks. Recent studies show there is no major impact on the sea. Any pollution in any water body is definitely affecting it. But in the sea, the pollution is very less compared to creeks.
(If you have a story in and around Mumbai, you have our ears, be a citizen journalist and send us your story here. )
(To receive our E-paper on WhatsApp daily, please click here.  To receive it on Telegram, please click here. We permit sharing of the paper's PDF on WhatsApp and other social media platforms.)