Trigger Warning: Mentions of suicide
Mumbai: A stockbroker hanged his 11-year-old daughter and died by suicide at their Lalbaug home on Tuesday. The police found a suicide note in which the deceased man, Bhupesh Pawar, 42, said he suspected his wife Bhagyashree's fidelity. An accidental death report has been filed in the matter for murder and abetment of suicide. In the note, the man also stated that his property should be given to his nephew. The complainant in the matter is Pawar's brother.
Heated argument between couple
On questioning Bhagyashree, a data entry operator, the police found out that the couple had quarrelled in the morning. After reaching the office, she called her daughter but couldn't get through. When the child didn't pick up the phone for long, she rushed home but no one opened the door. She called the police who broke open the door and found Pawar and the child hanging from the ceiling fan.
The police said there were gold and silver ornaments lying on the ground along with lakhs of rupees in cash. Among the currency notes, the suicide note was also found.
Around 11.30 am, the woman tried calling her daughter Arrah and also her husband but either of them did not pick her calls. She went back home but no one answered.
That's when she called the cops and they broke the lock and entered their home. Upon entering, they found the father-daughter duo's bodies hanging.
They were taken to KEM hospital where they were pronounced dead.
Case of murder, abetment to suicide
The Mumbai police had initially filed a case of accidental death. After they spotted the suicide note dated April 20, they registered two cases--one of murder and the other of abetment to suicide.
Had been mulling over killing self
The suicide note stated that Pawar had been mulling over dying by suicide for a very long time. He also mentioned that the note be considered as his will and that his bank balance and home be given to his younger brother.
The suicide note, according to the report, was sent for handwriting verification.
ACP Kalpana Gadekar was quoted saying that they are studying the suicide note.
Constant bickering between the couple
The cops were quoted saying that Pawar and Bhagyashree, who had been married for 12 years, often had arguments over trivial issues and they had suspicions on each other's character.
Pawar also disliked his wife working part-time as a data entry operator.
The couple had recently mended their ways after a big fight; Bhagyashree had left to live with her parents but returned after both families' intervention.
If you or anyone you know is struggling with suicidal thoughts, seek help here: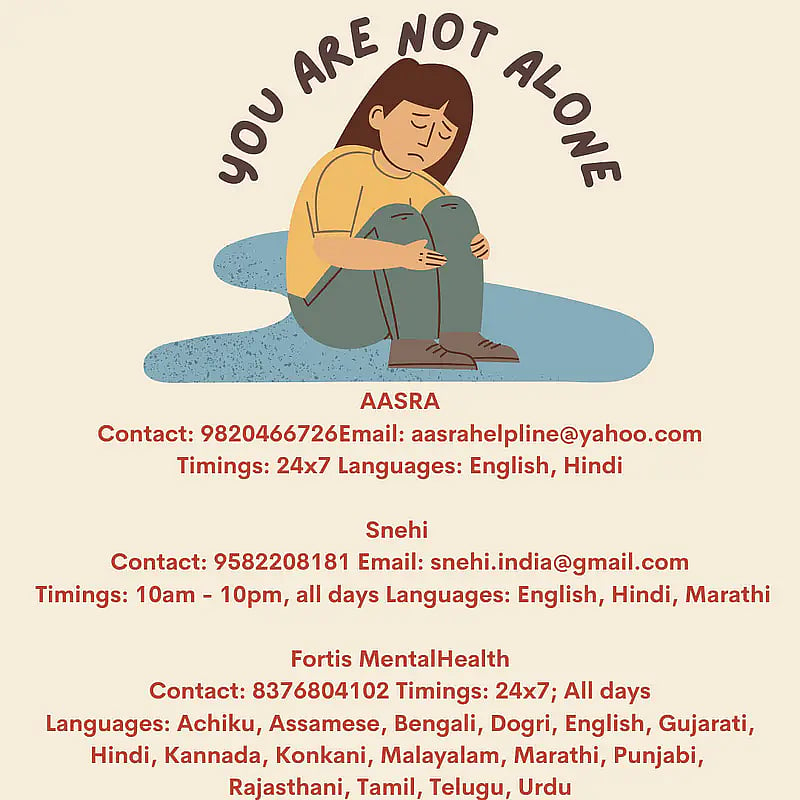 If you or anyone you know is struggling with suicidal thoughts, seek help here: | Mental Health Helplines
(To receive our E-paper on WhatsApp daily, please click here.  To receive it on Telegram, please click here. We permit sharing of the paper's PDF on WhatsApp and other social media platforms.)