Come February and the wedding season will be in full swing across the country. As a bride-to-be there's no doubt that your hands are full with many things including picking the perfect jewellery pieces for your bridal trousseau. But in case you are looking to up your style game up and move away from the conventional ideas yet stay relevant, pick up some scene-stealing jewellery pieces because wedding jewellery is not just about gold anymore. Pawan Gupta, owner of PP Jewellers shares five must-have jewellery pieces for every modern bride.
Statement Gold Bangles
Similar to wedding rings in western nations, gold bangles or kadas are symbols of marriage in India. As a mandatory component as a newlywed bride, a girl is required to wear a gold kada or gold bangles. In some cultures, ivory bangles called Chura are a must-have item for a newlywed to wear for a set amount of time after the wedding. However, among all the styles, gold bangles are a must-have for the first big celebration in the family as a newlywed bride. The bride looks stunning thanks to the bangles, which give the entire ensemble a traditional touch.
Layered Necklace
These days, layering necklaces that include chunky chains, pendant necklaces, lockets, and more is so chic and fashionable. The best methods to wear them are to layer a variety of necklaces at once or try to coordinate your existing layering with other jewellery. There are many ways to layer necklaces like a pro because there are so many different colours, textures, lengths, and styles to choose from. Layers of jadau, magnificent emeralds, rubies, and pearls can be added to up the glam factor.
Choker Necklace Set:
You can never go wrong when it comes to the fantastic choker necklace! Why? Well, due to its magnificent appeal and elegant appearance! These days, choker jewellery in the Indian style that was created specifically as a neckpiece is a must-have accessory for women that you can wear for any function as a new bride. You can go for kundan style, diamond choker necklace or the pearl choker necklace.
Statement Gold Rings:
Rings that effortlessly add style to your outfit by giving it a bold, lovely undertone and a distinctive statement. Gold rings will surely brighten your look as a new bride.
Jhumkas: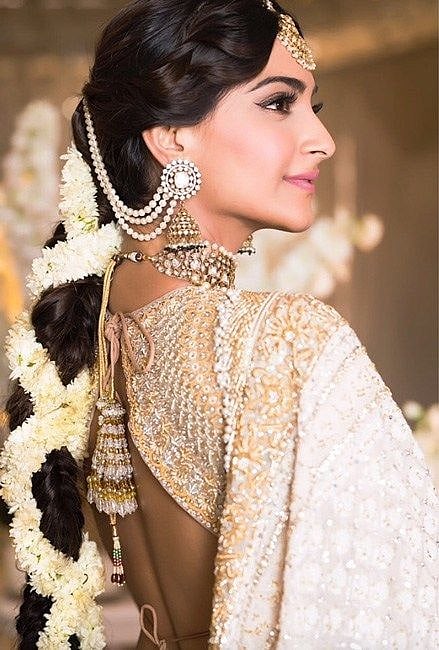 Jhumka earrings are a classic piece of jewellery that will never go out of style. They have been popular jewellery accents since the time of the royal emperors. Jhumkas come in a variety of styles, including traditional golden jhumkis, chaand bali jhumkas, pearl jhumkas, suryakanthi jhumkas, and jhaalar jhumkas, among others.
(To receive our E-paper on WhatsApp daily, please click here.  To receive it on Telegram, please click here. We permit sharing of the paper's PDF on WhatsApp and other social media platforms.)