Ageing skin doesn't come only as you grow older, signs of ageing on skin can be seen due to lack of nutrition, not using the right products on your skin, improper diet, etc. A dull and unhealthy skin can show early signs of ageing compared to a healthy looking one. And, winters make our skin more sensitive and make it look dull, hence, it is of utmost importance to include clean products in your skincare routine during winters.
We have curated a list of best anti ageing serum for winters which you can get at an affordable price:
OZiva Youth Elixir Anti-Ageing Face Serum:
With the help of its plant-based ingredients, the product promises to accelerates collagen production, reduces wrinkles by up to 50% and helps in 2X increase in skin smoothing and tightening to make you look younger. This serum has antioxidant and age-reversal properties that improve skin tightening and elasticity by minimising wrinkles and photo damage. It promises to increase the collagen content in the skin and tightens the skin to reduce wrinkles with paracress extract. This vegan product in your anti-ageing skincare regimen will help reduces water loss, moisturises the skin and helps in skin firming and tightening with tiare flower extract and rose oil.
Available online. Price: Rs 617
Minimalist 0.3% Retinol Face Serum: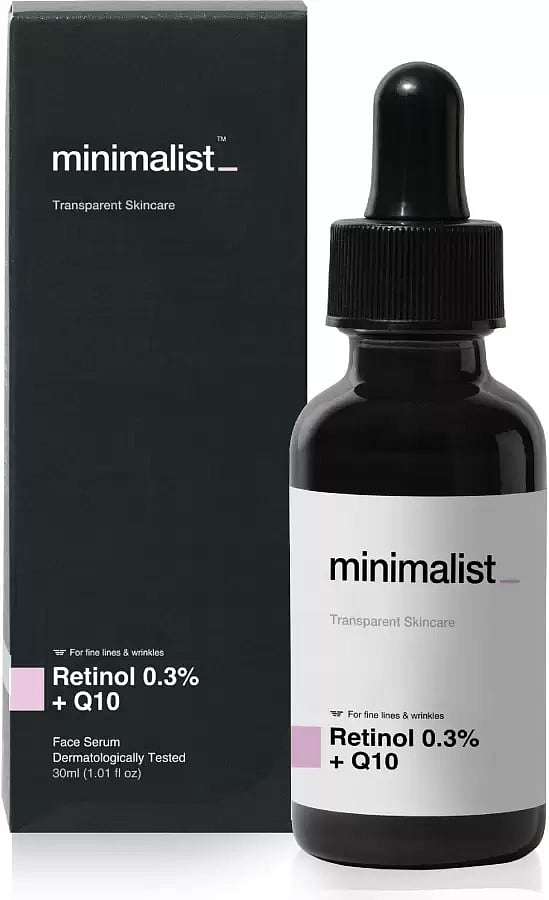 This Anti-Aging Serum claims to help reduce wrinkles, fine lines, dullness, age spots and improve skin elasticity and firmness. It is suitable for all skin types and is a best option for beginners. The serum can be used by both men and women.
Available online. Price: Rs 589
Olay Retinol24 Night Serum:
Designed without any artificial dyes, perfumes and oils, this serum is suitable for daily use. This night serum promises to give visibly smoother and glowing skin. Formulated with retinoid complex and Vitamin B3, it hydrates your skin for 24 hours with visible improvements in fine lines and wrinkles, smoothness, brightness, firming, dark spots, and pores. In addition, the product claims to deliver active ingredients 10 layers deep into the skin surface.
Available online. Price: Rs 1,516
Kiro Clean Beauty Face Serum:
This serum with 0.5% encapsulated retinol + 0.5% hyaluronic acid is for anti-ageing and boosting collagen. Retinol in the serum is a proven anti-aging ingredient that promotes renewal and repair of skin cells to maintain a youthful glow and reverse signs of ageing. Hyaluronic acid is a powerful humectant that promises to provide multi-level intense hydration to keep skin radiant, plump and healthy. This serum is infused with the goodness of five Natural ingredients like lotus flower extract, blueberry extract, and more.
Available online. Price: Rs 700
Juicy Chemistry Regenerating Serum:
This naturally activated serum is formulated to promote well-ageing and boost collagen synthesis for brighter-looking skin. Rich in chlorogenic and phenolic acids, gotu kola promises to help reduce acne scars and calm the skin. The serum claims to boost cell regeneration, combats free radical damage, strengthens skin barrier function and promotes well-ageing and an even-toned skin.
Available online. Price: Rs 1,379
(To receive our E-paper on WhatsApp daily, please click here.  To receive it on Telegram, please click here. We permit sharing of the paper's PDF on WhatsApp and other social media platforms.)