Aries:
Stay open to fresh and new beginnings. It is time to stop thinking about your past or reflecting on your mistakes. Take inspired action and move ahead. Be flexible in your approach. There could be new beginnings in your financial situation. Use your intuition and perceptive nature to take the next few steps, fearlessly. You are going to feel like becoming more independent and you are advised to follow your own path even if it means you will need to leave some people around. Be wary starting new emotional connections. Take your time to get to know someone before becoming serious.
Judgement |
Taurus:
You may start some fresh projects which will require substantial work but it will have the potential to bring you much success in the near future. The answers you need are coming. You are going to be selective in the kind of people you are going to let into your life, especially, people who have not been easy to deal with in the past. You will choose to be compassionate towards your own emotional needs. Your own happiness will become a priority. Try to push your insecurities aside and bask in the true joy of self-love. This week your personal and emotional life is going to bring grow and thrive.
Eight of Pentacles |
Gemini:
This week, again, your personal life is going to come into focus. You will be busy interacting and socializing with people. Gemini folks thrive in social situations, usually. During this period you will be the center of attention at parties and gatherings. Use your communication and networking skills to get ahead. Singles could meet someone special, especially through social settings and those in relationships will see their connection improving. Financial abundance is also on the cards. It is ok to wait for bigger opportunities, especially in a work related setting. Your perspective on life is going to shift and you will feel more balanced. Make the most of this period.
The Lovers |
Cancer:
This week, you will be more sensitive and emotional than usual. Some of you may realize that the goals you had set for yourself in the past may no longer be relevant. Reflect on your priorities and initiate changes that align and resonate better with your current self. Trust in divine detours. Break free from the confines of self-inflicted doubts. Your financial security and stability will come into focus. It is time to plan and invest wisely. In the matters of love, you may like to take more time to think, ponder, decide and open-up about your feelings.
Queen of Pentacles |
Leo:
This week your focus will be on creating plans and strategizing. Use your mind wisely and pay attention to details. Work is going to be busy and things are going to be move very quickly. Keep your temper in check as your work environment could get competitive or people could get argumentative. Same could be with your personal life, people could get on your nerves, however, choose to keep your cool and invite love into the situation. Avoid getting emotionally overwhelmed. Some discussions can be uncomfortable but they bring much needed clarity. Practice gratitude and pay special attention to your physical health.
Ten of Cups |
Virgo:
This week you are heading in a fresh new direction. You have learnt from your past and moving onto the next chapter. This time you are no longer interested in dealing with people who steal your time and energy. Your focus will be on doing important self-work and investing in your overall well-being. Don't accept shallow answers. Probe and seek deeper solutions. Avoid taking anything at face value. Keep your precious belongings safe. Try to explore new hobbies and interests. This is a very positive period for your personal life. Singles could meet someone special. You are going to be more emotionally expressive in your relationships. Take some time off to meditate and contemplate.
Knight of Cups |
Libra:
Dear Libra, this week you are closing some very important chapters in your life. Major shifts are going to occur in almost all areas. Some of these changes may seem uncomfortable but trust the process and your intuition. Leave your past behind and clear out all the unnecessary clutter. The answers you seek are coming soon, try to be patient. Your focus is going to be on your home and family life. Take care of your precious belongings and beware of people and things which seem too good to be true. Probe and check things before going ahead.
Seven of Swords |
Scorpio:
This week your fears are going to cause unnecessary confusion. There shall be multiple responsibilities and expectations from you. Everything is not bad if you let your fears dissolve and surrender to the divine. In-fact, things will turn in your favor if you show resolve, determination and stay strong in the face of challenges. It is a good time visualize and manifest. There is much abundance waiting for you during this period. You are advised to step out of your comfort zone, explore, travel, learn and meet new people. Focus on improving your physical health.
Strength |
Sagittarius:
Dear Sagittarius, this week you are asked to use your communication skills to your advantage. Step out of your comfort zone. Use intelligence instead of brute force to get work done. It is time to slowly and steadily work towards a position of authority and influence in your career. You are asked to wait for the right timing to reach that position. Till then sharpen your sword (tools). It is a good time to reflect on your successes and be proud of what you have achieved so far. Some of you are going to focus on creating long term wealth and financial stability. Those suffering from health concerns will find a solution and healing. Pay attention to your physical health.
Page of Swords |
Capricorn:
This week is all about new beginnings and heading in a new direction. Plan things out well and make adjustments wherever required. Appreciate the progress you have made so far and let go of unnecessary responsibilities. This period will bring many interesting spiritual experiences into your life. Stay open to listening to your dreams, intuition and synchronicities. Travel and travel related activities are heavily on the cards. This is the perfect time to go out and explore the world. You will see the results of your hard-work manifesting into your life. Make the most of this fresh energy.
The Moon |
Aquarius:
Dear Aquarians, this week you are setting your sights on higher goals. You may feel disinterested in some of the daily mundane activities. Avoid getting overambitious and plan things out well by getting into the depths and details before taking a big risk. Stay grounded in reality. Slowly and steadily you will be able to build a much stronger foundation to your success. Wait for the right time, answers and opportunities to strike. Your past experience is going to help you get ahead of the curve. Try to remain open to learning new things and exploring new possibilities.
Four of Cups |
Pisces:
This week you are asked to be bold and push through your insecurities. Don't wait for opportunities to strike but go after them. You will observe positive new beginnings in your work and career. There is much scope to create abundance, especially, financial abundance. You are going to feel loved and comforted by the people in your personal life. In your romantic partnerships, you may need more time and space to take a decision or to take things forward. Try to be the bigger person and help those around you. Connecting with nature and spending time outdoors will bring you much needed peace and happiness.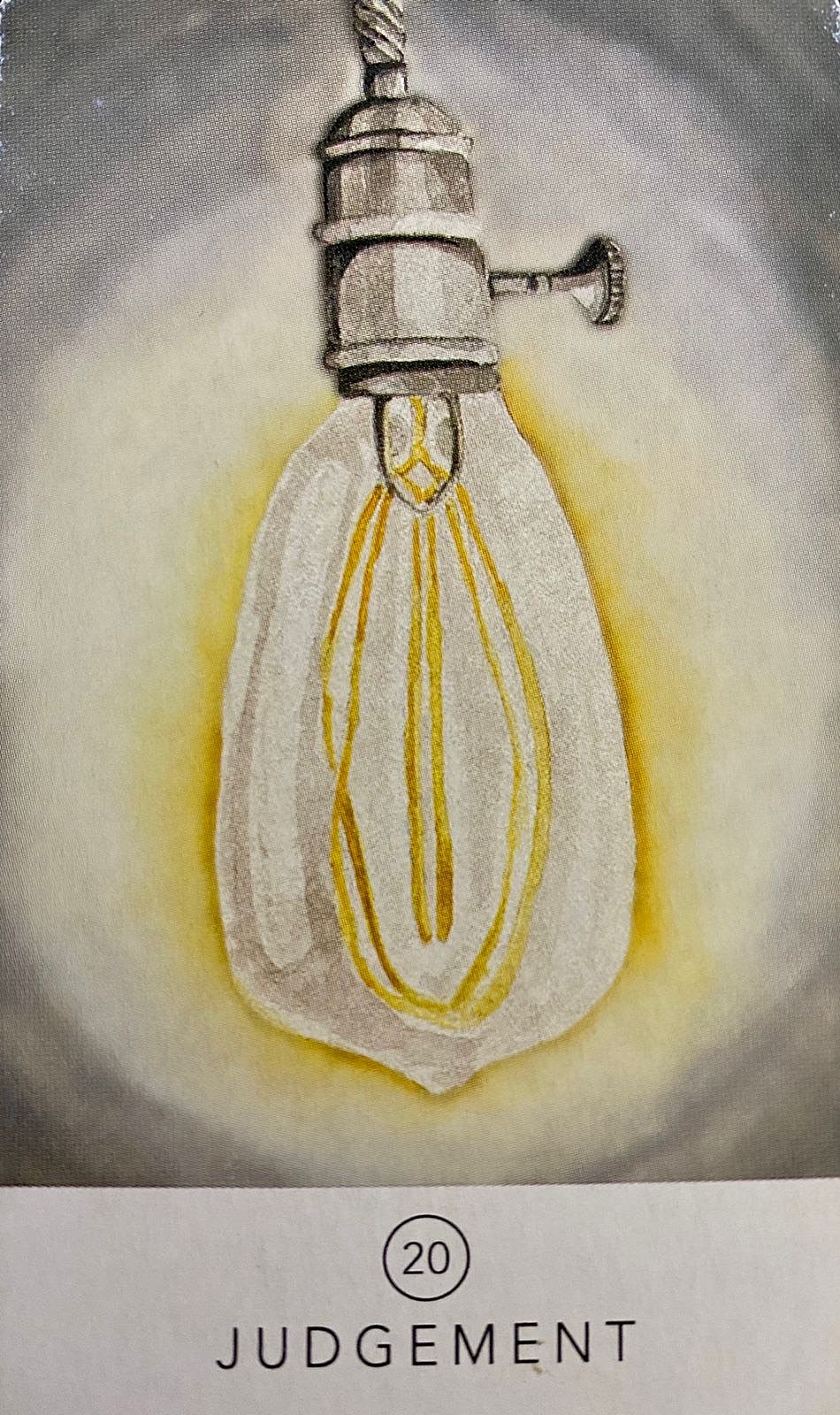 Judgement |
Deck- White Sage Tarot
(To receive our E-paper on WhatsApp daily, please click here.  To receive it on Telegram, please click here. We permit sharing of the paper's PDF on WhatsApp and other social media platforms.)