Rattled State leadership sacks minister and MP who hobnobbed with the former CM; move aimed at deterring other loyalists
Bangalore/New Delhi : Wary of more BJP leaders switching over to the new party to be launched by former chief minister B S Yeddyurappa, a rattled BJP leadership on Saturday sacked a Cooperative Minister B J Puttaswamy and suspended Tumkur MP G S Basavaraj from the party. Both the leaders are political lightweights and were seen hobnobbing with Yeddyurappa on Friday.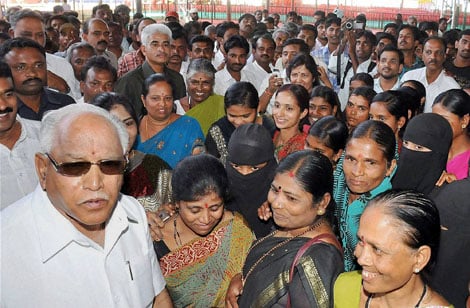 Puttaswamy and Basavaraj have been given showcause notices. But the message is aimed at other BJP ministers and MLAs who are close to Yeddyurappa.
Taking advantage of Chief Minister Jagadish Shettar's absence in Belgaum as he had gone to Delhi, Yeddyurappa made a surprise entry at the Legislative Assembly now in session in Belgaum on Thursday and met BJP
MLAs and tried to convince the fence-sitters to join his party.
While many tried to keep away, 23 legislators and 7 ministers attended the breakfast meet hosted by Yeddyurappa, who claimed support of over 55 law-makers.
Yeddyurappa was able to make his point that those who want to come over are welcome at the time of the elections due in another five months.
The former CM is scheduled to launch his new party in Haveri tomorrow.
Twentythree legislators and 7 ministers attended the breakfast meet hosted by Yeddyurappa, who quit BJP recently, in solidarity with him.
Shettar told reporters in Delhi: "As a disciplinary measure, Puttaswamy has been dropped from the cabinet. He participated in so many meetings of the new party and campaigned for the new party. So, it is indiscipline in the party"s view. Have already sent the letter to the Governor to drop him from the cabinet."
Party state unit president and Deputy Chief Minister Easwarappa announced the decision to suspend Basavaraj from the party.
"In Karnataka, we are giving importance to discipline. One Lok Sabha member from Tumkur, Basavaraj… he is violating the party discipline. We all the core leaders from Karnataka sat with the national leaders and we have taken the decision to suspend Basavaraj," Easwarappa said.
Though only a `weak' minister was sacked, heavyweights like ministers C M Udasi, Murugesh Nirani, M P Renukacharya, V Somanna, B J Puttaswamy, Shobha Karandlaje and Umesh Katti were left free. The BJP obviously does not want to stir a hornet's nest.
Shettar and Easwarappa, who met senior BJP leaders including President Nitin Gadkari, also warned of strong action against Yeddyurappa"s other loyalists.
(To receive our E-paper on whatsapp daily, please click here. We permit sharing of the paper's PDF on WhatsApp and other social media platforms.)
Published on: Sunday, December 09, 2012, 02:51 AM IST